Easy Holiday Desserts Using Your Convection Range
Menu planning for the holidays includes having a top-notch dessert. This is often an afterthought for me because I don't enjoy making them as much as the rest of the meal.
Regardless, it's necessary to have a sweet treat after a holiday feast. In this article, I will share five of my favorite desserts everyone will love using a convection range.
The five easiest desserts to make using a convection range are:
Chocolate Mousse
Cardamom and Cinnamon Poached Pears With Pistachio Granola and Spiced Whipped Cream
Butterscotch and Chocolate Chip Bread Pudding
Pumpkin Spice or Eggnog Panna Cotta
White Chocolate Raspberry Truffles
Let's take a look at how to make these desserts.
Short on time? Get our free Gas Cooking Buying Guide
Easy Holiday Desserts Using Your Convection Range
Chocolate Mousse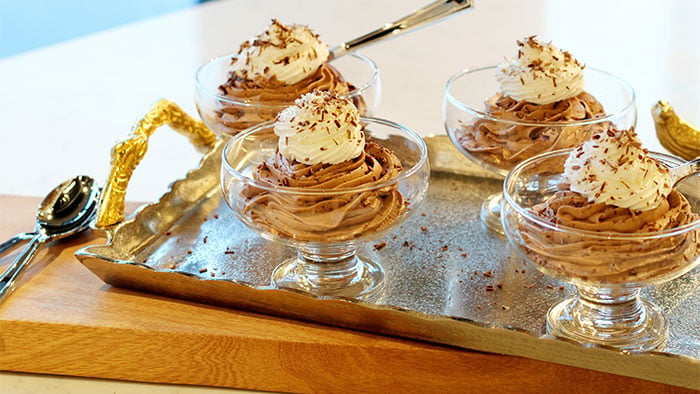 Chocolate mousse is an absolute classic!
Once you understand the basic technique, you can substitute the chocolate with other flavorings, like berry or fruit purees. I prefer chocolate for this time of year, but a fruit mousse is perfect when it's warmer out.
You can also use it as a cake filling or pair it with a layered trifle.
It's important to use good quality chocolate for the best results and flavor. I used Ghirardelli semi-sweet chocolate bars.
Avoid using chocolate chips. They often have stabilizers and emulsifiers in them, which prevent them from melting down properly.
The lightest mousse will be a result of 2 aerated substances. I use meringue and whipped cream.
The best results will yield from a stand mixer or hand mixer.
Make sure the bowl is chilled for the heavy cream and wiped completely clean. You want the bowl to be free of any oils or fats for the meringue. This will ensure the best results.
I added a little vanilla bean paste to the whipped cream for more depth of flavor. The meringue was sweetened with a little bit of sugar.
The chocolate should get roughly chopped, placed into a heatproof glass bowl, then placed on top of a small pan with boiling water or a double boiler on your cooktop.
Using the steam, transfer to the bottom of the glass bowl, gently melt your chocolate until it's smooth and shiny. Remove from the heat. Now sprinkle in a little salt, and set aside.
Gently fold the chocolate into the egg whites until mixed through, followed by the whipped cream.
Transfer the mousse mixture to a piping bag fitted with a piping tip. Pipe your mousse into decorative dessert bowls and place them into the fridge to chill.
When you're ready to serve your chocolate mousse, top it with whipped cream and chocolate shavings. Enjoy!
Click here for Chef Saba's chocolate mousse recipe using your convection range.
Cardamom and Cinnamon Poached Pears with Pistachio Granola and Spiced Whipped Cream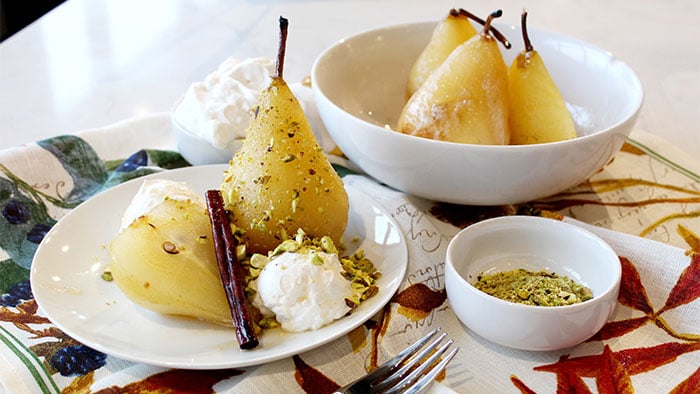 This dessert couldn't be easier, and it looks extremely elegant on the dining table for an end, the sweet meal surprise.
The pears are peeled and placed into a saucepan with white wine, cardamom, cinnamon, lemon juice, and sugar after the liquid has come to a boil.
The heat is then reduced to a simmer, and the pears are poached for around 30 minutes, gently turning once through the cooking process.
While the pears are poaching, prepare the granola by combining rolled oats, pistachios, dried cranberries, cinnamon, cardamom, honey, coconut oil, and a pinch of salt.
Then spread it out into a thin layer over a parchment paper-lined sheet tray, and bake on convection at 325 F for 25-30 minutes.
Serve the pears on top of the pistachio granola, drizzled with the white wine syrup and a dollop of spiced whipped cream.
Click here for Chef Saba's Poached Pears with Pistachio Granola and Spiced Whipped Cream recipe using your convection range.
Butterscotch and Chocolate Chip Bread Pudding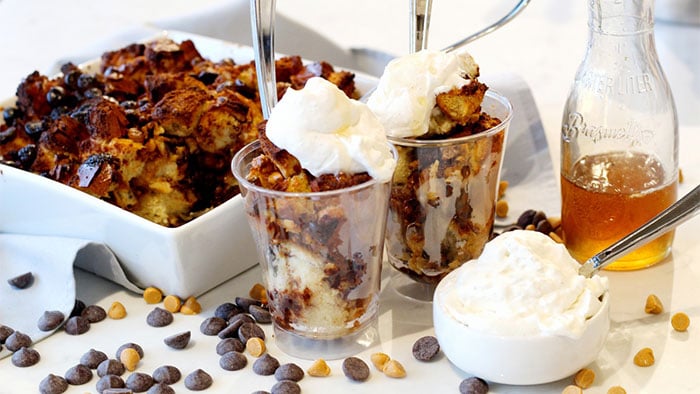 This warm and comforting dessert is perfect for this time of year. It doesn't take much to achieve perfect results and depth of flavor, just the right combination of some basic ingredients.
The key to a good bread pudding is toasting the cubed bread slightly before combining it with the wet ingredients. This helps the bread retain some texture and added depth of flavor.
I used a combination of butterscotch and chocolate chips for this, but you can either do all butterscotch or all chocolate if you prefer.
Once the ingredients are combined, allow the mixture to sit for at least 30 minutes up to an hour
at room temperature or overnight in your fridge for optimal flavor.
When you're ready to serve, transfer the mixture to a greased baking dish and place in a preheated oven set to 325 F convection or in your combi-steam oven at 350 F for around 30-40 minutes.
Remove from the oven and allow it to stand for 10 minutes before serving- top with butterscotch or caramel sauce and either whipped cream or vanilla ice cream. Enjoy!
Click here for Chef Saba's Butterscotch and Chocolate Chip Bread Pudding recipe using your convection range.
Pumpkin Spice or Eggnog Panna Cotta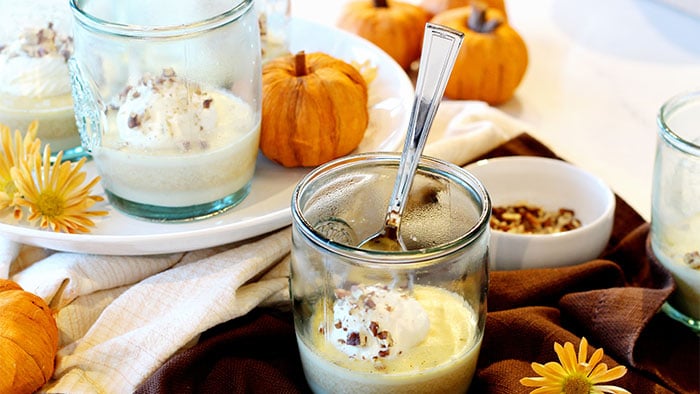 This dessert is as basic as you can get as far as technique is required if you use a premade eggnog. If you are ambitious, you can certainly make your eggnog but need to factor in some extra time to chill it.
To make a panna cotta, which is Italian for cooked cream, all you need is a gelatin packet, some ramekins, and time!
The first step is to bloom the gelatin in the cold milk/eggnog mixture. It is then combined with some hot eggnog/cream and whisked until all the gelatin has been dissolved and mixed.
Now the rest of the ingredients are mixed in, and it's poured into individual ramekins and placed in the fridge for a couple of hours until it's set.
When you are ready to serve, take a butter knife, run it along the bowl side, and turn the ramekins out onto a serving dish.
Serve with a cranberry sauce or chopped pecans, and you have a wonderful holiday dessert made in no time at all.
Click here for Chef Saba's Pumpkin Spice or Eggnog Panna Cotta recipe using your convection range.
White Chocolate Raspberry Truffles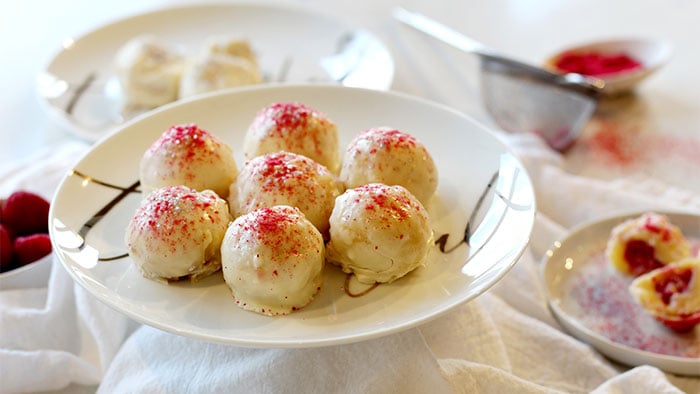 Truffles are a refined way to end an indulgent meal, especially if your guests are not heavily into sweets. It's just the right size for a little something sweet, but it won't put you over the edge.
Good quality chocolate is also a must for making the chocolate easier to work with and for the best flavor.
The double boiler method is required to melt down the chocolate, combined with butter and heavy cream, and poured out into a chilled sheet tray, then transferred to either the fridge or freezer to cool.
After 30 minutes or so, remove the pan from the freezer and start to shape your truffles. Use a cookie scooper to keep the shape consistent. I added a whole fresh raspberry in the center of the truffles and molded the round shape around it.
Work quickly at this point because the ganache will start to soften from the heat of your hand. Place the shaped/stuffed truffles onto another parchment-lined chilled sheet tray, and transfer to the fridge/freezer.
When the truffles have firmed up, set-up the double boiler again with the white chocolate candy coating wafers and melt them down until smooth and shiny.
Turn the heat off at this point. Using a bamboo skewer, pierce the chocolate ball, dip into the melted white chocolate and place it back on the chilled tray.
Top with freeze-dried raspberry powder and silver sprinkles. Repeat with all the truffles and then place it back into the fridge to allow the coating to firm up.
Once the coating has firmed, they are ready to be served. These can be made several days ahead of time as well.
Click here for Chef Saba's White Chocolate Raspberry Truffles recipe using your convection range.
Key Takeaways
Desserts don't have to be overly complicated. Good quality chocolate and vanilla bean paste will always enhance the flavor of any pastry or sweet.
Try to make everything ahead of time since most desserts need time to set-up/chill.
Also, factor in how many things will need room to cook in the oven. If you can accomplish a great dessert by just cooking it on the stovetop as opposed to the oven, that will certainly help with kitchen logistics.
Lastly, if you plan ahead of time, it won't seem like such a daunting task come the holidays.
Additional Resources
Want to learn more about the latest gas ranges and technology? Read the Yale Gas Range Buying Guide with features, specs and detailed profiles of every major brand. Well over 800,000 people have downloaded a Yale Guide.
Related Articles:
Why Should You Trust Us?
It seems that every appliance review has nothing but glowing comments about almost every product, yet you read customer reviews and they are almost universally bad.
We are here to fill in the disconnect. We'll give you the best features, and the drawbacks as well, including reliability based on over 37,000 calls performed by our service team just last year. Our goal is to give you ALL the information so you know what's right for you.
Please consider subscribing or adding to the conversation in the comments below. We appreciate you stopping by.
Saba Wahid
Saba is the resident Chef at Yale. She will teach you how to use your new oven, cooktop, or range. She is skilled in every new feature, including steam, induction, convection of all types, air frying, and sous vide. Saba is also the reigning Chopped Grand Champion crowned by Martha Stewart herself. Saba is incredibly versatile with all different types of cuisine. After just one session with her, you will be a better chef.

Saba has also been featured in numerous publications such as Mashed, Eater Boston, the Boston Herald, and the Framingham SOURCE.
A Note About Pricing
Pricing on this blog is for reference only and may include time sensitive rebates. We make every attempt to provide accurate pricing at time of publishing. Please call the stores for most accurate price.