Lutron vs Legrand Switches/Dimmers (Reviews / Ratings)
Both Lutron and Legrand are great companies that offer some really good quality switches, dimmers, and outlets. However, in design and features, one company seems far more advanced.
Lutron
The Lutron story began in the late 1950s when Joel Spira of New York City turned his spare bedroom into a makeshift lab. He wanted to invent a device that would allow people to control the intensity of the lights in their homes. The idea was radical because at that time, lighting control was complicated and expensive, requiring bulky rheostats that used a lot of energy and created a lot of heat. Most people would never think of having dimmers in their homes because they were just too difficult to install and expensive to buy. That all changed in 1959, when Spira emerged from his lab with a solid-state dimmer that could replace the light switch in a standard residential wall box.
Adorne by Legrand
Adorne is a collection by a company named Legrand, who started their first establishment outside France in 1966. The company was then expanded beyond Europe in 1974 when they opened a subsidiary in Brazil. In 1984, Legrand by Adorne opened the first establishment in the United States. With over 25 years of growth, through acquisition and innovation, they continue to develop every day. By staying on top of things and thinking of fresh new ideas, they now have one of the coolest and by far the best looking lighting switches, dimmers, and outlets available. These are not your ordinary everyday switches. Simply put, the collection brings a new world of convenience and stylish finishing touch to any space.
Comparison Between Legrand and Lutron
Legrand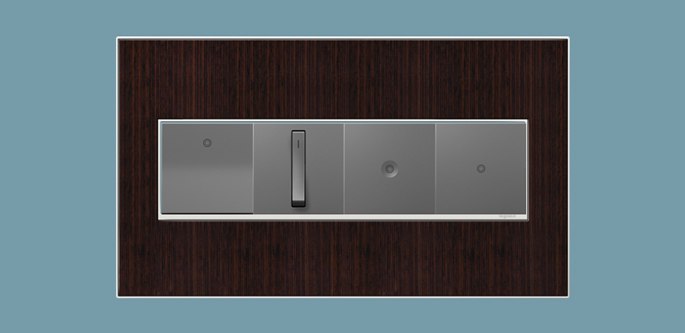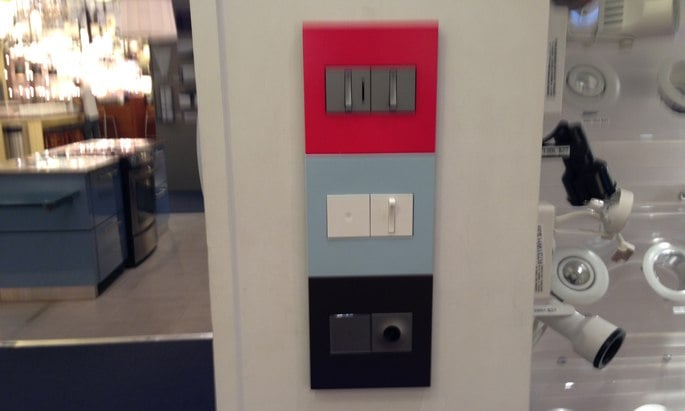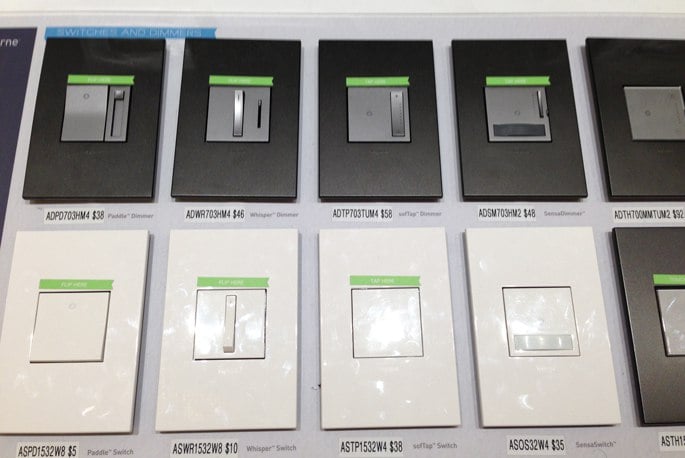 Stylishly smart switches, dimmers, outlets, wall plates, and accessories
Modern, cozy, cottage style comfort, and even classic design for a more traditional style
Distinctive square white or magnesium switches, dimmers, and outlets
Screw less wall plates are available in 32 finishes, including cast metals, natural woods, leather, an array of vibrant colors, and even customizable wall plates
Rich, natural materials are hand crafted by wood, metal, and leather artisans
A customizable wall plate allows you to use your own pattern or material such as wallpaper to create a design that fits your personal style
Switches and dimmers can be used as a single pole or a 3-way (no need to specify)
True universal dimmer can work with Incandescent, Halogen, Electronic low voltage, Magnetic low voltage, CFL, and LED's. No need to specify what light you are dimming.
A Pop-Out three receptacle Outlet that can be popped out when needed and pushed back in to fit flush with the wall plate when not in use
Dimmer/switch options from a simple touch (like on your smart phone), a satisfying click, or even the simple wave of a hand makes it delightful to hit the lights on or off
One style wall plate can support any of their dimmers, switches, USB port, or outlet collections
Lutron

Wide variety of styles, colors, and control options
Maestro, Diva, and Skylark are popular Lutron Dimmers/switches
Mostly traditional style that haven't changed in years except for their radio frequency
Must specify single pole or 3-way, electronic or magnetic low voltage, or Incandescent when ordering. Dimmers work with specific lighting.
Standard traditional rectangle or toggle design
28 different wall plate colors to choose from including satin, gloss, and metal
Standard outlet and GFCI
Must pick the wall plate that works with the appropriate dimmers, switch, and outlets
I currently have Lutron dimmers and outlets in my home, but I like Legrand better. The switches are just far more current and cleaner looking. They have soft touch technology, where you can tap with your finger or wave touch, which responds to motion. I like specifying this switch to turn on garbage disposers.
Practically, the Legrand is easier. It works with LED, compact fluorescent, incandescent and low voltage. Lutron has to be specified perfectly to the right lamp, even the right transformer and cannot work with other bulbs. You cannot change to another lamp without changing the dimmer.
Related Articles
Additional Resources
Download a Yale Buying Guide covering all aspects of home improvement. Over 25,000 people have read a Yale Guide. Our most popular:
| | |
| --- | --- |
| | Roger Pontes has been with Yale Appliance + Lighting for over 9 years. He truly enjoys helping people and spending time playing basketball and riding motorcycles. |
Roger Pontes
Roger Pontes has been with Yale Appliance + Lighting for over 10 years. He's worked in both the lighting and appliance department over the years. Roger truly enjoys helping people. He's a married father of 2 kids, a boy and a girl. On his spare time Roger enjoys spending time with his family and playing sports.

Read more about Roger here.
A Note About Pricing
Pricing on this blog is for reference only and may include time sensitive rebates. We make every attempt to provide accurate pricing at time of publishing. Please call the stores for most accurate price.