Samsung vs Electrolux Front Load Washers (Reviews / Ratings / Prices)
Electrolux and Samsung are two of the largest appliance manufacturers in the world.
Curiously, they have only started to compete in the US recently and only in the refrigerator, but especially the laundry categories.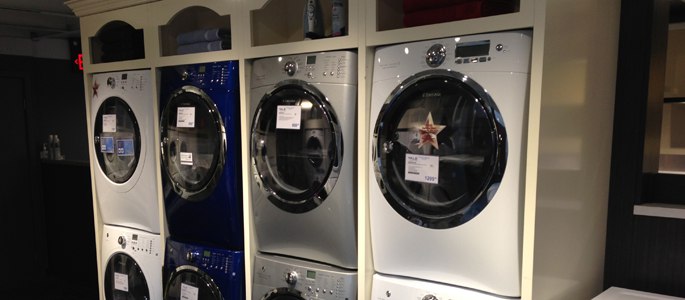 Short on time? Get our free Washing Machine Buying Guide
As a consumer, it is very difficult to compare the brands objectively. Samsung has leveraged its electronics inroads with Best Buy and is the brand of choice in the Big Box retailers. Electrolux has been driven mostly with a certain type of independent dealer. In other words the sales pitch will change depending on the store.
They are both very good machines manufactured by two very different companies. Let's look and compare.
Samsung Group
Samsung began as a small trading company with forty employees located in Su-dong in 1938. They had sold groceries produced in and around the city and even produced their own noodles. After the company prospered, Samsung moved its head office to Seoul in 1947. It's comprised of numerous subsidiaries and affiliated businesses. The majority of them being united under the Samsung label have become the largest South Korean conglomerate.
Samsung produces approximately 1/5th of South Korea's total exports.
The company has been shown to be a powerful influence on South Korea's economic development, politics, media and culture. Appliances are a very small part of this giants overall portfolio
Here is a tip for buying Samsung: They always promote around holidays. You can usually buy it cheaper on Presidents Day, Memorial Day, Labor Day, July 4th and Black Friday.
Electrolux
Electrolux is a multi-national home appliance manufacturer headquartered in Stockholm, Sweden. It is the world's second-largest home appliance maker by revenue (after Whirlpool). Its products sell under a variety of brand names including its own and are primarily major appliances and vacuum cleaners.
When Electrolux rolled out there new line of appliances, they brought on America's poster child for successful multi-taskers, Kelly Ripa, in order to connect with the on-the-go type of women ages 35-54 who are juggling career, family, and other activities, along with a love of entertaining.
(See why Electrolux is the most popular laundry we sell in our Washer Buying Guide)
Electrolux is a mode driven, cycle oriented product currently manufactured in Mexico. Appliances are Electrolux's only real business.
Electrolux vs. Samsung Front Load Washers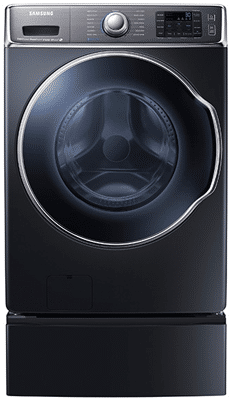 5.6 cu. ft. Capacity - world's largest washer* handles 3x the laundry
ENERGY STAR Compliant
Quiet Operation
Control and Monitor the Washer from your Smartphone with Smart Control
SpeedSpray Helps Save Up to 90 Minutes on Your Average Week-load of Laundry
Thoroughly Washes Even Big Loads with PowerFoam
Specialty Cycles - A Customized Wash for Each Kind of Stain
Our King-size Capacity Fits More Wash so You Can Do Fewer Loads
Optional Pedestal Drawer
SmartCare - Skip customer service and troubleshoot issues straight from your smartphone. Smart Care interacts with your washer and dryer to perform an immediate diagnosis and offer quick solutions.* *Available for iPhone 4/4S/5/5S and Galaxy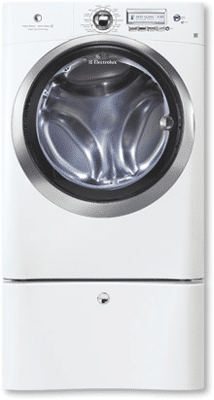 4.4 Cu. Ft.
Cleanest Front-Load Wash
Fastest Wash Time
Largest Capacity Washer
ENERGY STAR Most Efficient
ExpertCare Wash System
Eco-Friendly
Perfect Steam Washer
Perfect Balance System
Whiter Whites
3 "My Favorite" Settings
Platinum Star Warranty
Wave-Touch Controls
Touch-2-Open Door
NSF Certified
Signature Soft-Arc Door Design
Delay Start
Last Cycle Recall
Perfect Fresh Wash Door Seal
Perfect Close Door
Automatic Water-Level Adjustment
Control Lockout
Reversible Door
Optional Pedestal Drawer
Video Review of updated Electrolux Front Load Laundry
Thanks for reporting a problem. We'll attach technical data about this session to help us figure out the issue. Which of these best describes the problem?
Any other details or context?
message

Comparison
We compared the best pieces from both companies.
Both have giant capacity and the added steam feature. Electrolux has their "wave touch" technology for their innovative controls, but I like the Samsung LCD screen even better for ease of use. When you really compare these machines, both will perform well and will probably have more features than needed.
On second floor installations, Electrolux has a money back guarantee for vibration. Front loaders will spin out at three times a top load machine and can shake the floor.
Neither of these large companies directly controls their own service. That should be a huge part your thinking in buying these machines.
Size
Samsung's latest update is extremely large at 5.6 cubic feet. This is twice as big as what our parents once used. The dimensions are 42" high, 30" width as well as 32.5" depth plus venting. That would require one big closet.
The Electrolux is easier to stack and fit in tighter spaces because the dryer vents within the machine with no extra depth needed for the vent pipe. Its width is a more standard 27".
Design
Electrolux's core design has not changed in over 6 years despite its sophisticated interface.
Samsung, however, has redesigned their models almost every 12 months for buzz and excitement. They innovate appliances like their electronics business.
Samsung vs Electrolux really has very little to do with the actual machine, and more with availability. Always check your local dealers for stock. Other than that, I would go with Samsung.
Additional Resources
Read the Yale Washer Buyers Guide with specs, features and insider buying tips to buying the right machine. Well over 100,000 people have read a Yale Guide.
Related Articles
Rick Medeiros
Rick Medeiros has over 10 years of appliances sales experience and is in the appliance sales department at Yale Appliance + Lighting. He enjoys travelling, live music and learning to play the guitar.

Read more about Rick here.
A Note About Pricing
Pricing on this blog is for reference only and may include time sensitive rebates. We make every attempt to provide accurate pricing at time of publishing. Please call the stores for most accurate price.