The Best 42-inch Professional Counter Depth Refrigerators (Reviews / Ratings / Prices)
42 inch refrigerators are somewhat uncommon because that is a rare cabinet size. You have a more limited selection of exclusively high-end brands at this size.
The most common cabinet sizes for refrigerators are 30, 33 and 36 inch by far, with 48 inch being the most specified for larger refrigerators.
Short on time? Get our free Counter Depth Refrigerator Buying Guide
Still, I like the 42 inch size, especially in a shallow depth side by side configuration. In fact, I would not buy a side by side less than 42" because there is hardly any refrigerator capacity at 36 inch.
You have to remember that counter depth is less depth and therefore less cubic footage.
Now, several manufacturersalso produce the more popular French door style. We'll look at the counter depth segment and then compare the products.
Counter-Depth, Professional + Integrated Refrigerator Differences [VIDEO]
Thanks for reporting a problem. We'll attach technical data about this session to help us figure out the issue. Which of these best describes the problem?
Any other details or context?
message
Professional vs. Regular Counter Depth
Professional refers to a more commercial looking product with the compressor on the top. They are available in 30" and 36" as well as larger sizes like 42" and 48".
Regular counter depth refrigerators are just shallower refrigerators and are only available in smaller sizes like 30, 33 and 36 inch widths. The price of a regular counter depth is much cheaper at $1,700 to $3,500 vs. $8,000 plus on a professional.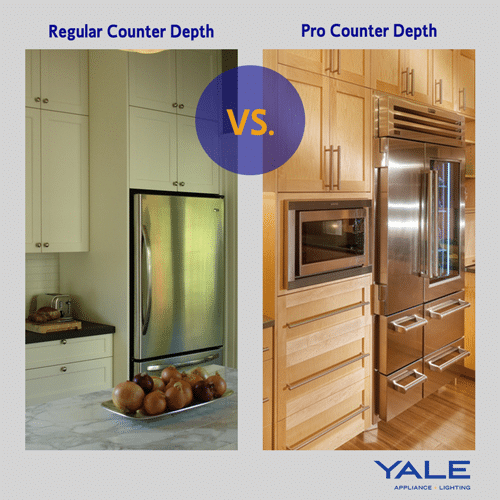 Professional vs. Integrated Refrigerators
Integrated refrigerators fit within the 24 inch cabinet depth, so they are indistinguishable from the cabinet itself. The door of the professional (and regular) counter depth will protrude about three inches.
Integrated refrigerators are available in smaller sizes like 18, 24, 30 and 36 inch. You would buy two for 42 inches width. Integrated is more expensive per cubic foot than the pro.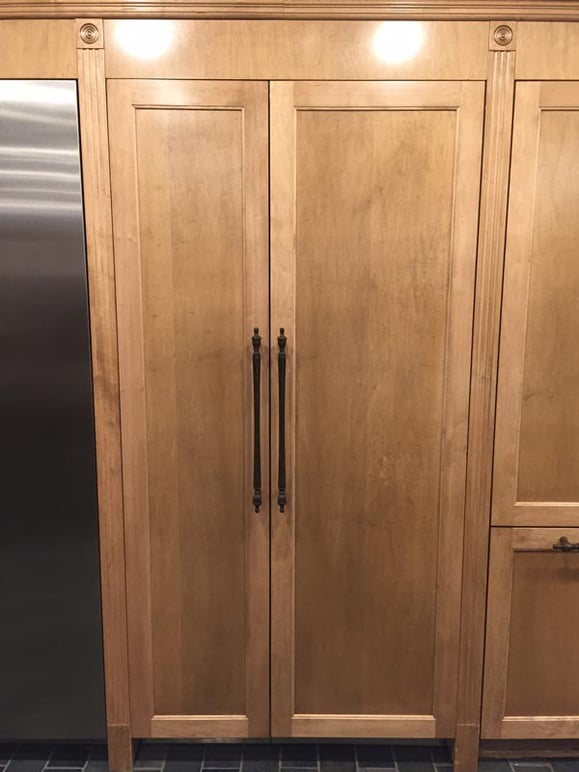 Thermador's integrated columns, T24IR800SP and T18IF800SP, are a total of 42" in width
They offer two different looks in your kitchen. One is noticeable and the other is completely hidden.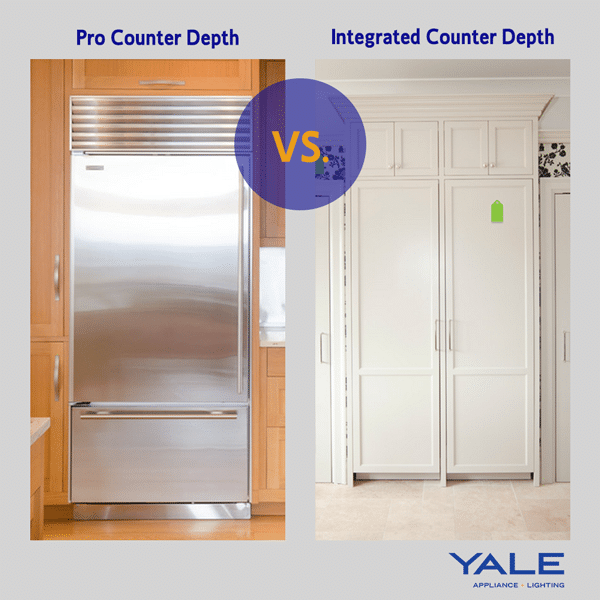 The Best 42-inch Professional Counter Depth Refrigerators
True TR42SBS - $16,429
True is a family owned commercial refrigeration company based in St. Louis. Their products are in almost every supermarket worldwide and are known for reliability.
This refrigerator screams commercial. It is all metal inside and out with LED lighting and heavy commercial hinges.
Sub-Zero BI-42UFDID/S - $10,669 - $10,799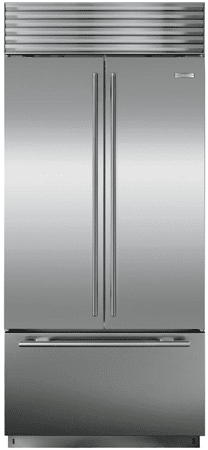 Sub-Zero is another family owned company, this one based in Wisconsin. Their refrigerator is the best constructed refrigerators on the market. It keeps food fresher longer with a vacuum seal and magnetic crispers designed to keep air out of the refrigerator.
They also have twin compressors to eliminate air transferring from freezer to refrigerator. Sub-Zero also employs an ingenious air scrubber, which removes the gases from spoiling food to eliminate cross contamination as well as to arrest the spoiling process. Their water filter is the best in refrigeration.
Thermador T42BD810NS - $9,799
A wholly owned subsidiary of the Bosch Company. They are known for manufacturing refrigerator columns. Thermador does not even manufacture this unit. KitchenAid is the producer of this solid yet unspectacular unit. Thermador, however, has the better rebate program with free dishwashers and hoods for qualified purchases.
Jenn-Air JF42NXFXDE - $8,499 (requires panels)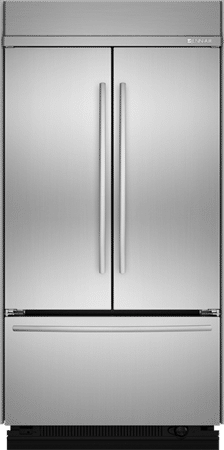 A wholly owned subsidiary of Whirlpool. The JF42NXFXDE is one of the largest French door units available. I like French doors as you have more useable capacity in the refrigerator with fruits and veggies at waist high level.
You can buy this in KitchenAid for less, but without the free dishwasher. The only real difference between a KitchenAid and Jenn-Air is the color of the interior.
Jenn-Air has a great rebate program with free dishwashers and hoods with qualified purchases.
Thermador T24IR800SP + T18IF800SP
Now this is something different. This is not a pro. As we said, integrated fits inside a 24" counter depth. The look is cleaner, but you pay more per cubic foot than any other refrigerator/freezer unit. Still, it is a great look.
You would need to buy a 24" refrigerator and 18" freezer as two units. There is more flexibility in placement with this style.
Which Do You Choose?
I love the True, but $16,000+ is a ton of money. You can buy the Sub-Zero all metal 48" Pro for that. Still, it's built unlike any other product.
The built-in market is really Sub-Zero and everyone else. Sub-Zero has invested in building a better performing refrigerator with their air scrubber, vacuum seal and twin compressors.
Jenn-Air, KitchenAid and Thermador are decent refrigerators and will cost far less than a Sub-Zero and offer rebates as well.
The integrated is a nice option because you don't see the refrigerator or freezer. It can also be placed anywhere in the kitchen. Integrated is a nice option compared to a more in your face pro style.
Additional Resources
Want to learn more about counter depth, professional and integrated refrigerators? Get the Yale Counter Depth Refrigerator Buyers Guide with features, specs and inside buying tips to all the brands. Well over 150,000 people have read a Yale Guide.
Recommended Reads
Editor's Note: This post was originally published in October, 2014 and has been updated for freshness, accuracy, and comprehensiveness.
Steve Sheinkopf
My goal has always been simple: I want Yale to be the best retail experience anywhere. I have tried to create a compelling environment for customers and employees alike
A Note About Pricing
Pricing on this blog is for reference only and may include time sensitive rebates. We make every attempt to provide accurate pricing at time of publishing. Please call the stores for most accurate price.