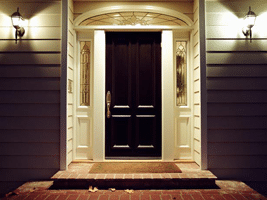 Every day a customer will come in and look at our display and ask the question, "How big should the lights be for my house?" With the ever growing number of styles of homes being built and remodeled every day here in Massachusetts it's not always the easiest question to answer. We have cute cottages all the way to multi-million dollar homes.
Style
Today's new construction and remodeling of homes often will not fit exactly into one "style" or "type" of architecture. There are all sorts of equations to assist you; however they do not always apply to different types of construction. The correct formula for a 2 story colonial style home will not work for a Craftsman style home with a wrap around porch. Different styles require different lights.
General Formula
Front door lights should be about one fifth the height of the door. Most people do not know these dimensions when they are shopping for fixtures. So how does the average person start? Using the guideline of about 20% of the height of the door will be an adequate scale as a comfortable start. Front door heights are usually about 6 ½ feet or taller, so 16" height would be someplace to begin.
Common Problems
Clients tend to undersize the fixture and overwatt the light output. Often new home owners settle for size of the installed lights from the previous owners. If you are not sure you may want to go a bit larger then you think you should and remember to look at it from the street or several yards away from the house.
Many of today's manufacturers offer 4 different sizes of wall mounts as well as complete families of ceiling, hanging and post lantern styles to allow consistency around the entire house. When in doubt go BIGGER!!!
If you need help email a couple of pictures of your home and I can certainly advise you accordingly.
| | |
| --- | --- |
| | Nick Paternostro has 20+ years of lighting sales experience currently works in the lighting department at Yale Appliance + Lighting. In his spare time Nick enjoys cooking, gardening and spending time with his family. |