I spent the last couple of days at Sub-Zero's factory in Madison, Wisconsin. I never go to factories as I find it less than productive. In fact, I have only been to two factories in my not so young life, Sub-Zero and Miele.
I have a soft spot for these guys. They have real integrity, almost maddeningly so. They are zealous in the pursuit of keeping food, fresher for a long period of time. They really are obsessed with this, which can be a problem with new product introductions. Especially when the product is crucial, like the french door (outselling other refrigerators 10-1).
Before I show you a few pics of the new Sub-Zero, let's review a few key features and how it played in developing a product for five years:
Dual compressors: One designed for the refrigerator to keep lettuce crisp, and the freezer system is designed to keep the food dry, eliminating freezer burn. There is no crossover, so the odors aren't manifested in the coldest places, namely your ice cubes don't taste like the food in your refrigerator.
Vacuum Seal: Sub-Zero has a very active seal and is the hardest door to open, but it is designed to keep outside air out of your refrigerator.
Magnetic Crispers: Locking the fruit and veggies into a separate pocket of air.
Air Scrubber: A purification system designed to scrub the gases off food, preventing spoilage.
A french door is a side by side top, which requires twice the seal of a bottom mount refrigerator, so Sub-Zero spent 4 years redesigning this seal to satisfy their mantra of food preservation, and another year field testing the product. In fact, all Sub-Zero products are tested before leaving the factory, but new products spend a year in the field and evaluation.
The Sub-Zero French Door Refrigerator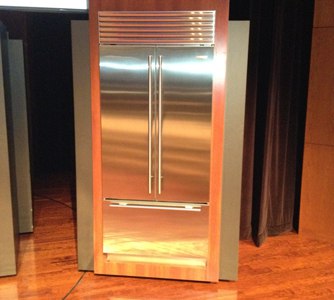 Although this is the most expensive product we sell at Yale, it is the best appliance company in the world in terms of design and overall product quality.