Under Cabinet Lighting: LED vs Xenon, Which is Better?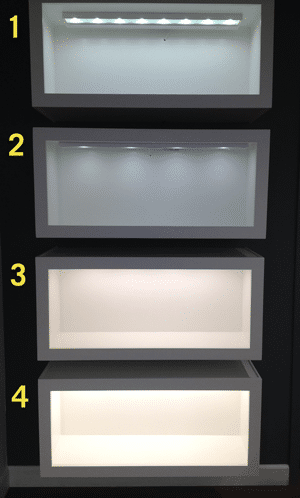 Be prepared to re-learn everything about lighting you know...seriously.
Following is a new undercabinet lighting display at Yale showing the following lamp types from top to bottom:
Juno UPL30 Pro LED: 9.5 watts 52 lumens 3000 Kelvin
CSL Mach 120 LED: 10 watts 340 lumens 2900 Kelvin
CSL Mach 120 Xenon Halogen: 120 Volt 140 watts 270 lumens 2900 Kelvin
Juno Pro Xenon Low Voltage: 12 volt 80 watts 800 lumens 3000 Kelvin
Before we answer some pretty interesting questions, following are some lighting definitions.
Kelvin Temperature: Kelvin is a color rendering or quality of light scale. 2500 degrees Kelvin is incandescent. An incandescent renders a warm, yellowish light. Older fluorescent lighting renders at 5000 degrees Kelvin and renders a harsh white light like the sun.
Halogen and low voltage are considered "white" lights at 2900-3100 degrees Kelvin, but only white compared to incandescent. Our showroom is all "white" LEDs on the appliance side as the light really emphasizes the stainless steel
Short on time? Get our free Under Cabinet Lighting Buying Guide
Confused? Let's talk about lumens....(there is a video at the end, don't worry)
Lumens (according to Wikipedia): The lumen can be thought of casually as a measure of the total "amount" of visible light in some defined beam or angle, or emitted from some source. My definition would have been measurable light to the floor or counter.
The problem with comparing Xenon with LED for lumens and Kelvins is it varies among manufacturers, and like the mattress police there are no enforceable standards. You almost have to see the light itself.
LED is whiter at the same Kelvin teperature as halogen or low voltage.
Let's compare from a specification point of view
Life expectancy:
LED 50,000 hours
Low Voltage 10,000 hours
Halogen 2,000 hours
Heat: (heat is significant, because a hot lamp will melt your food in a cabinet)
LED: Minimal
Halogen and Low voltage: 300 degrees
Watts: (energy consumed)
Juno LED 9.5 watts
CSL LED 10 watts
Halogen 140 watts
Low voltage 80 watts
Additional Resources
Take a look at this video to see the comparison:
Steve Sheinkopf
My goal has always been simple: I want Yale to be the best retail experience anywhere. I have tried to create a compelling environment for customers and employees alike.
A Note About Pricing
Pricing on this blog is for reference only and may include time sensitive rebates. We make every attempt to provide accurate pricing at time of publishing. Please call the stores for most accurate price.