Undercounter refrigeration has become popular over the last decade. You immediately think about one of these for your bar. However, as kitchens have expanded, you may want to have a smaller refrigerator for the kids to have easy access to water and juice boxes.
There is not one dominant brand. It depends on if you will be storing food, wine, beverages or a combination. So we will look at a few brands and models.
First, let's look at undercounter versus freestanding refrigerators.
Short on time? Get our free Undercounter Refrigerator Buying Guide with reviews and recommendations for all types of undercounter products »
Freestanding vs. Undercounter Refrigerators
Freestanding is a dorm refrigerator. It is all plastic with the compressor on the back so it cannot be placed next to cabinets without the unit failing due to overheating. Freestanding refrigerators are inexpensive with a price tag of $100-$200.
Undercounter refrigerators are manufactured with all steel cabinets and better shelving. Most importantly, the compressor is located below the unit, so it can be built into a bar/kitchen installation.
A decent undercounter refrigerator will cost $1,700-$3,500. Let's look at the best of each category.
The 4 Best Undercounter Refrigerators
True TBC-24-R-OG-B - $3,649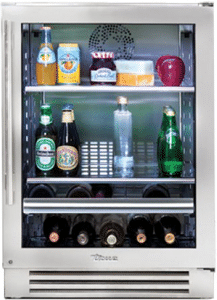 True is the best undercounter refrigerator sold in the US. It is so well made that every True is UL listed for outdoor use. Typically, the elements are less harsh in your home. This is a beverage center or combination refrigerator and wine, which is the most popular undercounter configuration.
True has a powerful compressor and can reach temperatures as low as 33 degrees. It can be converted to an all wine or refrigerator model as well.
True has 14 different LED internal colors to choose. Then again, for $3,649, it should.
Sub-Zero 424 - $3,599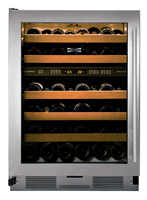 When America discovered wine, most undercounter manufacturers used their refrigerator chassis and stuffed wired racks therein. However, wine cannot be stored like food, because it is living. The taste and texture can be altered if stored improperly
Sub-Zero built their unit around these issues of tannin destroying light, vibration, humidity and temperature change.
From a common sense standpoint, Sub-Zero has hidden lighting and not a light bulb on the top of the unit. The shelves glide and the compressor is on grommets so it doesn't vibrate.
You have two temperature controls for red and white, which can be controlled to 1 degree. It even features gaskets between compartments to prevent temperature change.
If you like wine and store it over a long period of time, Sub-Zero is the best brand.
U-Line CO2175 - $2,399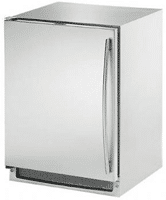 U-Line is a step down from the previous two. The company has recently changed ownership to the Middleby Corp of Ohio. They are the same company fumbling around with Viking.
U-Line always had decent combination units. This is refrigerator and icemaker, which is perfect for a space constrained bar installation.
Yale ND24BCG - $1,799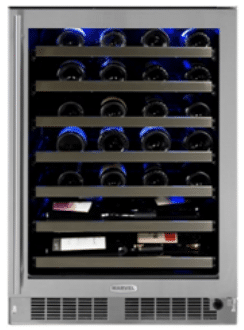 I compared True versus the Yale unfavorably in a blog comparison. It was humbling, but this beverage center is $2,000 less. It has a powerful compressor for temperatures as low as 34 degrees.
You cannot leave it outside, but the unit is solidly built and made in the USA. The Yale is the best of the lesser expensive units.
Final Thoughts
You have to decide on the best unit for your application. True is the best for beverage and refrigeration, whereas Sub-Zero is best in class for wine storage and preservation.
However, if price is a consideration, the Yale brand and U-Line are decent options.
Additional Resources
Need more information on undercounter refrigerators and icemakers? Read the Yale Undercounter Refrigerator Buyers Guide with specs, features and updates to all the major refrigerators. Over 100,000 people have read a Yale Guide.
Related Articles