Best Traditional Powder Room Sconces (Reviews / Ratings / Prices)
I love Powder rooms....Half Bath or Lavette. Whichever you call it, to me, it is the most important bath in the home. It's the one EVERYONE sees whether they use it or not. It is the bath we tend to get a little bold and push ourselves outside the box.
The lighting in this bath is not necessarily task oriented unlike the other baths in a home unless putting on lipstick or adjusting one's hair is considered a task.
I have to think about the lights and the mirror as a partnership. The lights have everything to say to the mirror and can't be considered without each other. You will see some beautiful pairings and I will show you how to get these looks in your home.
First, you should know what traditional lighting is and where to hang your sconces.
What is Traditional Lighting
Traditional style lighting typically features rich, warm colors that are welcoming and considered elegant, orderly, and calm. A traditional style typically features centuries of design into your home. Think of your grandmother's timeless pieces such as her Lion's head China cabinet or her 30-year-old velvet sofa with an imperial wood trim (which never loses it's comfort).
Where to Hang a Sconce
You do not want to look down or up at a light bulb. Also, you want your face cross illuminated by both sconces.
As a general guideline, you want to hang your sconces 65-67 inches off the floor to avoid looking at the light directly. You may want to adjust depending on your height.
However, that is a good place to start.
Best Traditional Bathroom Sconces
Currey and Co Mirror $990 - Hudson Valley Sconce 381-ON $384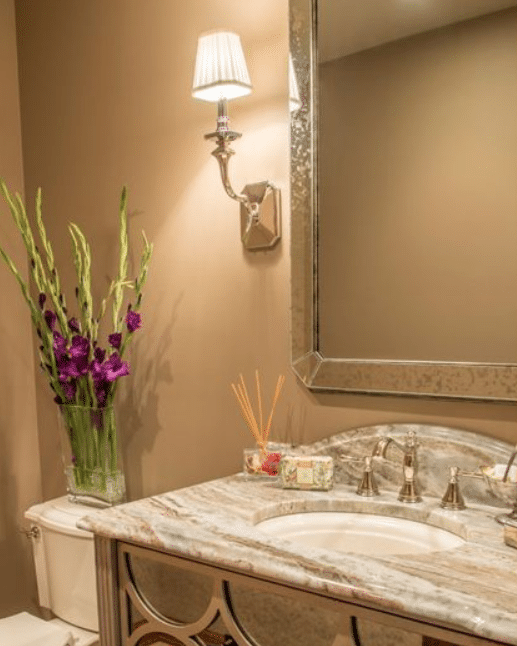 | | |
| --- | --- |
| Curry and Co. Mirror | Hudson Valley Sconce |
Uttermost Almena Mirror $260 - Feiss Gianna Sconce $169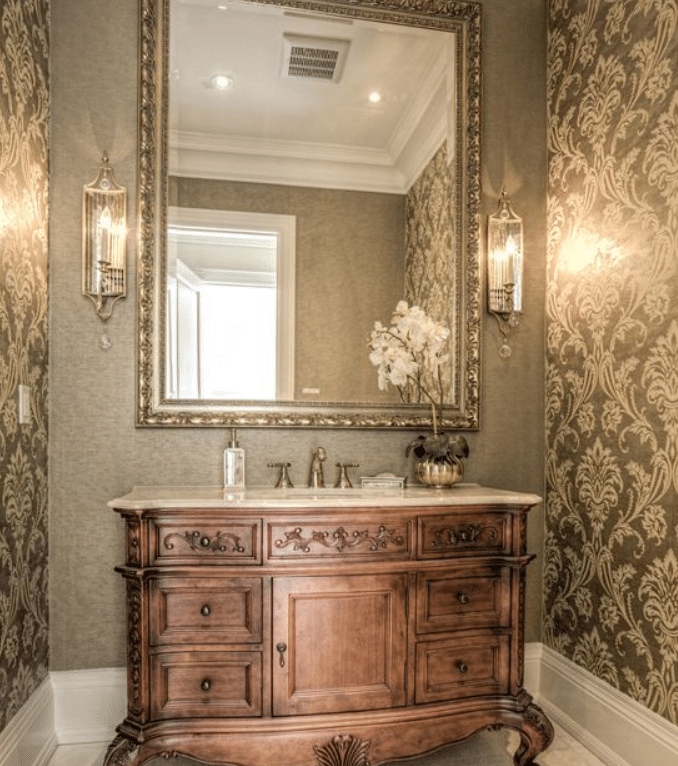 | | |
| --- | --- |
| Uttermost Almena Mirror | Feiss Gianna Sconces |
Feiss Gianna is the sconce but the mirror looks like a museum piece maybe an antique. I would pair this sconce today with the Uttermost Almena.
The Uttermost Elara Mirror $327 - Quoizel's Tricia Sconces $160
| | |
| --- | --- |
| Uttermost Elara Mirror | Quoizel's Tricia |
Some Powder rooms are very narrow and if you do a decent size mirror you don't always have enough room left for the sconces so what do you do? Put the sconces on the side walls! Just make sure they don't extend too far.
Quoizel Mirror $320 - Visual Comfort Sconce $452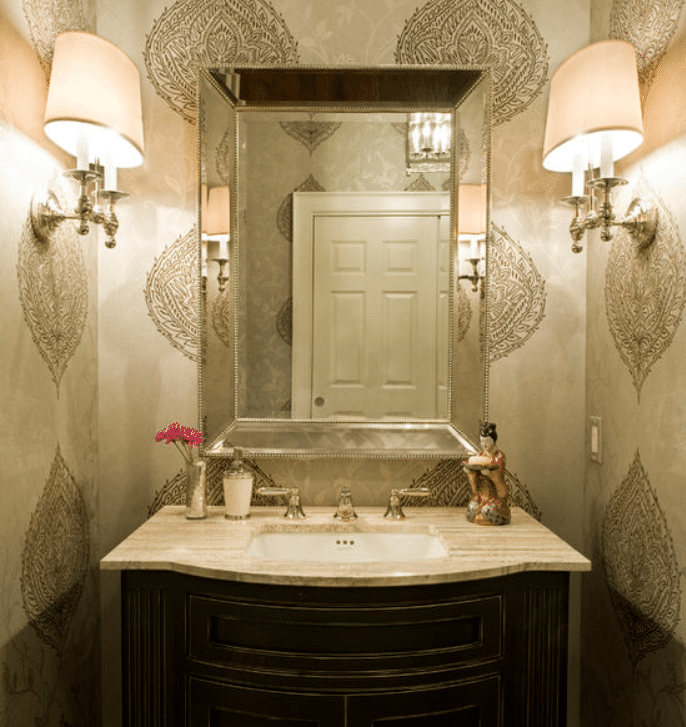 | | |
| --- | --- |
| Quoizel Mirror | Visual Comfort Sconce |
Visual Comfort makes this double sconce which can be hardwired or plugin and comes in 4 finishes to choose from. Quoizel makes this elegant 26 x 32" beveled mirror.
Uttermost Vena Mirror $305 - Hudson Valley Danbury Sconce $390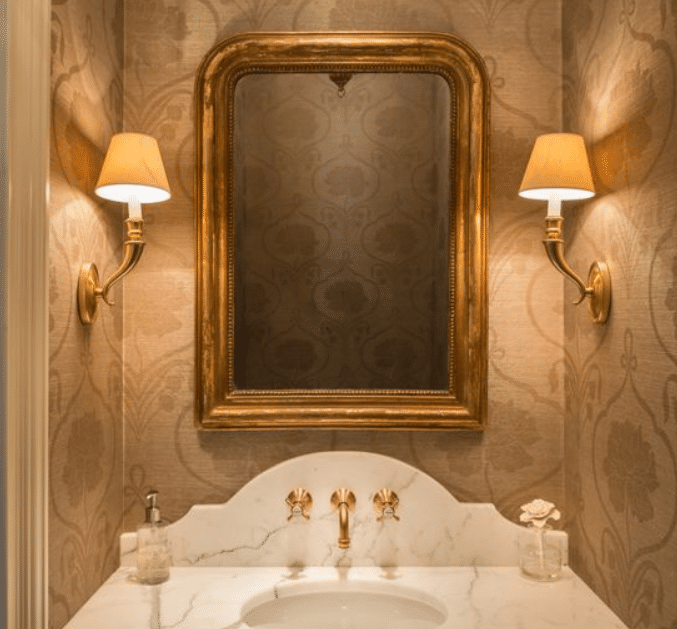 | | |
| --- | --- |
| Uttermost Vena Mirror | Hudson Valley Danbury |
Uttermost Earnestine Mirror $372 - Visual Comfort Huntingdon Sconce $580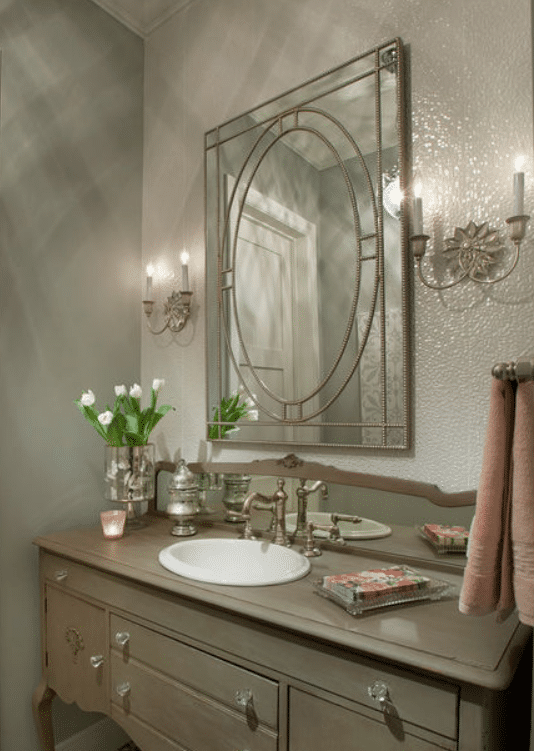 | | |
| --- | --- |
| Uttermost Earnestine Mirror | Visual Comfort Huntingdon Double Sconce |
Currey and Co. Crystal Lights $440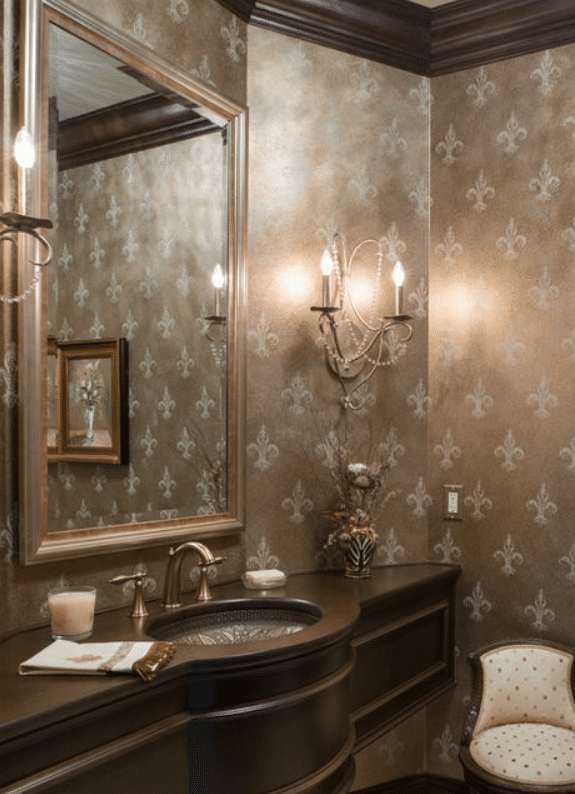 Vermont Mirror $892 - Hubbarton Forge Leaf Sconce $352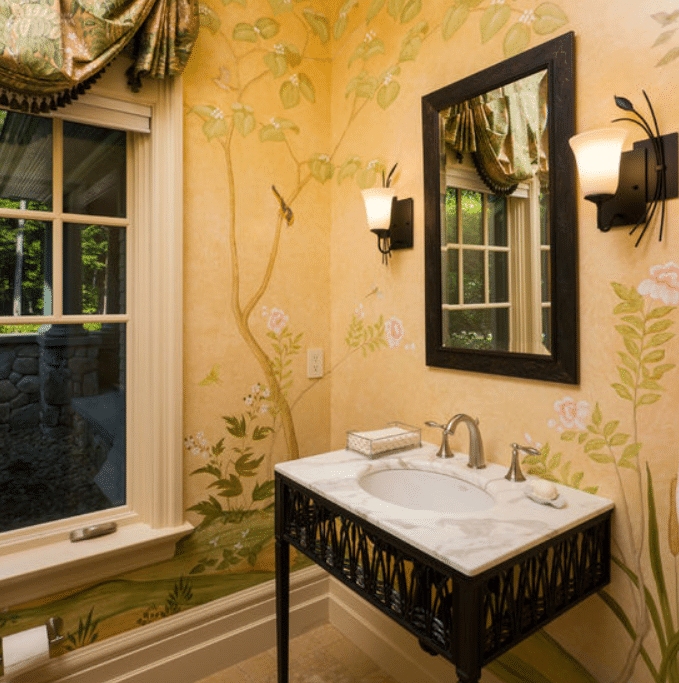 | | |
| --- | --- |
| Vermont Mirror | Hubbarton Forge Leaf Sconce |
Who says everything must be equal and align? Design is all about taking chances and making the "off" look great! A mirror is centered at the sink line but the sconce can be "off" remember we are not going for great task lighting we are speaking to the mirror and wallpaper in this room. This is a great way to get a double sconce in place of a single for double the lumen output.
Visual Comfort French Double - $260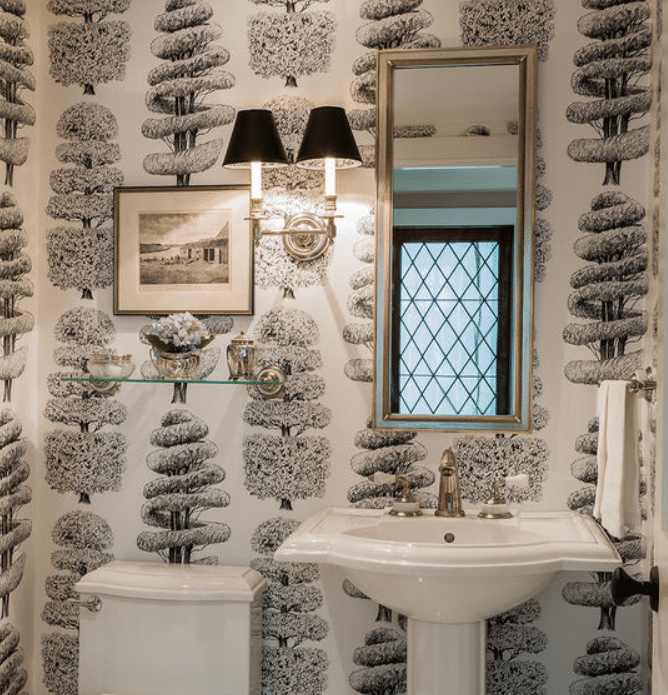 The Tonebridge Mirror by Elk $290 - Husdon Valley Danville $315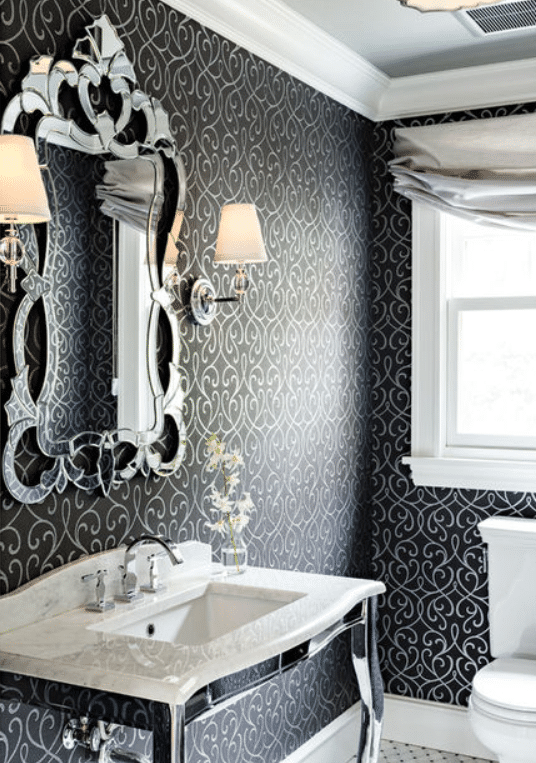 | | |
| --- | --- |
| The Tonebridge Mirror | Hudson Valley Danville |
Uttermost Sconces Alenya - $195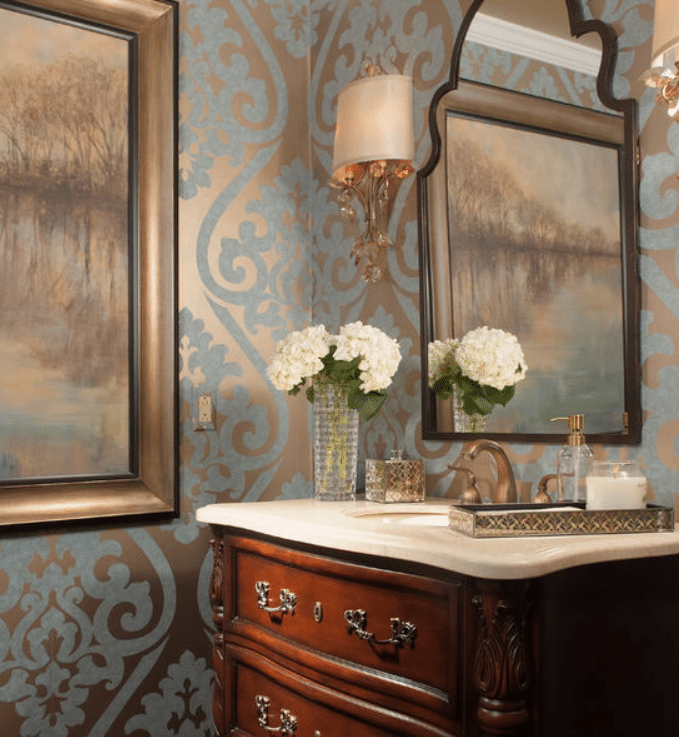 A warm and cozy yet rich and spectacular is accomplished by bringing out the copper color in the swirls of the wallpaper. This was done by using the Uttermost sconces Alenya $195.00 which is a bling bang for your buck!
Conclusion
The Powder Room is the bath to stretch out, take a deep breath and design without fear. It's small but mighty and you will be most proud to show all your friends and family how spectacular this little gem can become!
Additional Resources
Want to learn more about lighting? Download our free Bathroom Lighting Buying Guide for detailed information on how to light your bathroom with the latest products and trends. Well over 220,000 people have used a Yale Buying Guide.

Amy Zuckerman
Amy Zuckerman is a Lighting and Plumbing Sales Consultant at Yale Appliance + Lighting. Amy has over 30 years of experience in the lighting and plumbing industry. When she's not at work, you can find her going for rides in the convertible with her husband Al, and dog, diamond.

Schedule a showroom visit with me
A Note About Pricing
Pricing on this blog is for reference only and may include time sensitive rebates. We make every attempt to provide accurate pricing at time of publishing. Please call the stores for most accurate price.