The Consumer Electronics Show showcases the latest technological innovations in 2016. Given the technology we have at our fingertips there is no question that the household appliance industry is adopting these technologies to make our lives easier.
Let's take a look at this years crop of exciting appliance innovations.

5. Marathon Laundry Machines
Marathon Laundry was pioneered with Glenn Reid, an engineer and entrepreneur with several years experience working with Steve Jobs at Next and Apple. This company's focus is laundry. Front loading washers and dryers have not changed profoundly over the last 15 years. Marathon's premise is to bring 21st century technology into washers and dryers. Their machine has a 10'' electronic interface on the front which is designed with "Apple-like simplicity". Their laundry omits the cycles that you never use and will learn your preferences over time. It automatically adjusts spin speed, water temperature, and duration based on what is in it. It can also be programmed to run at optimal off-peak hours for increased energy savings.
Marathon is process of manufacturing one model that is both a washer and a dryer. LG came out with the all-in-one washer/dryer a few years ago. The LG model was not successful from a service standpoint. Because of this, Yale does not sell the LG all-in-one anymore.
I am curious to see how Marathon Laundry will perform. The idea behind having your washer and dryer in one is practical and I think this is the way the future of laundry will eventually go. Let's hope it works.
4. LG Signature Four Door Refrigerator
The LG Signature four door refrigerator has a few really unique features. On the right side it appears to have a touch screen. However when you knock on it the refrigerator will illuminate and you can see the contents of your refrigerator without opening the door. The display looks a little bit like you are seeing your refrigerator contents through tinted glass.
This refrigerator also has hands-free access. Imagine you are carrying groceries over to your refrigerator. Near the toe kick there is a sensor that you can activate to have the refrigerator door open for you. LG claims that the sensor can determine the difference between a person and a pet.
I am curious to see how this sensor works in practice. Overall, I like the clean look of the refrigerator. It does not have an external ice/water dispenser which only increases interior capacity.
3. Samsung Family Hub Refrigerator
Samsung Family Hub Refrigerator

How many times do you come home from the grocery store only to realize that you didn't actually need to buy that extra gallon of milk? With the Samsung Family hub refrigerator you can pull up your smart phone and peek into your refrigerator to determine exactly what you need. This refrigerator has 3 cameras on its interior so you can clearly view all of its shelves.
This refrigerator also has a 21.5'' touch screen on the front door. This touch screen has access to several apps. You can stream music, sync your schedule to display a family calendar, or set a kitchen timer. You can also stream video from your Samsung Smart TV onto your refrigerator. This refrigerator can also send you notifications if your refrigerator is left open too long. You can also adjust the temperature of the refrigerator from your phone.
Perhaps the most unique feature is the "Groceries by MasterCard" app that lets you order groceries to be delivered to your home.
2. LG Signature Twin Wash Washing Machine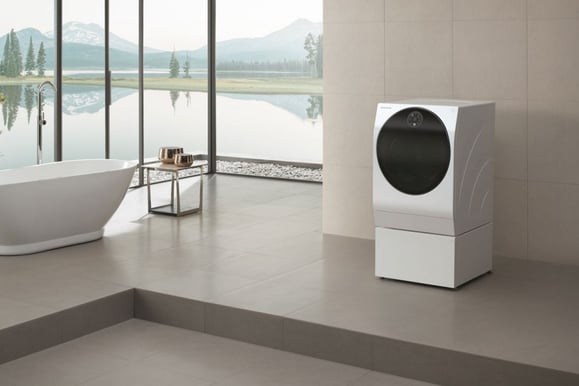 LG Signature Twin Wash Washing Machine

Last year when I wrote this blog for CES 2015 I introduced LG's washer pedestal. This year LG took it a step further. This new mode has a washer on top that can double as a dryer. It is mounted on a washer pedestal (like last year). The idea is you can have 1 unit to complete all of your washing and drying needs.
This washer has a very clean modern design. It has a touch control interface that appears on the glass.
Pricing and specifications have not been released yet on this model. I am speculating that this washer needs two water line connections for the two washers to operate concurrently.
1. Whirlpool Smart Home Appliances
Whirlpool is updating the connectivity of their appliances as well in several categories. Whirlpool smart appliances can be connected to your tablet or Smartphone. The Whirlpool app will alert you about service concerns, and you can use your device to operate your appliances remotely.
In particular, I like the Whirlpool pantry refrigerator with extra large capacity and the ability for you to connect to Amazon dash replacement service when your dishwasher detergent is running low.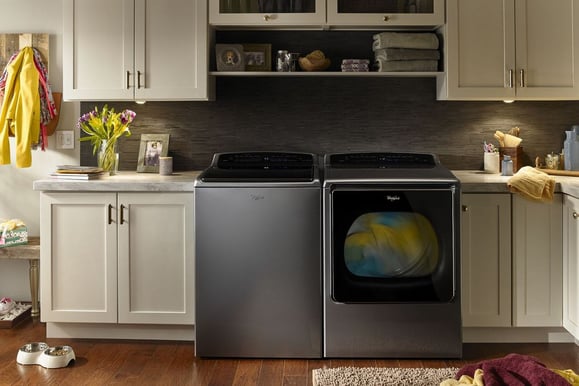 Whirlpool Smart Laundry
Although I am not the biggest fan of high efficiency top load washers (design does not lead to the best cleaning performance), the Whirlpool Smart Washer/Dryer can detect when you are home so the machines can operate more quietly.
Whirlpool also partnered with Habitat for Humanity where you can elect to give a donation every time you run a wash. This way you can wash your clothes and make the world a better place at the same time.
Honorable Mentions:
Samsung Activewash Top Load Washer
Samsung Activewash Top Load Washer
Last year Samsung released a top load washer with a built-in sink for pre-treating your clothes. This year they made some changes. Instead of having the control panel on the back of the machine, they are incorporating the controls halfway up the glass top lid. The machine will now also be able to pause so you can add extra clothes after the cycle started. This could have made the list however it is not different enough from last year's release.
Haier R2D2 Refrigerator
For all Star Wars fans out there, Haier manufactured a refrigerator that looks like a pretty convincing 1:1 replica of R2D2. It can hold a 6-pack of your favorite beverage and deliver it to you at (.62 MPH). It also has a built in projector making it possible to stream content from your Android device while you enjoy your favorite beverage.
Conclusion
There are two ways that appliance manufacturers differentiate themselves in an industry where "everything sort of looks the same and does the same thing". The first differentiation tactic is appealing to consumers' aesthetic preferences. The second tactic is incorporating technological innovation into their products.
Today everything we have is becoming more interconnected. With a huge push toward houses with open floor plans, the kitchen is more of a living space than ever before. I think displaying your family photos on a touch screen on your refrigerator could be a neat conversation point.
Personally, I am not sure how well these new appliances are going to sell. Appliances that have these innovative features are not cheap. Affordable luxury brands like Samsung and LG tend to appeal to customers looking for value.
If these brands want to step into the luxury market (such as selling a refrigerator for $5,000) they need to make a product that can be reliable and well supported. My fear is that technological innovation might compromise quality control.
Additional Resources
Get our free Appliance Buying Guide with tips, specs and recommendations on all the best brands. Over 130,000 people have already found answers in a Yale guide.
Why Should You Trust Us?
It seems that every appliance review has nothing but glowing comments about almost every product, yet you read customer reviews and they are almost universally bad.
We are here to fill in the disconnect. We'll give you the best features, and the drawbacks as well, including reliability based on over 37,000 calls performed by our service team just last year. Our goal is to give you ALL the information so you know what's right for you.
Please consider subscribing or adding to the conversation in the comments below. We appreciate you stopping by.
A Note About Pricing
Pricing on this blog is for reference only and may include time sensitive rebates. We make every attempt to provide accurate pricing at time of publishing. Please call the stores for most accurate price.