Best Colonial Style Lighting for Dining Rooms (Reviews/ratings)
A Colonial home is one of the most popular types in the United States. Colonial homes evolved from European influences which were developed in the late 1600's and early 1700's when Europeans migrated to the United States.
Massachusetts is home to Colonial type architecture (as we were an early colony).
An Older Colonial Home
These started as 2-story homes with one room on each floor and now have grown to 4 rooms or more on each floor.
In this article, we will be talking about lighting your Colonial style dining room and offer 10 of our favorite fixtures as a start.
How to Buy
The most important part about buying a new chandelier is to have the measurement of your room and table. (Read: How High Do You Hang a Chandelier?)
I usually recommend a combination of lighting fixtures for better light output. These can be recessed lights, a chandelier, and a couple of wall sconces to properly layer the light.
In this case we will be discussing chandeliers, but remember single fixtures cannot illuminate a room by themselves. Resist the urge to place an 8 arm chandelier in your room just for the light output. You will blind your guests.
Below are some chandelier ideas for above the dining room table in a Colonial style home. Keep in mind that there are many more to choose from and many of them will have a matching wall sconce in case you want to add additional lighting.
As always, buy what you like because decorative lighting is more about personalizing the room versus actual illumination.
Best Colonial Style Lighting for Dining Room
Available in 4 Different Sizes – 20", 24", 27", and 29" Diameter
Choose from 6 different finishes – Bronze, Mahogany, Dark Smoke, Black, Natural Iron, and Burnished Steel
Optional Fabric Shades
60 Watt Maximum Candelabra Bulbs
Made in the USA (Vermont)
Hubbardton Forge is a great Colonial style brand. Each fixture is manufactured in the U.S in an actual forge. They are available in a number of finishes with natural iron being their best.
23"W x 17"H (Also available in a 27" diameter)
6-60 watt Candelabra Base Bulbs
Available in 6 different metal finishes (Black, Bronze, Mahogany, Natural Iron, Dark Smoke, and Burnished Steel)
Matching pendants and wall lights also available
Made in the USA (Vermont)
26" Diameter with 6-60 Watt Candelabra Base Bulbs
Available in 7 different finishes – Dark Brass, Dark Antique Brass, Antique Brass, Antique Copper, Raw Copper, Raw Brass, and Verdi Gris
Also available with 8 arms
Made in the USA (New Hampshire)
Northeast Lantern is another custom fixture company out of New Hampshire. They have more of a raw brass look than Hubbardton Forge.
Available in 3 sizes - 16"Wx 16"H, 23"W x 25"H, and 24"W x 31"H
Six 60 Watt Candelabra Base Bulbs
7 Different finishes to choose from – Raw Brass, Raw Copper, Antique Brass, Antique Copper, Dark Antique Brass, Dark Brass, Verdi Gris
Optional Linen Shades Available
Choose Different Colors and Style for Candle Covers
25"W x 16.5"H
5-60W Candelabra Base Bulbs
Available in a Silver Gold or Deep Bronze Finish with Linen Shade
Hand Worked Iron Construction
Has matching flush mounts, wall sconce and pendant lights
You have probably seen a bunch of drums or shaded chandeliers. This type of fixture has become very popular commercially, and many residential trends start commercial. Drums are a bit easier on the eyes as well.

Available in 15", 23", and 28" Diameter
Choose from 6 different metal finishes – Bronze, Dark Smoke, Mahogany, Black, Burnished Steel, and Natural Iron
7 Different Fabric shade color to choose from
Adjustable Height
This fixture can be custom made in a bigger diameter
Made in the USA (Vermont)
For a Colonial fixture, this has clean almost contemporary lines.
Visual Comfort Classic Ring Chandelier - $950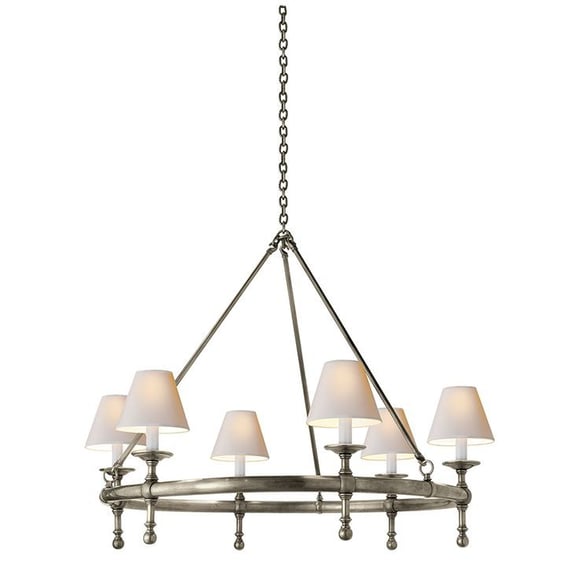 Available in 3 different sizes – 25", 33", and 45" Diameter
Choose from 4 different finishes – Polished Nickel, Bronze, Antique Brass, and Antique Nickel
Natural Paper Shades
Maximum 60 watts candelabra base bulbs
Rings were popular 20 years ago, and now they are back. It is a classic look.
Schonbek Lighting Sterling 7 light Chandelier - $1,098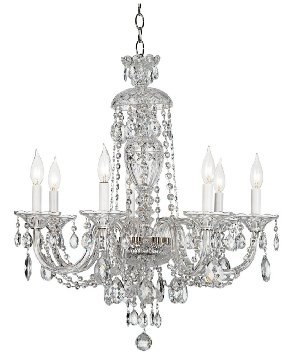 25" Diameter with 7 lights
Available in 10 different sizes
Choose from 3 different crystal grades – Swarovski, Heritage, and Spectra
Matching wall lights available
60 Watt candelabra base bulbs
Crystal is always a good choice for traditional and transitional interiors.
Visual Comfort Lighting George Chandelier - $1,710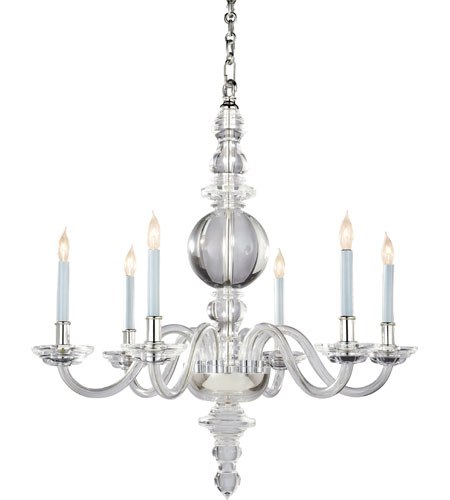 30" Diameter with 6-60 watt Candelabra bulbs
Available in 4 different sizes – 13", 22", 30", and 36" diameter
Polished Nickel finish only
Matching wall lights available
This is possibly one of the most popular lights available. Why? It's glass exterior matches just about everything.
26" Diameter with (6) 40 watt candelabra bulbs
Silver Leaf finish with off-white hard linen shade
Available in 3 different sizes – 20", 26", and 36" diameter
Matching wall sconce available
Final Thoughts
There are an abundance of light fixtures available for your Colonial room. That is either a blessing or curse, because you may have a tough time choosing.
So, let's break down the chandelier types to match this style. Crystal works as does any of the natural or distressed brasses. Drums have also become incredibly popular. There really are no rules, just make sure you love it.
Additional Resources
Get the Yale Kitchen Lighting Buying Guide. The Guide will take the mystery out of proper illumination. We will show you how to layer lighting, better effects for accent, task, ambiance and decorative. Well over 130,000 people have read a Yale Guide.
Related Articles
Roger Pontes
Roger Pontes has been with Yale Appliance + Lighting for over 10 years. He's worked in both the lighting and appliance department over the years. Roger truly enjoys helping people. He's a married father of 2 kids, a boy and a girl. On his spare time Roger enjoys spending time with his family and playing sports.

Read more about Roger here.
A Note About Pricing
Pricing on this blog is for reference only and may include time sensitive rebates. We make every attempt to provide accurate pricing at time of publishing. Please call the stores for most accurate price.