Best Chandeliers for a Transitional Kitchen (Reviews/Ratings/Prices)
So, you're looking to purchase a new chandelier for your transitional kitchen but not sure what to buy?
In this article we will share some ideas to help make your decision a bit easier. We will define what transitional lighting is and then look at a some of our favorite transitional fixtures.
What is a Transitional Kitchen?
A transitional kitchen is a blend of traditional and contemporary style. It is very popular in New England. Transitional is a great choice for homeowners because they can have the flexibility to select more than one style.
A transitional kitchen usually consists of simple wood cabinetry, sleek handles, and natural surfaces such as marble, granite, or limestone.
It's a way to break away from the traditional style. Think of an all white kitchen with different finishes and details; adding some playfulness to a traditional kitchen.
How to Buy
Picking out decorative lighting is like buying jewelry or clothing. Buy what you like. It is more about personal style. You will see it in your home every day so you should love it.
Chandeliers and decorative lighting do not light your space. It is the recessed and under cabinet lighting that provides the main source of light.
Different lighting can be used above a kitchen table as well as kitchen islands. You do not necessarily need pendants. With bigger kitchens nowadays, chandeliers have become the new normal above a kitchen island or counter.
You also do not want to overpower the space with a big fixture or something that's too small. In order to figure out what size chandelier can work in your kitchen, you will need the dimension of your space as well as the size of your table or counter.
Following are some options of chandeliers that can work in a transitional kitchen. Keep in mind that there are many other chandeliers to choose.
Best Transitional Chandeliers
30" Roark Modular Chandelier by Visual Comfort - $1,199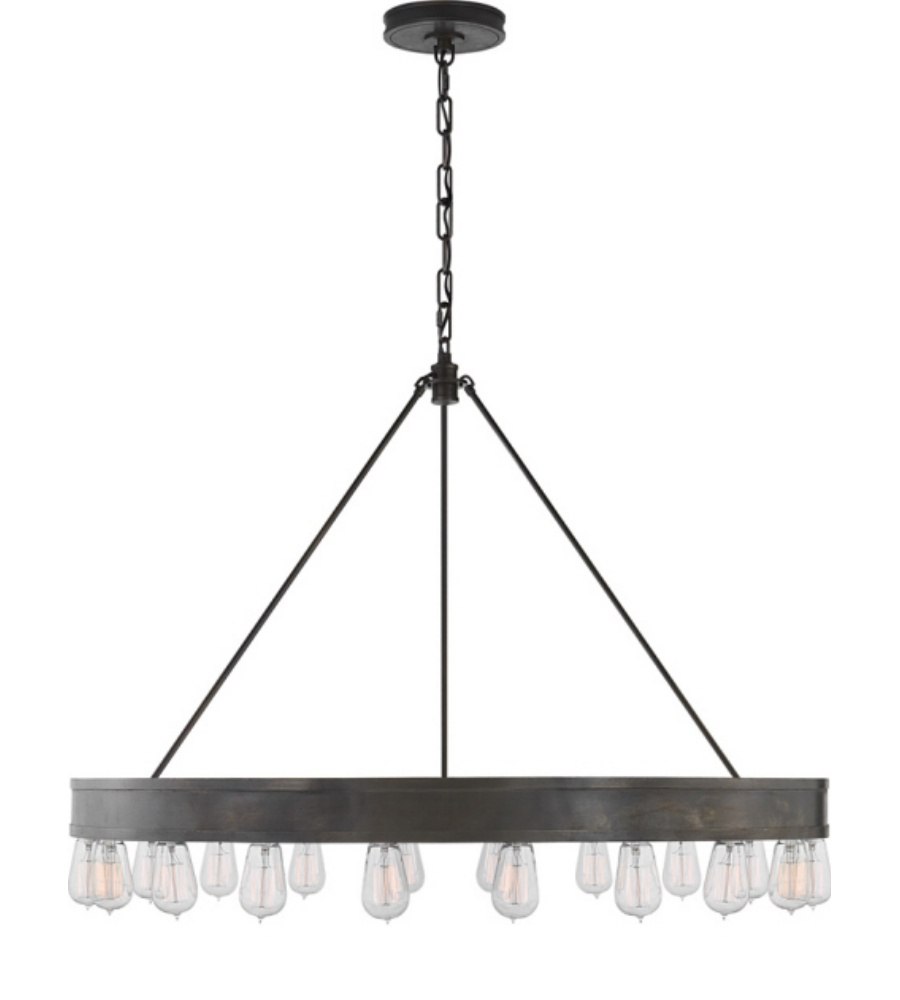 Designed by Ralph Lauren
Available in Aged Iron, Polished Nickel, and Vintage Oak finishes.
Offered in a round version with 5 different diameters (20", 30", 40", 50" and 60") as well as a 45" rectangular pendant.
Some versions can be installed inverted with the bulbs facing up or down.
Maximum 40 watts per socket (bulbs sold separately)
Sandy Chapman 6 Light Square Tube Chandelier by Visual Comfort - $799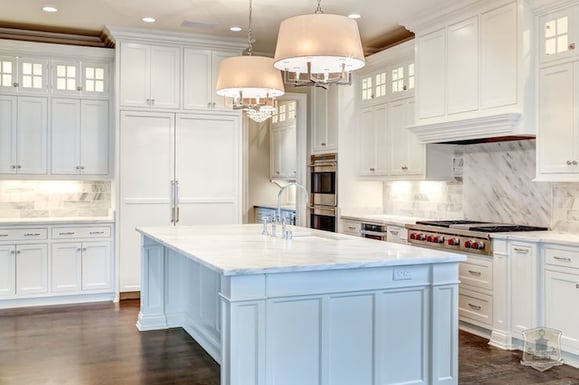 Available only in a 24" diameter only
Comes in Antique Nickel, Polished Nickel, Antique Brass, and Bronze finishes
6 candelabra light bulbs maximum 60 watts each

Silver Gold Finish
25 x 16.5 x 1 inches
Candelabra (4) 60 Watts
22.5" 4-light chandelier in a polished nickel finish with crystal accents
White linen shades included
(4) 60watt candelabra bulbs not included
Available in a 22.5" diameter as well as a 25" diameter with 5 lights
This chandelier features clean sweeping lines in a brilliant chrome finish
Available in a 28" diameter with 6 lights and a 32" diameter with 9 lights
Candelabra sockets can hold up to 60 watt light bulbs
Optional fabric shades available for purchase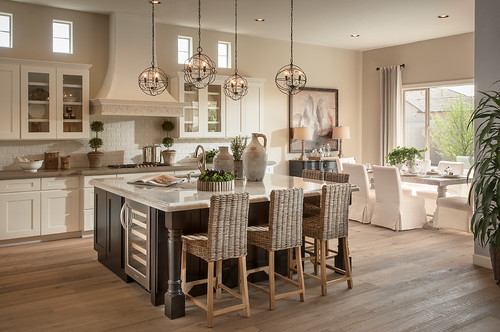 The cluster of light fixtures above this large kitchen counter adds a special touch and also shows that you can create unique lighting designs above any table or counters.
Chandelier is available in a old silver or bronze finish
Comes in different sizes (17", 22", 28", and 40" diameter)
Choose different crystal grades and colors
Candelabra 60watt bulbs not included
Wrought Iron metal
Visual Comfort Darlana Lantern CHC2164AI - $437

E.F. Chapman Darlana collection
42" x 29"
4 x 60 watts Candelabra
5 Different finishes available
Conclusion
Having a transitional kitchen is blending modern innovation with a classic design. It's a way to break away from traditional style. Having to put lighting in a transitional kitchen is fun and all about thinking creatively, blending the old with the new!
As you can see there are many options and configurations for transitional kitchen chandeliers. Like we said earlier, lighting should reflect your personal style.
Additional Resources
Have questions about Kitchen Lighting? Get the Yale Kitchen Lighting Buying Guide with articles on how to properly illuminate your space using task, decorative, accent and ambient lighting. Well over 135,000 people have read a Yale Guide.
Roger Pontes
Roger Pontes has been with Yale Appliance + Lighting for over 10 years. He's worked in both the lighting and appliance department over the years. Roger truly enjoys helping people. He's a married father of 2 kids, a boy and a girl. On his spare time Roger enjoys spending time with his family and playing sports.

Read more about Roger here.
A Note About Pricing
Pricing on this blog is for reference only and may include time sensitive rebates. We make every attempt to provide accurate pricing at time of publishing. Please call the stores for most accurate price.