A Real Review of Jenn-Air Modular Cooktops (Prices / Ratings)
Modular cooktops are the preferred way of cooking because it allows you to have different choices of burners like induction, gas, and woks.
However, the traditional appliance companies from Europe are extremely pricey. Most of the designs are dated as well.
Needless to say, modules are not very popular. However, Jenn-Air has a new series addressing both problems.
We will look at the Jenn-Air as well as their main competition, but first, let us describe the modular cooktop.
What is a Modular Cooktop?
A modular is a singular cooking vessel of one or two burners. They can be used as an ancillary burner in concert with the main cooktop or can be ganged together for the main cooking center in your kitchen.
Why gas and induction together? Although induction has better output, you may be more familiar with gas. However, induction still has a much better simmer so having a combination is pretty common among chefs.
Modulars are available in 12 or 15-inch modules and can include any type of burner as well as accompanying downdrafts.
Short on time? Get our free Induction Cooking Buying Guide
Major Module Producers
Modules are most associated with the premium manufacturers like Gaggenau, Miele, and Wolf. Miele is 12 inches wide with Gaggenau and Wolf being the larger 15-inch size.
Miele CS10121LP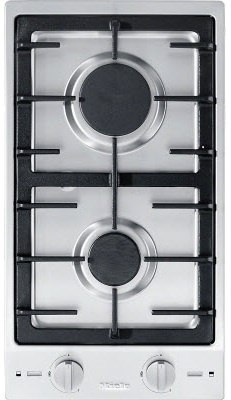 Gaggenau has the best design because the knobs are on the front rather than the top of the cooktop surface for more cooking space.
Gaggenau VG424210CA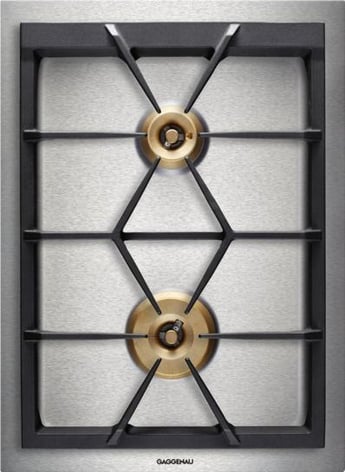 These units are incredibly functional with some cool features like a Teppanyaki, grill, steamer, and fryer.
Jenn-Air
Jenn-Air is once again a premium appliance line. Originally known as the downdraft company. They are headquartered out of Benton Harbor, Michigan. They are Whirlpool's premium product line.
Whirlpool acquired them in 2006 and has put a large investment in their products. Jenn-Air has some of the best promotions in the luxury segment.
Their Modules:
Fab Five Modules
15" 2 Burner Gas
15K BTU Stacked burner
15K BTU Burner
LED Lighted Knobs
Brass burners
Flush Install option
15" Gas Wok

20K BTU Stacked Burner

Wok Ring

LED Lighted Knobs

Brass Burner

Flush Install option
15" Induction flex
Touch Activated Controls
LED Lighted Interface
3700 Watts
Flush Install
15" Chrome Infused Griddle
1800 Watts
LED Lighted Knobs
Flush Install Option
Pairs up with any module
15" Induction Wok

Touch-activated Control

Led Light Interface

3000 Watts

Concave Surface & Flush Install

Jenn-Air's new downdraft, that you can put in between the modules, is 4 inches wide. Its tap touch controls and flush install options keep the seamless design of these units.
Highlights
The gas units offer real power with 15,000 BTUs on each burner. Wolf is 12,000 and 9,000, Gaggenau is 13,600 and 6,800 with Miele being the lowest at 10,200 and 6,800.
Their wok burner is powerful at 20,000 with Wolf being slightly more powerful at 22,000 BTUs.
Jenn-Air is the only company with an induction wok. I want to see this working because induction is faster with less heat emission than a pro-gas wok.
Their griddle is infused with chromium and is by far the easiest to clean. You only have to wipe it down.
Problems
Their $2,229 downdraft is only 350 CFM. You will have an issue if you like to cook with the wok burner or even the high-powered gas burners.
Sending 20,000 BTUs of exhaust while reversing the airflow and including an elbow is just not efficient for venting.
Downdrafts should be a last resort for any cooking anyway (download our Ventilation Buyers Guide for a full explanation).
Jenn-Air did not include grills, steamers or fryers in this series like Wolf. Their series is just about burners and griddles.
Should you buy these units?
That all depends.
From a price standpoint, a decent 5 burner induction cooktop is $1,500 to $2,500. A pro-gas rangetop is $2,500 to $3,000, so modules will cost you $500-1,500 more than a regular gas or pro cooking surface.
However, the Jenn-Air product is interesting and updated. It will allow you to have gas, induction, and a very good griddle in the same cooktop.
You can also add an induction module alongside a pro-gas rangetop for better simmering.
This series is very competitive especially in price and style, but do you really need modules versus conventional cooktops?
Additional Resources
Want to learn more about appliances and lighting? Get the Yale Appliance Buying Guide with answers to the most frequently asked questions, detailed profiles of brands and products as well as buying strategies to get the best price and service. Over 260,000 people have read a Yale Guide.

Related Articles:
Paul Gillis
Paul Gillis has over 15 years of experience in the appliance industry. Paul likes to spend time golfing, working in the garden and fixing up his 100 year old home.

Schedule a showroom visit with me
A Note About Pricing
Pricing on this blog is for reference only and may include time sensitive rebates. We make every attempt to provide accurate pricing at time of publishing. Please call the stores for most accurate price.