You probably don't think about landscape lighting when building a new home or renovating an existing space.
However, landscape lighting will certainly make your house better looking by accentuating different aspects.
You will also be safer because burglars tend to prowl darker spaces. A well-lit space will deter them.
It will be winter soon and landscape lighting means you will be less likely to slip on that ice or fumble around in the dark....and it will be dark soon and for a long time.
With all these benefits, the price is not that expensive and with LED bulbs, you will not have to constantly replace them.
Let's look at few concepts and some fixtures to consider as well.
Best Landscape Lighting
Path Lights for Your Pathway, Driveway, Gardens
Path lights can be contemporary or more traditionally styled.
Contemporary path light from WAC
Available in a bronze finish on brass or a bronze finish on aluminum.
Path light from VistaPro is cast aluminum, and available in 16 colors.
Lilly design path light is from VistaPro and made of solid copper
Linear path light from WAC, bronze finish with LED lighting.
Hinkley Lighting has path lights to match many of their outdoor lights
Plantation Series Wall Mounted Lantern - $328.95

Plantation Series Path Light - $144.95

And for a more contemporary style
Shelter Series wall mounted lantern with LED - $284.95
Shelter Series Path Light - $108.95

Bullet-Style Lighting for Directional Lighting
One of the most versatile and commonly used types of lighting for outdoors is the bullet style.
Bullet style fixtures are made for directional lighting, and can be installed on a stake in the ground, or on a plate hung on the wall- there are even straps available to mount these in trees. The strap can be loosened as the tree branches and trunk grow.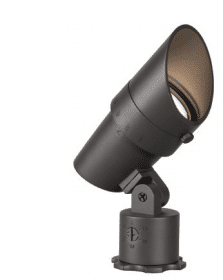 Bullet lights come in various sizes for different tasks, smaller will hide well inside the side beams in a pergola, or hide well under a small Japanese maple.
Large ones are better for long distances like a tall tree or a flagpole.
And all can have a narrow beam of light or a very wide flood to light under the canopy of a large tree
WAC has a terrific line of bullet lights that are adjustable.
Another good option for uplights is a light buried in the ground.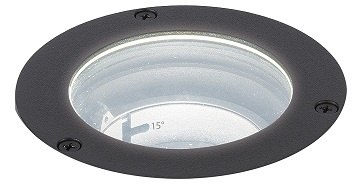 Also from WAC, this light is under 5" diameter, can withstand being driven over, and has an adjustable beam spread- going from very narrow spot to very wide flood!
One thing to remember about in-ground lights is that they can possibly be covered with mulch or leaves and would need to be cleaned off.
Step Lighting for Your Stairs
Steps are one of the most important places to light, and we have great options for that.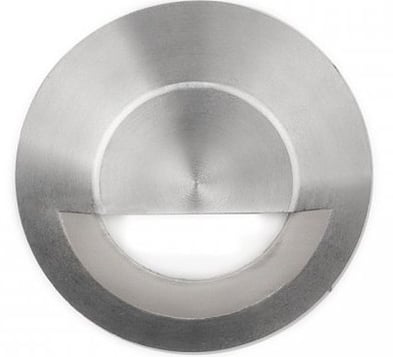 Step lights are completely watertight, recess into the step so there is no chance of tripping on them and won't be in the way when shoveling away the snow. The finishes can range from white, stainless steel and solid brass which will age and develop a patina over time.
Linear Lighting for Stairs/Steps, Walls, or Railings
Linear lights can also be used for steps and to define a wall, or railing.
These strips from VistaPro are solid copper, available in 12" or 24" width and shine down...They are also great for railings.
And W.A.C. has an attachment that rotates for more light control.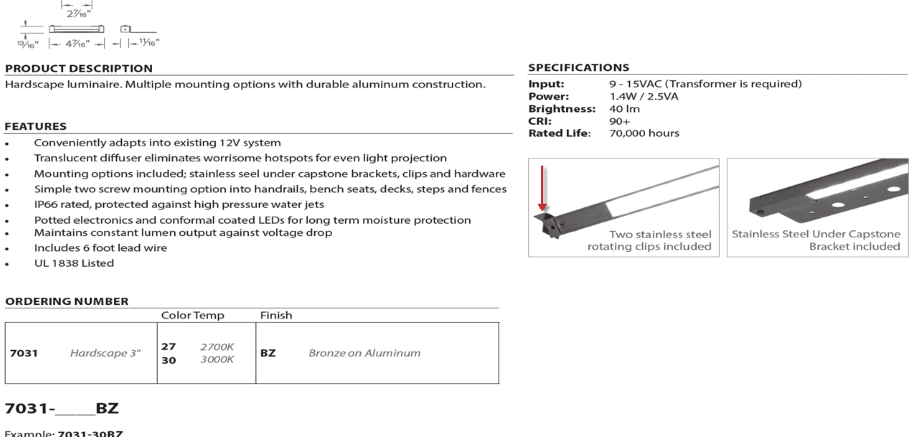 VistaPro Strips
Hinkley's version of these come in bronze, sandstone, and titanium color options for best possible blending into the wall.
And for a wonderful blast of color, W.A.C. offers color changing in-ground, wall wash, and bullet-style lights.
These are app controlled, so no additional hub or communication is needed. They can be dimmed from the app as well as setting scheduled on/off times. They would be perfect for holidays and parties, as well as setting the perfect color for the plantings, for example, pink for a dogwood tree, or pale blue on a birch tree trunk.
Landscape Lighting Concepts
The lighting in this picture is an excellent example of lighting done well.
All pathways and steps are lit, and all the lighting is glare free and compliments the landscaping.
The seating area is cozy and the steps are illuminated for safe passage.
The masonry work on the front of this house is exceptionally beautiful and shown off well with uplights grazing the surface. The whole house is well lit without being overly bright.
Another great way to light the outdoor space is by using trees.
The lighting here is all located in the tree some pointing up to show the branches and some are high up pointing down to give a "moonlight" effect.
Fixtures are easy to buy and install, most are 12 volt which means wires are buried only 4 inches down- an advantage when the plants grow and the light can be moved easily.
Final Thoughts
As we said in the beginning, landscape lighting can serve many functions without costing a ton of money.
It is also not hard to execute. Just plan first.
Start with safety. Light your pathways and other points to and from your house. Then work on accent lighitng such as highlighting trees, bushes, and architectural details to differentiate your house from your neighbors.
Landscape lighting is simple, easy to plan, and probably one of the best investments for your home.
Additional Resources
Want to learn how to properly light your kitchen? Get the Yale Kitchen Lighting Buying Guide with explanations of the different types of light and how to layer your light for the perfect kitchen environment. Over 350,000 people have read a Yale Guide.

Related Articles
Dagmar Hemp
Dagmar Hemp is a ALA Certified Lighting Specialist for Yale Appliance + Lighting. She has many years of lighting design experience including attending Sylvania school as a lightbulb geek. Her trademark line is "I'll remember the part number of every light in your house, but not always your name." We can absolutely vouch that this is accurate and only emphasizes that she is, in fact, a total lightbulb geek. In her spare time, she loves decorating (especially adding pink sparkly things to our holiday tree) and enjoys cooking with her new stove. If she could, she would live at the beach or someplace very warm

Schedule a showroom visit with me
A Note About Pricing
Pricing on this blog is for reference only and may include time sensitive rebates. We make every attempt to provide accurate pricing at time of publishing. Please call the stores for most accurate price.