24 Volts vs. 12 Volts for LED Under Cabinet Lighting (Reviews/Ratings/Prices)
You have more options for under cabinet lighting now than ever. They're also way different than just 5 years ago. LED is now the standard, but you have a choice between 24 volt and 12 volt systems.
Each have advantages, but both should be used differently. We look at both systems and then compare. First, let me explain the difference between low and regular line voltage.
Short on time? Get our free Under Cabinet Lighting Buying Guide
Low Voltage Under Cabinet Lighting
Low voltage is 120 volts converted to 12 volts through a transformer.
Low voltage under cabinet lighting options have many more benefits than 120 volt (regular household current).
Low voltage options tend to be smaller and less noticeable. Some types of cabinets do not have space underneath them for a full size under cabinet light. Sometimes there is a "light rail" or extra piece of molding added to hide the under cabinet lighting. This is where the low voltage options are better choices.
They also typically have a better color rendering and a more even look across the span of upper cabinets. In the 1980's and 1990's, halogen and Xenon low voltage were widely used. Today, it is almost exclusively LED, which has better longevity and efficiency than the incandescent bulbs with the same color rendering.
24 Volt Systems
24 volt systems actually started commercially, because they allow for longer lengths of the product without any change of brightness or voltage drop of 120 volt systems along the way. So they were ideal for office type applications. The lighting at the start of the run is the same throughout. With shorter lengths this is not usually a factor.
If there is no convenient place in your kitchen to locate the power supply you may have to place it further away. This is where a 24 volt system may be a better option once again because of voltage drop.
GM Lighting LARC6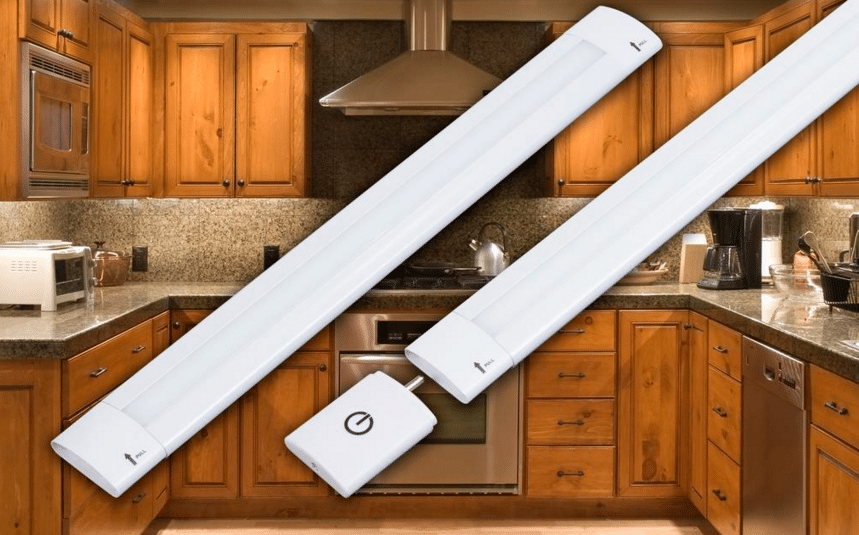 GM Lighting has advanced the under cabinet 24 volt lighting products to the LARC6 version which is thinner and brighter. This offers more control options, easy installation and adjustability.
Models and Prices
There are 4 lengths of the light bars 8", 16", 24" and 32".
LARC6-8-WW-W $38
LARC6-16-WW-W $58
LARC6-24-WW-W $74
LARC6-32-WW-W $106
There are in line controls for a master switch or touch dimmer.
LARC6-MS-W $6
LARC6-TD-W $10
There are 2 most popular 24 volt dimmable power supplies.
LTHM-30-DIM-24 $161.50
LTHM-60-DIM-24 $170
(We sell and ship LARC6 light bars - Contact us here)
12 Volts

For 12 volt light sources, the LED "Ribbon" (also known as LED "Tape") lighting has been a great option for under cabinet and in cabinet lighting. LED flexible ribbon is offered in several brightness levels and color tones. It is a product offering a very custom look and a multitude of installation possibilities.
The ribbon is incredibly thin, flexible and simple to install. However you do see the dots on your counters with any type of ribbon/tape.
Flexible LED Linear Ribbon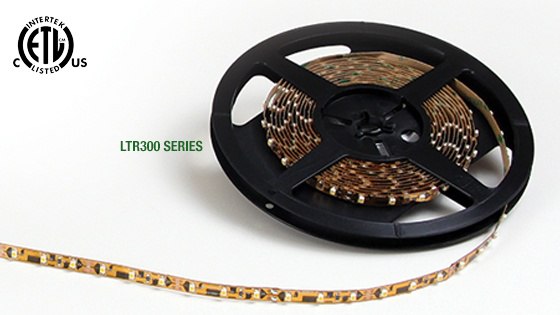 LED ribbon is available in 1 meter and 5 meter lengths and can be cut to size.
Models and Pricing
LTR-60-WW is a 1 meter section $80
LTR300-WW is a 5 meter section and is $350
The 12 volt power supplies will be based on your total wattage and the number of separate switching you may want. Here are a few of the most popular sizes and prices for the dimmable magnetic versions.
LTHM30-DIM $144
LTHM50-DIM $180
LTHM100-DIM $200
24 Volts vs. 12 Volts
The two main forms of low voltage under cabinet lighting are 12 volt or 24 volt operating voltages. The product that you choose may be predetermined so you do not have to decide which voltage would be better for you.
Some of the low voltage systems may offer a choice between 12 volt and 24 volt. One of the factors is the actual length of lights. Another factor would be the location of the transformer (converter of the 120 to 12 volts) in relation to the actual product that you are using.
Final Thoughts
Both are great options. You only need to answer two questions to determine what is right for you.
First, do you have a long run over 10 feet? The more powerful 24 volt would be better as the lighting would be more consistent throughout the run.
Secondly, do you have a reveal at the bottom of the cabinets? If your cabinets are flat with no rail, then tape may be a good alternative (you will see the dots).
Both, however, will illuminate well.
Additional Resources
Get our free Under Cabinet Lighting Buying Guide with tips, trends and reviews on all the best brands. Over 135,000 people have already found answers in a Yale guide.
Related Articles
Roger Pontes
Roger Pontes has been with Yale Appliance + Lighting for over 10 years. He's worked in both the lighting and appliance department over the years. Roger truly enjoys helping people. He's a married father of 2 kids, a boy and a girl. On his spare time Roger enjoys spending time with his family and playing sports.

Schedule a showroom visit with me
A Note About Pricing
Pricing on this blog is for reference only and may include time sensitive rebates. We make every attempt to provide accurate pricing at time of publishing. Please call the stores for most accurate price.