Induction is the best way to cook. Quite simply, it is faster with a better simmer than gas. It is also the most child safe, because you need metal to activate the magnets for induction to work. Induction also requires less venting as well.
That said, induction is extremely popular in cooktops and gaining popularity in ranges. You have probably seen Frigidaire, Electrolux, KitchenAid and Samsung.
On the premium side, there has been Dacor and Viking. However, two of the more popular premium companies, Wolf and Miele, have recently produced an induction range.
So we will compare the company's, products and then compare.
Miele
Miele is a family owned company based out of Germany. It is one of the most reliable brands sold in the industry mainly due to its manufacturing. In a world of outsourcing, Miele engineers, designs and manufactures all their products down to the component level. Their products are produced in Germany exclusively.
In November of 2014 Miele released its 30-inch induction range.
Miele 30" Induction Range HR1622I - $6,999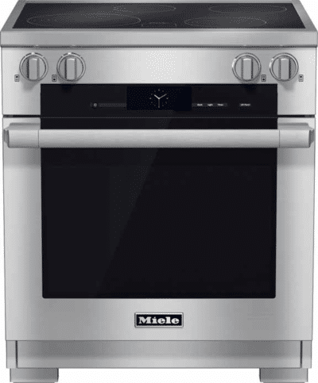 Features:
M touch controls and backlit precision knobs
Twin power convection fans
Moisture plus/Steam assist
Masterchef and Masterchef Plus programs
Self Cleaning racks
7" Diameter Element: 450 - 1,900 Watts
5 1/2" - 8" Diameter Element: 1,700 - 2,250 Watts
7" - 9" Diameter Element: 1,950 - 2,600 Watts
7" - 11" Diameter Element: 2,500 - 3,850 Watts
The cooking surface has 4 cooking zones with one extra large burner and booster function. The booster allows one burner to have more power by sharing from another. Miele's unique active lift panel with the touchpad makes it easy to navigate its many programs with just a slide of the finger.
Miele M-Touch Oven Controls
Thanks for reporting a problem. We'll attach technical data about this session to help us figure out the issue. Which of these best describes the problem?
Any other details or context?
message
The MasterChef program offers many recipes for any type of food. If you like to bake bread, this can cook every variety with its steam assist. The moisture plus injects bursts of steam for optimal results if baking or roasting. Miele's programmable wireless probe and swivel handle are additional fun features.
Wolf
Wolf Appliance Inc. is owned by Sub-Zero corporation. Together they are the largest American family owned appliance company (second globally to Miele). In the late 1990's Wolf appliance became a residential line of appliances by Sub-Zero acquiring some patent rights and a few products from the Wolf Commercial range company.
Wolf appliances are premium products manufactured in Madison, Wisconsin best known for their professional ranges. So it is natural for Wolf to produce a 30-inch and 36-inch induction range. Wolf's induction ranges were released in September, 2016.
Wolf 30" Induction Range IR304 - $6,399 with tubular handle
($6,499 with pro handles & also available in 36")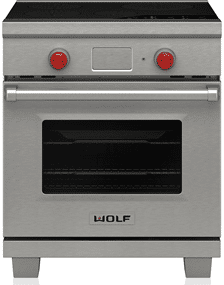 Features:
4 induction zones with bridge burner
Dual Convection fans
Bake Stone
Signature red knobs (available in black in stainless)
Left Side Burners, Bridge Capability: 2,100 W Elements with 3,000 W Boost
Right Burner 1: 2,600 W Element with 3,150 W Boost
Right Burner 2: 1,400 W Element
The induction glass top has a 2-way bridge burner to create a flexible cooking surface that accommodates a wide variety of pan sizes. The knobs to control the oven function make it very user friendly.
Wolf is the innovator of dual convection. The oven has two thermostats versus one which allows the temperature to be even throughout rather than just the middle. A meat probe and soft open door are additional features.
Now which one would you choose?
This really depends on how you will use the range. Both companies are reliable and made our most reliable appliance brands list for low service percentages.
However, looking at the specs on both, Wolf has a more powerful top, but Miele has the one very powerful burner. In terms of ovens, Wolf has the better convection delivery system with two thermostats behind each fan instead of just one.
Miele has a different type of range. They are first to introduce real technology into a range. You can cook foods by touching a button. Just pick the type of food, the doneness and hit start. It is that easy.
MIele also adds steam assist technology. So you can truly bake bread in the Miele, because moisture is essential for hardening crusts. You have 15 automatic bread modes in this range.
Both are exceptional products to consider.
Additional Resources
Looking for more information on induction ranges? Get the Yale Induction Buying Guide with features, specs, outputs of the current product and how to buy an induction range. Well over 210,000 people have read a Yale Guide.
Related Articles