If you are looking at professional rangetops, Viking and Thermador are two of the most popular brands. Although both are owned by conglomerates, the two products are very different.
You should buy one or the other based on how you like to cook and a few other intangibles.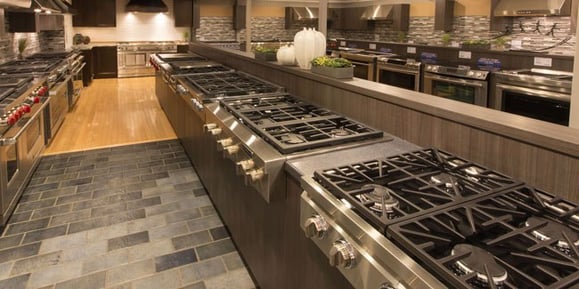 So we will look at both products, companies and then compare both products. First let's look at rangetops.
Short on time? Get our free Pro Cooking Buying guide with comparisons, features and more on all the top brands
Pro Rangetops
First, rangetops are different from cooktops.
| | |
| --- | --- |
| | |
| Pro Rangetop Installed | Regular Cooktop Installed |
Rangetops have the controls on the front versus the top like cooktops, so they are installed very differently. Rangetops will include larger sizes up to 48 inch, grills, griddles and French tops, but not cooktops.
Rangetops also have more power per burner, but you can buy powerful cooktops as well. The price difference between the two could be $1,000 - $2,000.
Rangetops as Part of Kitchen Design
Rangetops are different than buying a whole range. You can add a wall oven and never stoop for your turkey. Also, you can buy a more sophisticated wall oven with speed, steam and warming drawers, so it makes sense if you have space.
Thermador
Owned by BSH, Thermador was originally founded in 1916 and were the first in developing many products. In 1932, they became head strong in the appliance business and were one the first manufacturers of high-end products like built-in wall ovens, cooktops and downdrafts.
For the last 3 years they have become one of the most popular premium brands, service-friendly, innovative and have brought in great promotions to the luxury landscape to survive the last recession. Their 1-2-Free dishwasher and hood program has been highly successful.
Thermador has been a part of German Bosch corporation since the late 1990s.
Viking
In 2013, the Middleby Corporation, a large player in the commercial cooking field acquired Viking. Viking was originally family owned company and almost all their appliances were manufactured in Greenwood, Mississippi. At one time, Viking owned 50% of the professional ranges and rangetops sold in the US.
That figure has dwindled somewhat, because of legacy service issues and quality products. This rangetop is one of Middleby's newest products. Hopefully, they can turn it around.
To be transparent, we do not sell Viking products.
Thermador vs. Viking 48" Professional Gas Rangetops
Features
Six 18,000 BTU burners
Patented Pedestal Star Burner with quick clean base
Non-stick, rust-proof cast-aluminum griddle, fusion coated, easy to clean, 1,630 Watts
100°F (375) BTU with two Extra Low Simmer burners
Professional Style, continuous cast iron grates
Two Year Full Warranty
Viking VGRT486G - $5,889
Features
Three 23,000 BTU burners - Viking Elevation burners with brass flame ports
Two 15,000 BTU burners
One 8,000 BTU burner
Vari Simmer on all burners down to low cooking temperatures
Thermostatically controlled chrome griddle
Continuous grate design
Three Year Full Warranty
Comparison
Viking has amongst the most powerful burners in the industry at 23,000 BTU. The grill is gas fired and sears better than the Thermador. The griddle would be faster because it is gas versus the Thermador electric.
Thermador has all pro burners at 18,000 burners. Their simmer is best in class at 100°F. The Star Burner provides more even heat as well.
The Thermador grill is electric. Although it does not sear like gas, the results are more consistent throughout the grill itself. We tested Thermador vs Wolf and Miele both are gas fired and Thermador was actually better (read Best Pro Grills).
So from a feature standpoint it depends.
Reliability
However, Middleby, although creative in their industry, for the short term cannot seem to build a better product. They were the least reliable product sold at Yale in 2013 at over 60% service in the first year.
In the long term, Viking could be an interesting brand, but for now Thermador is a safer choice.
Additional Resources
Want to learn more about professional ranges? Download the Yale Professional Range Buyer's Guide with features, specs and detailed profiles of all the brands like Wolf, Thermador, Miele, Viking, GE Monogram, Jenn-Air and more. Over 175,000 people have read a Yale Guide.
Recommended Reads