When choosing a 36-inch rangetop, you will probably compare and consider Wolf, Miele, Jenn-Air, Viking, Thermador, and perhaps BlueStar. What should be a pretty straightforward decision has become complicated.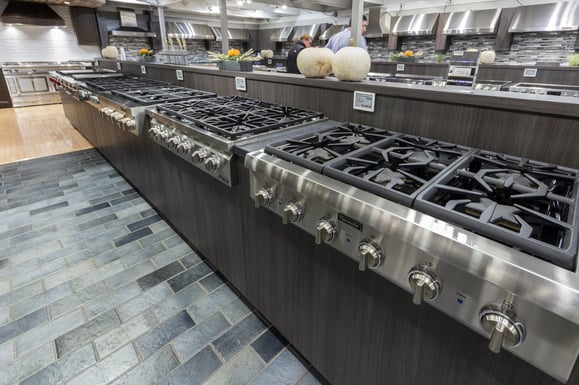 The burners have different configurations from an easier to clean sealed Star Burner to an open burner with higher BTUs, or British thermal units.
So, in this comparison, we will compare two of the most different rangetops on the market, Thermador and BlueStar. We will look at the companies, their rangetops, and then compare them.
First, I want to describe the difference between rangetops and cooktops. They are often used interchangeably but they should not be.
Rangetop vs. Cooktop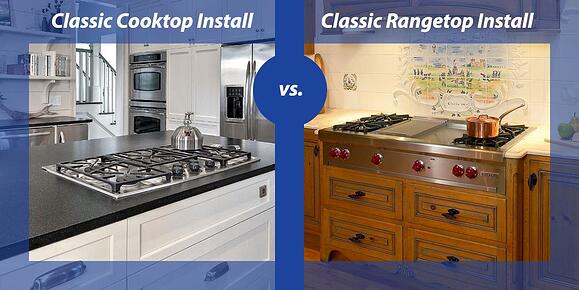 Rangetops have controls on the front and have grill and griddle options. Cooktops have controls on the top. Both are available in standard 30-inch and 36-inch sizes but rangetops are available in the larger 48-inch and 60-inch as well.
You do not want to confuse the two because the installation is so different. Rangetops have to be supported by the cabinet and require more planning than a cooktop.
By the way, you do not have to buy a rangetop just for output. Many cooktops have one or two professional-type burners.
The Differences Between Rangetops and Cooktops
Thermador
Thermador was the first American premium brand and is credited with producing the first downdraft as well as wall oven.
Their parent company Masco in 1998 was purchased by BSH Home Appliances Corporation. Thermador was always an innovative product before but under Bosch they became reliable.
Thermador is also extremely popular, because of their free dishwasher promotions with qualified purchases.
A unique feature is the patented Pedestal Star burner. The Star Burner covers 51% more of the pan. The burners are raised for easy cleaning.
Two of the burners are XLO extra low simmer. To reach such a low temperature, the burner will cycle. For example, it clicks on after 50 seconds and clicks off in 50 seconds. There is a wide range of simmer temperatures from the 375 to 3,000 BTU.
The 6 burners are each maximum output of 18,000 BTU in natural gas. Many like Miele will have 19,000 but smaller burners as well. The output is excellent for cooking quickly or for larger items as well.
Thermador has the integrated electric grill or griddle option. Although electric is slower than gas, Thermador has the briquettes for consistent temperature on the grill. The griddle is fine when it reaches the correct temperature. Gas, however, is faster.
BlueStar
The company started in Reading, PA under the name Prizer-Painter Stove in 1880 and is still family owned. Under the BlueStar brand, the company manufactured a full line of residential and commercial stoves.
In 2002, BlueStar developed high-end (restaurant style) ranges for the residential market. By 2006 they developed a full line of appliances including rangetops and wall ovens staying true to their commercial roots of high output burners.
Today, you can create a rangetop with 750 available colors and 10 trims with even the knobs customizable.
The BlueStar Platinum series is more a professional or restaurant style rangetop. The PrimaNova burner has 6 burners:
(1) burners are 25,000 BTUs

(2) burners are 22,000 BTUs

(1) is 18,000

(1) is 15,000

(1) 130 degree / 9,000 BTU simmer burner
The PrimaNova burner star cast iron burners are open with its own drip bowl. The burner does not sit in the grates and has direct contact with the pan for faster cooking.
Burner Configurations: Platinum rangetops can be designed for the way you cook. You can change the location of the burners, you can add more 25,000 BTUs or add in a portable grill or griddle. If you want you to use a wok, all you need to do is remove one of the grates.
You can get up to 750 different colors and 10 different trim combinations with 10 metal trims and these colors stainless steel, polished copper, antique brass, antique copper, pewter, stained nickel, and oil-rubbed bronze.
Thermador vs. BlueStar Rangetops: What is the real difference?
In short, there is a tremendous difference in burners.
Thermador BlueStar

The burner is sealed but unlike most, it is raised so you can clean underneath.The Thermador 36" rangetop gives you 6 same size 18,000 BTUS burners with a better simmer.
BlueStar 36" rangetop has variations of size burners. It as 6 burners:
(1) burners are 25,000 BTUs

(2) burners are 22,000 BTUs

(1) is 18,000

(1) is 15,000

(1) 130 degree / 9,000 BTU simmer burner
It has 8 fingers that give you very even heat around the burner. The flame does not hit the grate for better contact with the pan.
Chefs say that open burners give you a better mixture of air and gas far a hotter and bluer flame. The downside to open burners is that there is more cleaning.
If the pot overflows, the liquid will go down thru the burners to a metal rolling tray to be cleaned.
Final Thoughts
The BlueStar and Thermador are both excellent rangetops.
Deciding on which cooktop you like all depends on the way you cook and what type of look you want in your kitchen.
The BlueStar is more of a restaurant type rangetop with the higher BTUs and with open burners and heavy duty grates. If you want a powerful burner, then BlueStar is the better choice.
Thermador does not have the heavy industrial type look. It has a better simmer and it is easier to clean with spills. However, you can disassemble the BlueStar burner and clean at the sink.
Grill/Griddle
There are better brands for grills and griddles. Thermador has an electric element with the briquettes. It is surprisingly consistent but lacks the sear capability and is not as cleanable as the Wolf or Miele infrared grills.
BlueStar has the underside of the griddle for creating marks but there is no direct contact with an element. So you will not be grilling with a BlueStar.
The griddles are different but probably equally effective. Thermador is electric, so it takes time to heat. BlueStar is a portable griddle over very powerful burners. It will be faster but not as even over time as the Thermador.
Sales Promotions
Thermador will have the free dishwasher promotion with the purchase of a rangetop and wall oven.
BlueStar will have deals sporadically for 5-10% off.
Which should you buy?
It depends on how you cook. BlueStar is the most powerful and great for a large family or for cooking items quickly. You can also customize this to almost any color and trim.
Thermador is less expensive and probably the easiest to clean rangetop on the market. If you like to simmer, Thermador reaches the lowest temperatures.
Your decision should be based on power vs simmer and affordability vs. customization. Which is better for you?
Additional Resources
Want more information on rangetops and professional ranges? Download the Yale Professional Range Buying Guide with features, outputs on every pro range and terms as well as tips to understand every major brand. Over 220,000 people have read a Yale Guide.
Related Articles: