Bosch introduced their newest series, Benchmark, in Vegas yesterday. To review, prior to the Benchmark Series, Bosch produced four lines of product: the Ascenta Series, 300 Series, 500 Series, and 800 Series.
These series covered product ranging from basic dishwashers to integrated refrigeration and everything in between, well almost everything. What I like about Bosch as a brand is they manufacture a vast range of product appealing to the taste and budget of nearly every customer.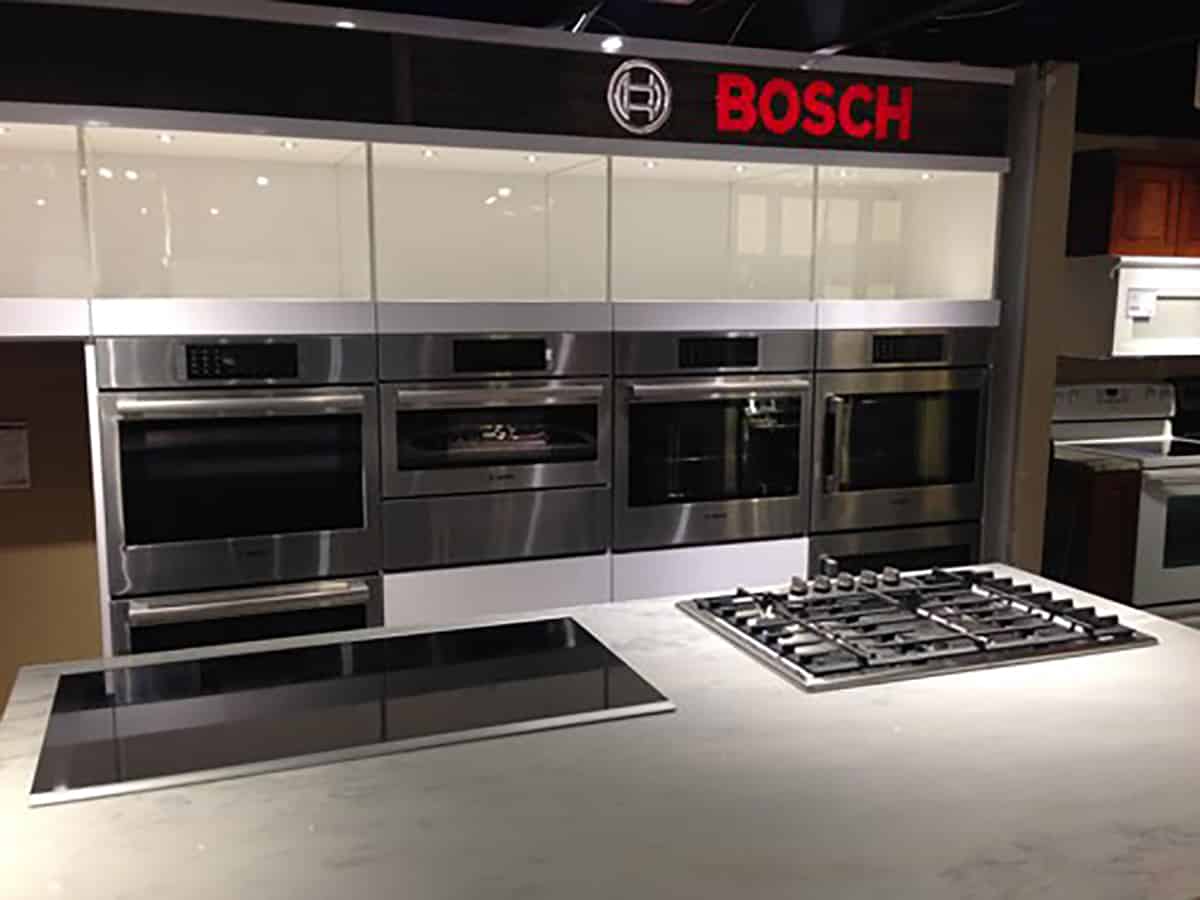 Short on time? Get our free Appliance Buying Guide for trends, reviews and comparisons of all the major brands »
If Bosch's line is so good then why do they need the Benchmark series? The Benchmark Series is designed to appeal to the customer looking for luxurious product without breaking the bank on some of the luxury style appliance brands.
As a salesperson I am ecstatic for this introduction!
Let's take a look at the important products of the Benchmark Series...
Wall Ovens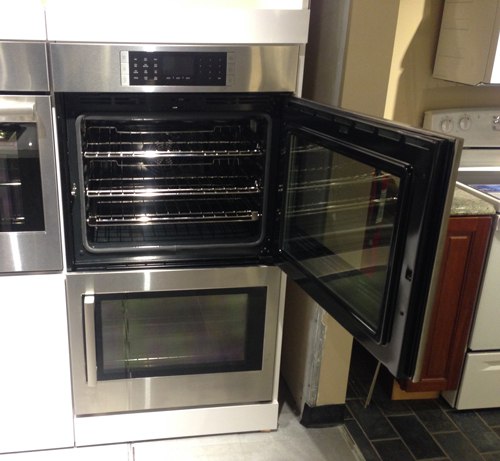 Single or Double Wall Ovens
Bosch is introducing a wall oven with true European convection and a side-swing door. Before Benchmark, you had limited selection when looking for a side-swing door (Gaggenau and American Range).
Side-swing doors are desirable because you do not have to lift a heavy turkey over the door. As a woman, I appreciate that. With Benchmark, you have an affordable option.
Side-opening door or pull-down door
HD color TFT display
Smooth Close door
Flush Installation
True European convection
Auto probe
Combination Steam-Convection Oven & Combination Speed-Convection Oven
The Benchmark Series will have a speed-convection and steam-convection ovens. The speed-convection oven will have a microwave on top and the steam-convection oven will have a steam oven on top. I am especially excited for the steam-convection oven. Steam is a growing trend for nutritious cooking. It is nice to see in a more affordable brand.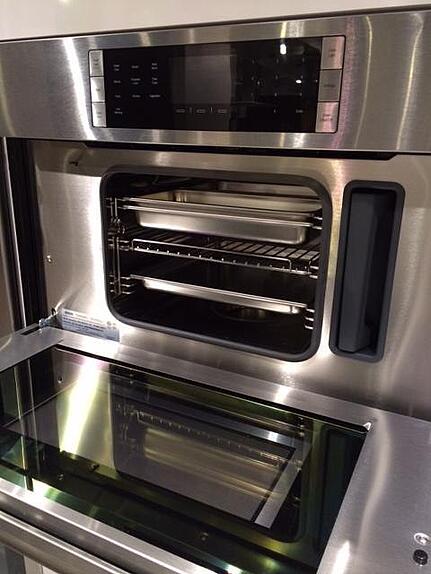 Steam Oven
Only steam oven with HD color TFT display in the appliance industry
No trim kit for 30'' steam oven needed
Pair with a warming or convection drawer or in horizontal installation next to wall oven
5 included accessories
Halogen lights
Recipe book
(Learn more about the benefits of steam in our free Steam Oven Buying Guide)
Speed Oven
1.6 cu. ft. capacity
900 watts
9 Autochef programs deliver speed and precision to cooking
New drop down door design 120V-240V (30'' width)
Can be installed under counter or underneath a cooktop
Bake, broil, convection
Gas Cooktops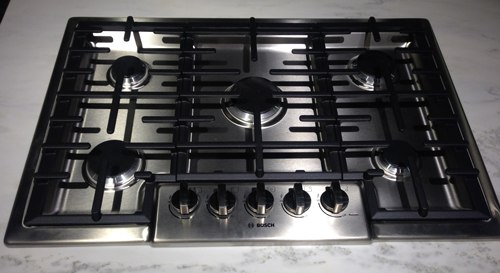 I like the cooktops with 20,000 BTU output. To compare, a professional rangetop is between 15-18,000 BTU. The Benchmark is also dual stack for better simmering.
20k BTU burner
Dual stack high-low burner
LED indicator lights on all knobs
30'' and 36'' widths
Induction Cooktops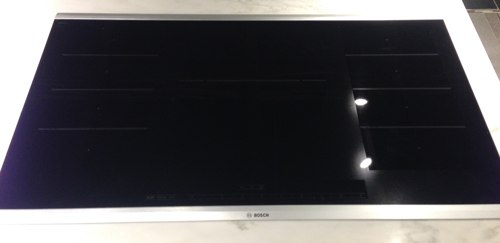 The best induction cooktop sold is the Thermador Freedom. There are no defined burner areas so you can place a pan anywhere.
(Learn all about induction in our free Induction Cooking Buying Guide)
The Benchmark has a huge super burner in the middle of the cooktop and a large rectangular burner on the side as well as smaller burners. The Benchmark has great flexibility at a more affordable price
Flexinduction elements accommodate more pans than traditional round burners
30'' 5 burner induction cooktop
Autochef pan included
30'' or 36'' widths
Electric Cooktops
30'' or 36'' widths
30'' with 5 burners
36'' with triple bridge element
Autochef
Powerstart
11'' 3000 watt element (on 36'')
9'' 3,100 watt element (on 30'')
Slide-in Ranges
Slide-in ranges are very convenient middle-ground for customers who want a built-in look but are hesitant to pay for a professional style range.
One of the biggest challenges most customers face with switching from a traditional free-standing range to a slide-in range is the need for a piece of countertop or a filler strip behind the range. The Benchmark series slide-in ranges will slide-in perfectly where a free-standing range once stood without the need for additional countertop of a filler strip!
The Benchmark slide-in ranges come with a telescopic oven rack, meat probe, and smooth-close door.
Gas & Dual-Fuel
Electric
Induction
Refrigeration
Counter-depth French-door refrigerator
Panel ready or stainless steel
LED lighting
Internal-water dispenser
Bosch interior metal trim
30'' built-in refrigerator & 36'' built-in refrigerator
Existing models will continue with new handle
30'' model will come panel-ready
(Learn why counter depth has become so popular in our free guide)
Conclusion
Evidently Bosch is manufacturing a plethora of new product. I am predicting the Benchmark series will be successful. I am especially anticipating the side-swing door wall-ovens, slide-in ranges, and counter-depth French door refrigeration.
In our showroom we are constantly remodeling to display new product. Take a look at the evolution of our new Benchmark display here.
Additional Resources
Download our Appliance Buying Guide for specs, features and trends on all kitchen appliances. Over 100,000 people have already found answers in a Yale guide.