You probably think a professional gas cooking is the fastest, most precise cooktop and fuel type on the market.
Before you spend money on an expensive professional gas range and matching hood vent, there is an alternative.
In this article, we will explore the question of which cooking method is the fastest: professional gas or induction? The answer may surprise you unless you have witnessed induction in action.
You will also learn the effective differences between gas and induction as well as the science behind both. I tested by boiling water with both methods, so you will know the exact time differences.
Professional Gas Cooking
Cooking on a professional gas range has traditionally been known to be the fastest cooking method, and restaurants use them because of their effectiveness in high heat and ability to simmer.
You can also see an actual flame from the burners and adjust to the different temperature settings.
In a professional range typical high BTU output ranges from about 15,000 BTU to 22,000 BTU on sealed burners, and even higher on open burners.
While the BTU output is an important figure in deciding how effective gas is, some brands like Thermador star shape is also is an important factor. Thermador uses a star shaped burner as opposed to a standard circle for more even heat distribution.
Wolf uses a circle burner with a dual stacked flame. Because of this it keeps the flame closer to the sides, and it loses less heat than other burners.
| | |
| --- | --- |
| | |
| Thermador Star Burner | Wolf Dual-Stacked Burner |
With gas cooking much of the heat is wasted away off the sides of the pan. Because of this gas is 60% efficient, meaning that you may be losing up to 40% of the heat. That 23,000 BTU burner is effectively 13,800 BTU in actual heat to the pan.
So, while BTU output is an important factor in determining how fast a gas burner will heat a pan, burner shape and how it operates also must be considered.
Induction Cooking
Unlike a traditional electric cooktop where the entire element heats up, induction uses magnets and electricity to transfer heat from the cooking surface directly to the pan.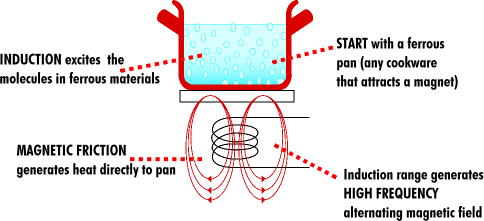 In comparing output within gas ranges we are used to talking about BTU's, in induction we measure power based on wattage. Differences in output can range from about 1,500 watts to over 5,000 watts with a power boost.
See how this compares to BTU output:
Wattage to BTU Conversion Chart

Wattage

BTU Equivalent

1,500W

5,100 BTU

2,500W

8,500 BTU

3,500W

12,000 BTU

5,000W

17,000 BTU
Induction is the most efficient cooking method at 90% efficiency versus 60% for gas, so the effective output is much greater.
Induction also requires less venting, because there is less heat emission. The magnet heat is better for child safety as the burner can only be activated by metal.
The Experiment
In order to put some factual data to the question as to which is faster, I personally tested this out on a few floor models we have in the store. I used five cups of water in an 11" pan for each test.
The main point of this test was just to see how between brands an induction would compare to professional gas.
There are variations in BTU / Wattage output between brands and sometimes even within brand on certain models. We tested the amount of boiling time between brands. These are just a few examples:
| | | | | |
| --- | --- | --- | --- | --- |
| Brand | Model | Fuel | BTU / Wattage | Boil Time |
| Wolf Pro Rangetop | SRT486C | Gas | 15,000 BTU | 6:35 |
| Wolf Induction Cooktop | CT30I | Induction | 3,000W (On Hi-Power) | 2:55 |
| JennAir Pro Range | JGRP536WP | Gas | 20,000 BTU (Power Burner) | 5:44 |
| JennAir Induction Cooktop | JIC4536 | Induction | 5,000W (On boost) | 2:03 |
You can see how fast induction is in this video:
Conclusion
You don't have to look far past the facts to see which is faster.
Induction is the fastest cooking method on the market, even faster than the hottest professional gas range.
Many people still prefer the visual of a gas flame and being able to adjust the power that way as opposed to electronic controls like you would find in induction.
Also, while there are many brands and styles of professional gas ranges on the market, there are far less professional induction ranges (Miele HR1622 is my favorite). If you are looking at cooktops, there are many induction options available from 15"-36".
Still, if you want better performance from a cooktop, induction is the faster and more responsive choice.
Related Articles
Additional Resources
Get The Yale Induction Cooking Buying Guide with features, specs and outputs of every induction product on the market. Well over 100,000 people have read a Yale Guide.