Pro ranges used to be just about high output, just like a commercial range. Dynasty, Viking, 5 Star and Thermador did not even have a clock and timer for many years (many ranges still do not).
Flash forward to today, and you can buy internet ready pro ranges. They can play your favorite tunes on Pandora or cook items with a touch of a button without guesswork.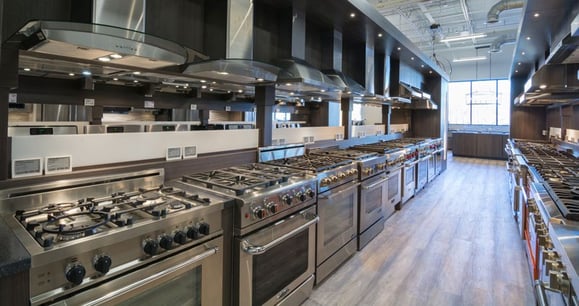 Dacor and Miele are on the forefront of this new technology, but in very different ways. So, the right range for your family depends on which unique features are desirable.
We will look at both companies, both products and then compare.
Short on time? Get our free Pro Cooking Buying Guide for specs, features and more on all the top brands
Dacor
Until a few weeks ago, Dacor was an American ESOP company founded by the Joseph family. Dacor was the first company to offer a 30 inch pure convection wall oven and offer continuous grates on their ranges.
Samsung bought Dacor in August of 2016 with an eye of combining Dacor's strong technology in cooking with Samsung's other product offerings like The Family Hub internet ready refrigerator.
This merger will be great for Dacor. In 3-5 years, these combined companies will have some exciting products.
Miele
Miele is a luxury appliance brand that originated in Germany in 1899. Today, Miele is the largest family-owned appliance company in the world. Their products are almost entirely designed and manufactured in one factory in Germany.
Due to their strict quality control, Miele is known for manufacturing some of the highest quality products in the industry.
They are new to the professional range business since 2015.
Dacor vs. Miele Dual Fuel Pro Ranges
Dacor DYRP36D - $8,999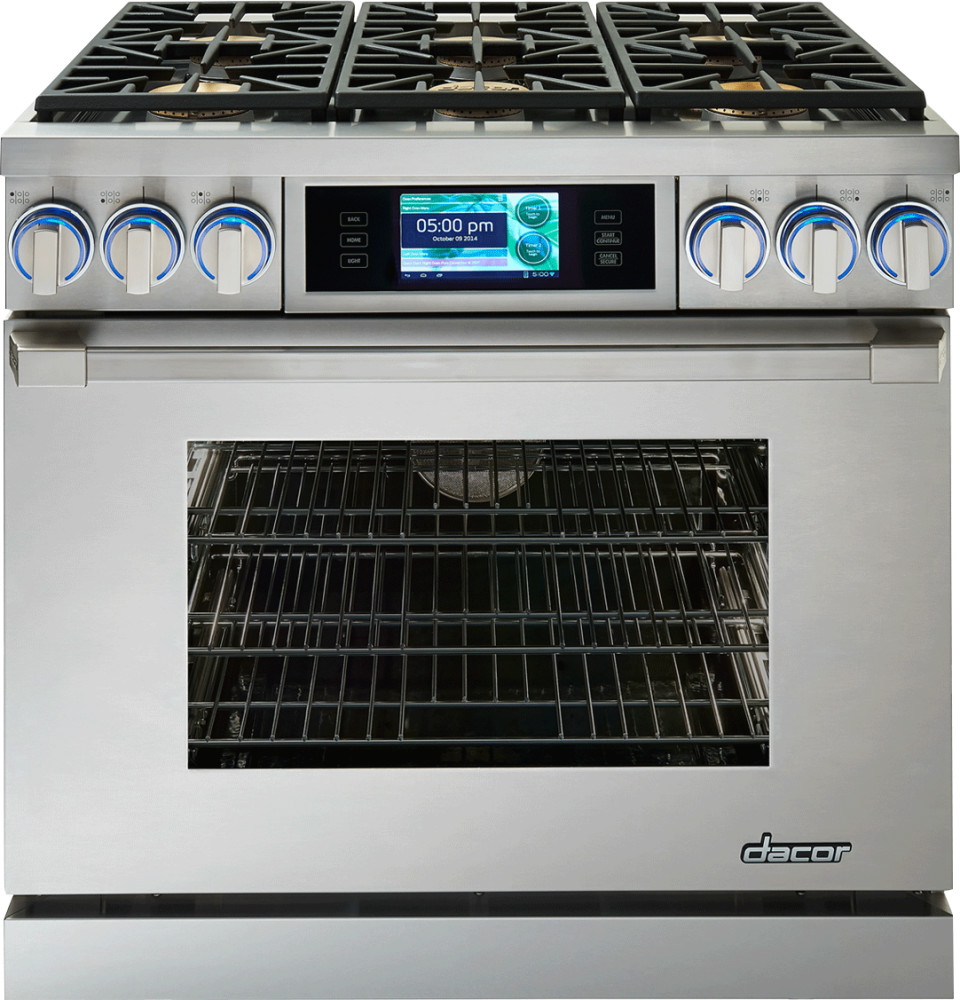 Features:
Interior Capacity: 5.2 Cu. Ft.

Burner 1 Power: 18,000 BTU

Burner 2 Power: 18,000 BTU

Burner 3 Power: 15,000 BTU

Burner 4 Power: 15,000 BTU

Burner 5 Power: 15,000 BTU

Burner 6 Power: 15,000 BTU

Bake Element Power: 3,000 W

RapidHeat Broil Element: 3,500 W
Technology
IQ controller is an integrated Android control panel much like a tablet that controls the oven as well as accessing different cooking apps and the internet with WiFi connectivity. You can also access the range via your tablet or Smartphone to turn the oven on and will notify you when the item is done by text and turn the oven to warm.
Burners
6 burners, with two at 18,000 BTU and four at 15,000 BTU for searing and each are able to simmer at very low temperatures for delicate soups and sauces.
Rapidheat broil element has an 8 pass ribbon element producing 3,500 watts of power to broil faster and more even.
Perma-flame technology will re-ignite the burner should the burner go out.
Greenclean will clean a lightly soiled oven with steam in 30 minutes saving time and energy.
You can buy the range in a variety of colors as well.
Miele HR1934DF - $8,499
Features:
Interior Capacity: 5.8 Cu. Ft.

Burner 1 Power: 19,000 BTU

Burner 2 Power: 19,000 BTU

Burner 3 Power: 19,000 BTU

Burner 4 Power: 19,000 BTU

Burner 5 Power: 19,000 BTU

Burner 6 Power: 12,000 BTU
Controls
M Touch controls offer easy to navigate touch pad controls along with comfort lift control panel and backlit knobs for ease of use. MasterChef contains over 100 automated programs from the preparation of meat, poultry and fish as well as other food items.
MasterChef Plus has 15 programs for breads ranging from baguettes to rye bread, guiding you to the correct cooking mode, time and the amount of moisture.
Burners
M Pro dual stacked burner system with True Simmer five 19,000 BTU burners for faster boiling and better searing as well as the ability to simmer at very low temps.
Moisture Plus
Moisture Plus adds steam to the oven for crustier breads and better browning of meats and is also great for refreshing leftovers. At this writing, no other pro range has steam at 36 inches (Thermador has steam in 48 and 60 inch configurations).
Oven
Wireless Roast Probe also has a countdown time so you can view the progress up to the minute.
Soft Close and Soft Open door so no slamming. Miele's dual fuel range also can be ordered as a 4 burner with an infrared grill or a griddle.
The racks can be left in during the self-cleaning cycle, and the oven is powered by twin convection for more even cooking.
message
Which Should You Buy?
This depends.
Let's talk about a few proprietary features. Dacor has colors. You can buy the Miele with a grill or griddle.
But this comparison is about how each deploys technology. Dacor can be controlled remotely. You can also connect to the internet and download recipes as well.
Miele, however, has better cooking technology. It can show you how to cook automatically. Steam Assist is also a nice option as well.
So this one is your call.
Additional Resources
Want to research pro ranges a bit more? Get the Yale Pro Cooking Buying Guide with features, specs and detailed profiles of all the brands like Miele, Wolf, Thermador, Dacor, Viking, Jenn-Air and more. Over 185,000 people have read a Yale Guide.
Related Articles