GE and Thermador are two of the largest companies in the world. Thermador is part of the giant German company Bosch and GE is well, GE. Size aside, this comparison is about two companies who value this industry very differently.
Let's look at both, then compare at the end (scroll to the end for which is better)
GE Monogram
To be transparent, we do not sell any GE products.
The GE 48" Professional range comes with a lot of good features. The burners are 18,000 BTU's and have a low simmer of 140 degrees F. The burners have an electric ignition which ensures a continuous flame and reignites automatically if blown out. The large oven does accommodate a hotel size sheet tray which is 9 x 13. Both ovens are self-clean, and the oven racks are smooth glide racks that can actually stay in the oven during the self-clean mode. With both ovens having a temperature thermometer this range can be great around the holidays. The temperature probe allows you to cook meat until the desired temp so you never have to worry about over cooking your turkey again.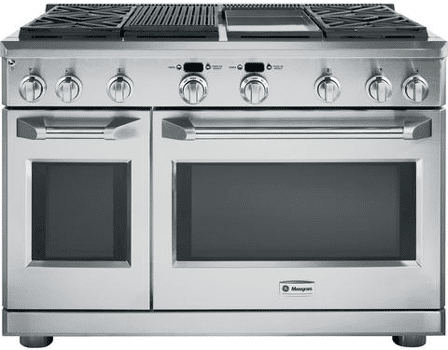 GE Monogram ZGP484NGRSS
The ovens are also convection. Convection is a great feature when cooking on multiple racks. Convection is a fan inside of the oven that circulates the heat evenly so you can use multiple racks not worrying about the bottom rack burning before the top rack is cooked. There are a few options to pick from in their professional line. You can buy all gas or dual fuel. Dual fuel is an electric oven which bakes better and gives a faster preheat. Grill and griddle configurations are also available. GE Monogram is generally sold through their builder channel, but is an overall decent product.
GE Monogram Models & Prices
ZDP486NDPSS - Dual Fuel, Natural Gas, 6-Burner and Griddle - $10,649.99
ZDP486LDPSS - Dual Fuel, Liquid Propane, 6-Burner and Griddle - $10,649.99
ZGP486NDRSS - Natural Gas, 6-Burner and Griddle - $10,649.99
ZGP486LDRSS - Liquid Propane, 6-Burner and Griddle - $10,649.99
Thermador Pro Grand
The Pro Grand is incredibly unique. Starting with their patented Star burners which provide a more even heat. Two of the burners have a maximum of 22,000 BTU's yet also have the lowest simmer at 100 BTU. The main oven is also commercial sized so you can fit the largest sheet pan in and it has the fastest self clean it is 2 hours including the cool down. They also offer a temp probe in their large oven.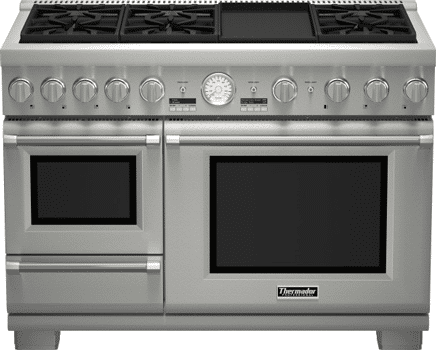 Thermador Pro Grand PRD48JDSGU
The smaller oven really separates. Thermador from GE. It is actually a convection steam oven which is great for steaming veggies, roasting a chicken or even baking brownies. Steam introduces moisture and does not bake out nutrients.
Thermador also offers a warming drawer under the steam oven. Warming drawers are great for warming and refreshing leftovers and freshly cooked foods without dehydrating like a microwave.
Thermador Pro Grand Models & Prices
PRD486JDGU - Dual Fuel - $11,559.99
PRG486JDG - Natural Gas - $10,249.99
PRL486JDG - Liquid Propane - $10,249.99
Lastly, if you buy the Pro Grand you will receive a free $1,299 dishwasher.
Thermador vs GE Monogram - Which is Better?
Well, the GE is cheaper by about $2,000 after the free dishwasher. As I said before, GE is a good product. However, Thermador is quite simply a better product. The burners are hotter and simmer better. You have steam and warming capability in the Thermador.
Thermador is also the more reliable range with 5% less chance of being serviced within the first year. As we said in the beginning, both Thermador (Bosch) and GE are huge companies. Appliances are a much bigger and more important part of Bosch overall portfolio.
Additional Resources
Download the Yale Professional Cooking Buyers Guide with specs, features and BTU output of every major range. Over 35,000 people have read a Yale Guide.