Remember when a grill was a cheap stainless hulk? You cooked until you burned through the bottom and then bought another. Now grills are high BTU cooking machines crafted out of stainless steel. Lynx was in the forefront of the pro grill phenomenon. We are comparing Lynx vs Sedona, but Lynx produces both and we will look at both so you can make an informed decision.

Updated for 2015
Lynx
When Lynx Professional Grills was started in 1996, outdoor cooking meant barbecue grills. The company was committed to elevating outdoor cooking to new levels and within a few years the trend for outdoor living took off with Lynx perfectly positioned to capitalize on the demand for luxury outdoor kitchens. Backyard barbequers loved that it was easy to clean. Since it is manufactured using a special welding technique, the grill has no gaps or seams where moisture and grease can collect.
Why buy a Lynx? I like selling this product, because of its cast brass heating element. Cast brass will not corrode, especially near the water. Their new sear element can heat from 300-1000 degrees, so you can sear different foods like meat, fish and chicken.
Sedona
Sedona is Lynx's attempt to offer a less featured grill at a cheaper price. Why would they do that? I can only surmise that they are trying to beat back Weber's high end grill, the Summit. This isn't a Weber post, but the Summit is an excellent grill.
Lynx Freestanding Grill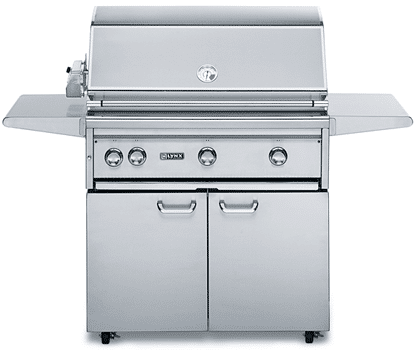 Features
Lynx now offers an All-Sear model that gives 3 ProSear2 burners instead of just one (Total 69,000 BTU)
Two cast brass burners and one ProSear2 Burner (total 73,000 BTUs)
935-sq.-in. cooking surface (640 primary, 295 secondary)
Hot surface ignition system
Control illumination with blue LEDs
Dual halogen grill surface lights
Heat stabilizing design
Temperature gauge
Fluid rotation handle
Lynx Hood Assist Kit
Removable large-capacity smoker box
Stainless steel grilling grates
Dual-position internal rotisserie with heavy-duty, 3-speed motor and rear infrared burner
Ceramic Briquettes facilitate even radiant heat distribution
Heavy-duty welded construction eliminates gaps where grease and moisture can collect
Sedona by Lynx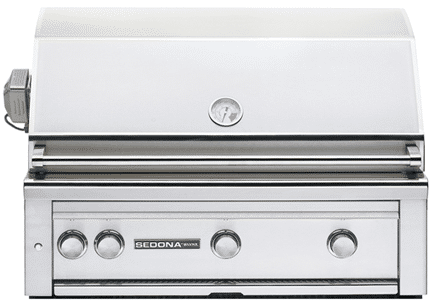 Features
Two Stainless Steel burners and one ProSear Burner (total 69,000 BTUs)
Independent rear Rotisserie burner (14,000 BTUs)
891-sq.-in. cooking surface (618 primary, 273 secondary)
Time tested spark ignition system with battery backup
Control illumination with blue LEDs
Halogen grill surface light
Temperature gauge
Fluid rotation handle
Rotisserie motor, spit rod and forks included.
Lynx Hood Assist Kit
Stainless steel grilling grates
Ceramic Briquettes facilitate even radiant heat distribution
Welded construction eliminates gaps where grease and moisture can collect
Summary
Above are the innovative features of the Lynx vs the Sedona 36" freestanding grills. As you note, their features are quite similar. Both utilize the Lynx patented Hood Assist Kit which allows the lid of the grill to be lifted with one finger. They both employ halogen grill surface lights and control illumination with blue LEDs. They both use ceramic briquettes to facilitate even radiant heat distribution.
But as the Lexus is the luxury version of aToyota, the Lynx is the luxury version of the Sedona. While the Lynx freestanding grill is sold as a one piece unit, when purchasing Sedona's version, the top or "head" of the grill and the cart are sold separately.
Lynx features brass burners, while Sedona's burners are stainless steel. Brass burners distribute heat more evenly and are more durable. Both grills feature a variable temperature ProSear Burner, however, Lynx has a higher BTU output allowing for better searing. The Lynx cooking surface is larger - 935 sq. in. cooking surface to only 891 sq. in. cooking surface on the Sedona. The Lynx rotisserie is dual-position with a heavy duty 3-speed motor to Sedona's single position.
But there is a price difference as well, quite a bit actually, at $5,699 for the Lynx (36" freestanding grill) compared to $3,399 for the Sedona, so it is really different.
Related Articles
Additional Resources
Download the Yale BBQ Grill Guide with BTU ratings, features and specs of every major grill. Almost 30,000 people have read a Yale Guide.