For many years Whirlpool owned a huge share of the laundry business, especially with their production of the Sears Kenmore units (partnership based on a handshake in the 1920s).
In 2002, Whirlpool bought their perennial rival Maytag and looked to extend their dominance.
Only it did not happen. Big problems at Maytag were an issue.
However, LG redesigned a truly beautiful washer concentrating on the front load segment, and all of a sudden Whirlpool had a serious competitor.
10 years later, Whirlpool and LG are still vying for your business. Which is the better machine?
Short on time? Get our free Washer Buying Guide for features and reviews of all major front load washer brands »
Whirlpool
Whirlpool is the largest American manufacturer of appliances and located right in Michigan. Their claim to fame since 1911 has always been laundry.
In fact, they produce the most laundry machines of any manufacturer in the world. They also manufacture well known brands such as Jenn-Air, KitchenAid, Maytag and Amana to name a few.
Whirlpool has always been known as reliable, affordable and well known in many homes.
LG
LG is a South Korean based multinational company that operates within 5 divisions - Mobile Communications, Home Entertainment, Air Conditioning, Energy Solutions, and Home Appliances. They are also the world's 2nd largest manufacturer of televisions.
With that being said, it seems like they recently (in the last 10 years) exploded onto to the laundry scene. Their products are innovative, stylish and certainly stunning.
The two models selected today are similar in price and size for comparison. They are higher end models of the brand, although both companies have more models ranging from $700 - $1500.
Whirlpool vs. LG Front Load Washers
Whirlpool WFW96HEYW - $1319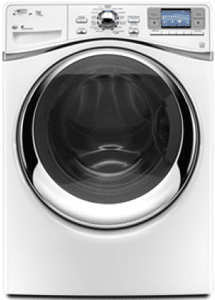 Features:
12-Hour FanFresh Option with Dynamic Venting Technology
When selected, a built-in fan automatically activates after the wash cycle is over, tumbling clothes for up to 12 hours so you can wash and dry a small load right in the washer.
Active Spray technology sprays the load with detergent in a cone shaped patter to completely and evenly cover the fabrics.
Quiet Spin 360 Technology
Now you can place your laundry pair virtually anywhere and be assured of balanced performance and vibration control. The washer takes into account where it's installed and adapts to improve its balance over time.
PreSoak Option
Smart Temperature Control Helps Reduce Shrinking and Color Bleeding
The Care Control temperature management system enabled by 6th Sense technology helps protect your clothes by controlling water amount and temperature.
Precision Dispense
Penetrates stains and pretreats soils with a concentrated burst of detergent. The wash cycle begins only after the entire load has been treated.
4.3 cu. ft. Stainless Steel Wash Basket
EcoBoost Option
Adaptive Clean Wash System
12 Automatic Cycles
5 Temperature Settings
Deep Clean Steam Option
1,400 RPM Maximum Spin Speed
Direct Drive Motor
LG WM4070HWA - $1299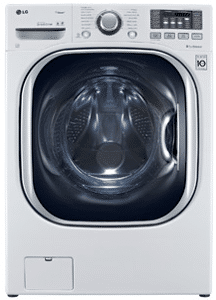 Features:
TurboWash Technology
LG's revolutionary TurboWash technology allows you to save 20 minutes on larger loads, with outstanding cleaning performance! It's like pressing the fast forward button on your laundry.
4.3 Cu. Ft. Ultra Large Capacity
Towers of towels, piles of sweatshirts, and a mountain of jeans? The ultra large capacity tub lets you do more laundry in fewer loads. That's time saved and sore backs avoided.
Steam Cleaning
There's no clean like a steam clean. LG's Steam technology gently but powerfully penetrates fabrics to virtually eliminate dirt, odors and wrinkles.
Cold Clean
Using the cold cycle on your washer doesn't have to mean compromising. ColdWash technology uses cold water and enhanced washing motions to penetrate deep into fabrics, giving you cold water savings with warm water performance.
6Motion Technology
Get your clothes clean and experience a smarter way to wash with the innovative 6Motion technology. Each wash cycle combines up to 6 different wash motions to provide a revolutionary cleaning experience.
Summary
Both machines are very similar in technology and price, so it really comes down to a few personal preferences. They both have a direct drive motor and are virtually the same in vibration and noise. The two machines also have 4.3 cu/ft that can spin up to 1,300 rpm.
For the LG, I like the manual cleaning filter and also the look and design of LG machines. The LG also has a 1 ½" shallower depth than the Whirlpool.
Whirlpool on the other hand, has a very good track record with a service rate of 8% versus the LG service rate of 44%. Whirlpool is also American made and has a direct drive system which basically helps with energy conservation and noise. Whirlpool is a wee bit more pricey then the LG machine but to me, it is well worth it.
The two machines are very similar in price, features and technology. It is basically up to the look and feel of the machine, you would want the one you are most comfortable with. I personally like the LG look and design but Whirlpool is way more reliable.
Additonal Resources
Download the Yale Front Load Washer Guide with specs, cubic footages of every washer on the market. Well over 100,000 people have read a Yale Guide.
Related Articles