Gas ranges are starting to perform more like professional ranges with at least one burner being super hot. However, gas ranges now have upgraded features like griddle burners, warming drawers or second ovens.
We will look at the best units to consider now with freestanding first and then slide-in ranges below.
Short on time? Get our Gas Cooking Buying Guide to learn about all gas cooking products »
Slide-ins are units with the controls on the face rather than the backguard for a more streamlined appearance (read Slide-In vs Freestanding, it will pop up in another window).
A slide-in with the same features will cost 10-15% more but will be more cleanable, because it is installed on the countertop, eliminating seams. You will also see the custom tile and backsplashes without looking at oven controls like the freestanding units.
Best Freestanding Gas Ranges
Pricing updated for November 2015
The Bosch adds a fifth burner. It is actually manufactured by Frigidaire, but they have better package rebates.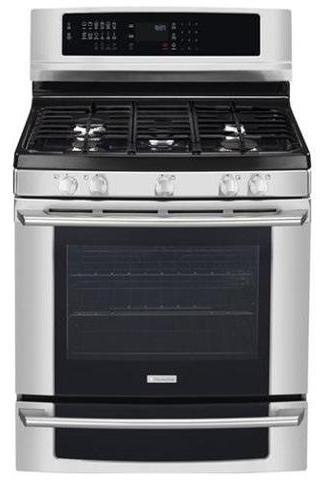 Electrolux is a cool range with good output and a really cool look with great features like the ability to bake breads through proofing. It also has a dehydrate mode for drying fruit. I also like the warming drawer for refreshing leftovers or keep food warm (up to three hours).
KitchenAid is a true double oven at 6 cubic foot and a 17,000 BTU burner as well as a griddle burner in the middle.
Most of these have greater savings as part of a package. Click here for a few of our best selling packages.
Best Slide-In Gas Ranges
The Frigidaire distinguishes itself purely on price. $1,400 might seem high for a range, it is quite reasonable for a slide-in range.
Electrolux has a fifth burner and the best controls of any range in the industry with modes for dehydrating vegetables, proofing and even perfect turkey.
Jenn-Air JGS8860BDP - $1,999 after rebates



This Jenn-Air is 16,000 and 15,000 BTU at their highest. It has a warming drawer, which can keep food warm (obviously) for up to three hours as well as refresh leftovers without dehydrating them.
Additional Resources
Read the Yale Gas Range Buyers Guide with features and insider information on all the gas ranges in the market. Well over 100,000 people have read a Yale Guide.
Related Articles