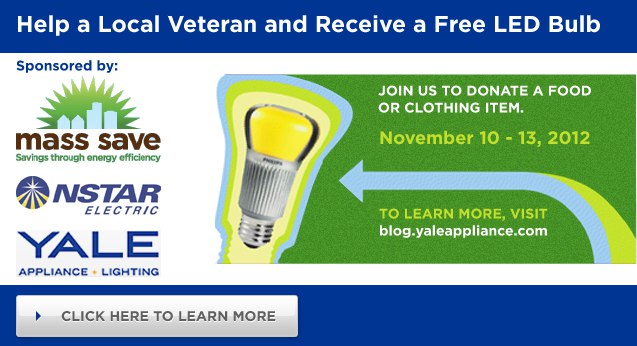 LED is the most efficient bulb available on the market:
Lasts 10-12 years vs 4 months for an incandescent
90% efficiency vs 10% incandescent
Uses 5-7 times less energy
Emits no heat into the room
Now its free, on November 10-13th, 1 per household, with a food or clothing donation to The New England Center for Homeless Veterans. We will be offering a 7 watt PAR20 LED Bulbrite bulb with perfect color rendering. It replaces a halogen recessed light (this is a great bulb).
Free bulb to you, food and clothing to Veterans...everyone wins.
Many thanks to my friends at NSTAR for their considerable help. For information about the actual bulb, Click here
Details and Press Release below
Donate food and clothing for the New England Center for Homeless Veterans and help us thank those who have served our country.
The New England Center for Homeless Veterans (NECHV), located right here in Dorchester, is a multi-dimension service and care provider dedicated to assisting Veterans who are facing, or are at-risk of homelessness and is recognized as one of the most affective private veteran's transition programs in the country.
We are proud to partner with NSTAR Electric to "brighten the lives of homeless veterans" by holding a unique event in our Dorchester store on Saturday, November 10-13, 2012 We are inviting customers to donate non-perishable food, toiletries, linens and/or clothing items to benefit the New England Center for Homeless Veterans. Your donations will be delivered to NECHV and will be utilized within the center or provided to clients when they complete the program and move to permanent housing.
All customers who bring a donation for NECHV to our store on Saturday will receive one free LED light bulb from Yale Appliance + Lighting ($37.50 value). Throughout the Veteran's Day weekend, we will offer discounts on various LED light bulbs for the home and representatives from NSTAR will be in-store to provide information about the aesthetic and energy-efficiency benefits of LED lighting.
Please join us in honoring our veterans and showing gratitude for the comforts of daily life we are so fortunate to enjoy by donating to the New England Center for Homeless Veterans this Veterans Day weekend.
Dates: November 10-13, 2012
Time: NSTAR event is 12:00 to 4:00 p.m.
Learn more about LED: