Best Rated Dishwashers Under $600 (Reviews/Ratings/Prices)
After 20 years of stagnant prices, the appliance industry has had increases for the last three years. The most affected items are the core products like refrigeration, cooking and especially dishwashers. What once was $399 is now $599. Following are the best dishwashers and brands under $600.
Frigidaire
Frigidaire is among our least repaired brands that we currently offer. Read Least Service/ Most Reliable Brands. This brand has been in operation since 1918. From the early years to the late 70's, they were owned by General Motors and has been under ownership by Electrolux since 1986. Frigidaire claims to be the 1st manufacturer of the room A/C and 30" electric range. They currently manufacture in the US and northern Mexico.
Bosch
Bosch is another giant European multi national company. They also have a rich history that started back in 1886. If you looked under the hood of your car, you would probably either see a Bosch product or patent. Whether it be a spark plug, oxygen sensor or electronic stability program. Their dishwashers are manufactured in the largest factory of its kind in North Carolina.
Whirlpool
Whirlpool has been around since 1911 Whirlpool and has had a great history in the US with brand reliability. It also fell among our least repaired brands. Based in Benton Charter Township, Michigan, this company is listed in Fortune 500. They have an annual revenue of approximately $18.4 billion, more than 70,000 employees. The company markets Whirlpool, Maytag, KitchenAid, Jenn-Air, and Amana. After acquiring the Maytag Corporation on March 31, 2006, the Whirlpool Corporation surpassed Electrolux to become "the largest home appliance maker in the world. Whirlpool has manufacturing facilities in Fort Smith, Arkansas, Amana, Iowa; Tulsa, Oklahoma; Cleveland, Tennessee; Ohio (Clyde, Findlay, Greenville, Marion and Ottawa).
Three worthy dishwashers to consider for your home.
Whirlpool WDF530SAYM
$579.99 after instant rebate
The Frigidaire surprisingly has 3 wash arms, two of which are standard. An exclusive OrbitClean™ Spray Arm is the 3rd. It provides 4 times better water coverage for a consistently better clean. Frigidaire uses an exposed heating element on the bottom with a plastic tub.
The Bosch has 2 plastic wash arms with a small tap on the top. The Bosch relies on an energy efficient condensation drying design. This may take longer, but nothing will melt or burn if it falls to the bottom. The tub is plastic with stainless steel inserts.
The Whirlpool has 2 full size plastic wash arms, with a smaller plastic arm to clean the top. Like Frigidaire the Whirlpool has a plastic tub. If you look at the bottom of the tub, you will notice it utilizes a European style filtration System. This removes soil From the water and improves cleaning action.
Control Panels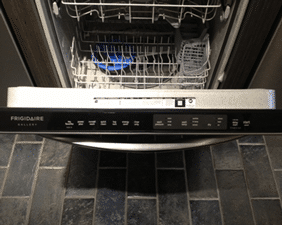 Frigidaire: Controls are hidden for an integrated look.

Bosch: Multiple buttons with front controls.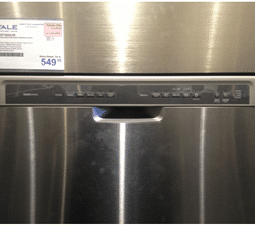 Whirlpool: Standard front control panel
The Bosch is available in stainless for $609 after mail in rebate. It won't stick out as much as the other two models since it is shallower. Bosch's quietness is their main selling feature .
The Frigidaire and Whirlpool certainly have great washing technology and premium exterior look. However the plastic tub may be a turn off for some.
You can't go wrong with any of these three.