How Do You Buy a Crystal Chandelier?
Crystal chandeliers have staged a huge comeback in recent years. You can place a crystal seemingly anywhere from kitchens, hallways and even bathrooms (which has actually become popular).
There are so many different styles to choose with so many different design elements. Have a look as we have 150 or so on display..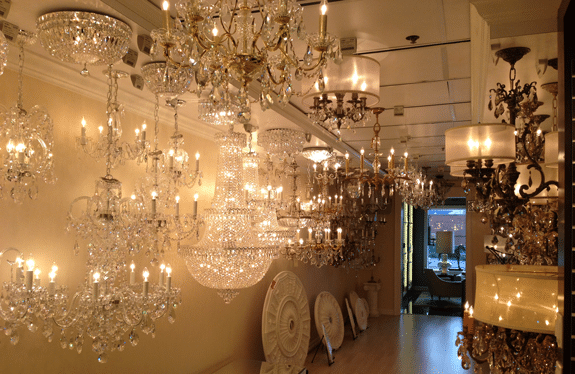 Questions to consider
Do you want the chandelier with arms or without?
| | | |
| --- | --- | --- |
| | | |
| Crystal chandelier with arms | | Crystal chandelier without arms |
Do you want the chandelier to have a glass arms or cast brass?
| | | |
| --- | --- | --- |
| | | |
| Glass arm crystal chandelier | | Cast brass crystal chandelier |
Lastly, and perhaps most importantly, what type of crystal? There are three types:
Legacy Crystal - Legacy comes from the traditional glass-making region around Venice. Modestly priced compared to cut crystal, this Venetian crystal is molded and fire-polished to produce a subtle luminosity.
Heritage Handcut crystal - Heritage crystal is cut by hand in two stages, first on an iron and then a sandstone wheel. Each crystal is then polished on a wood wheel with marble dust. HERITAGE HANDCUT® crystal is the most authentic, handcrafted crystal in the world.
Swarovski Elements - Swarovski Elements is the premium brand for the finest colored crystal elements manufactured by Swarovski.
Strauss- The best crystal due to its high lead content. Strauss is machine cut for perfection and has the most eye catching sparkle. It is also the most expensive
They all have different effects and different prices.
Watch this video...
Prices of Crystal Chandeliers
A chandelier with Legacy crystal will cost roughly $500-$1,000, $1,000-$2,000 with Heritage crystal and starting at $2,000 for a Swarovski crystal chandelier.
More Interior Lighting Articles
Additional Resources
Read a Yale Buyers Guide, packed with unbiased information about all different aspects of home improvement. Over 35,000 people have read a Yale guide.
Lighting Buying Guides: