As we said in last weeks 42 inch refrigerator post, refrigerators are available in 24, 30, 33, 36, 42 and 48 inch widths to fit standard cabinets, and appliances all are designed to fit cabinets (not the other way around).
Manufacturers
The 48 inch refrigerator along with the professional range is the glamour piece of the kitchen. All the upscale companies manufacture the 48": Viking, Jenn-Air, Thermador, GE Monogram, KitchenAid and Liebherr.
Pro vs Integrated
A professional refrigerator has the commercial styling with the compressor on the top. It can be stainless or paneled with matching cabinet fronts. Until 5 years ago, the professional was the only way to buy a 48 inch refrigerator.
An integrated refrigerator is 24 inches deep including the cabinets, so there are no seams between product and cabinet. Although an integrated can be stainless, the product will be indistiguishable from the cabinet with panels. An integrated 48 inch can be achieved by combining 30 and 18 inch column refrigerators.
Have a look at two different installations: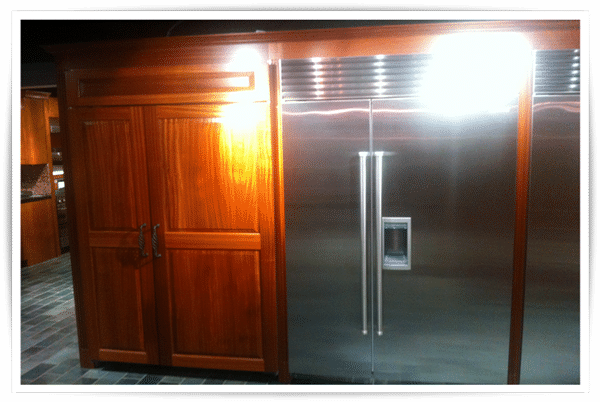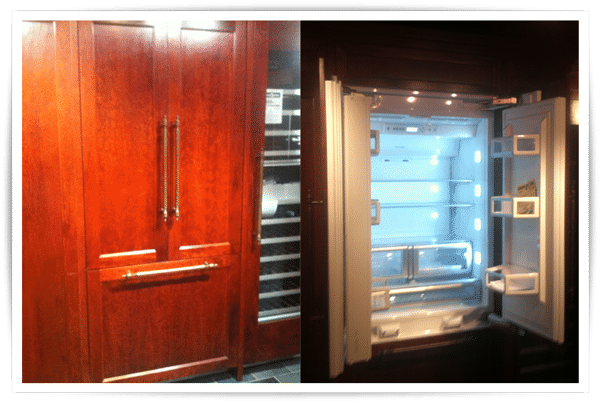 The Best 48 Inch Counter Depth Refrigerators
Jenn-Air JS48NXFXDW: Jenn-Air has returned to the upscale market with a 300 million capital infusion from Whirlpool. Its 48 inch is decent (same platform as KitchenAid), but the price and rebate program is attractive.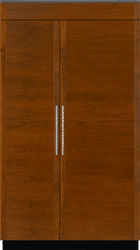 Panels Required
47 3/4" x 84" x 24"
$7,499
Thermador Freedom Columns T18IF800SP & T30IR800SP: First, Thermador, Miele, Gaggenau and Bosch are manufactured in the same facility. Gaggenau has a stainless interior, Miele has better lighting and Thermador is the most reasonable with the best rebate program. I like columns, especially with really good cabinets. It is a great design.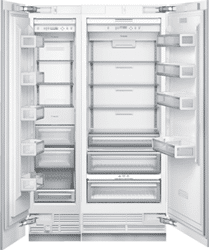 Best for Overlay Because of Hinges
18" - 17 3/4" x 84" x 24" - $3,799
30" - 29 3/4" 84" x 24" - $4,999
Sub-Zero: Sub-Zero has owned this niche. They were the "first movers" and for a longer period of time were the only manufacturer. As I have said previously, I like this company and their committment to "keeping food, fresher, longer". The BI-48 has twin compressors, magnetic gaskets on the crispers plus a vacuum seal to keep air out of the refrigerator.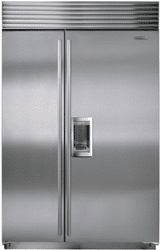 Sub-Zero BI-48S/S/PH
48" x 84" x24" (without handles)
$9,269
The 648PRO emulates an even more expensive (hard to believe) restaurant refrigerator, but uses much less energy and can be placed in a home without a permit or waiver.
48" x 84" x 30 5/32" (with handles)
$14,999
For more information about professional, integrated and counter depth refrigerators, read the Yale Refrigerator Buyers Guide with information about every type of refrigerator on the market.
Additional Information