Living in a city like Boston or smaller homes can be challenging when buying refrigerators. We have tight hallways, islands, or even height restrictions. A shallower refrigerator will have better flow and appearance.
Most counter depth refrigerators are 36" width and 70" high. Fisher & Paykel model E522BRX and the Samsung RF197ACRS cater to these smaller kitchens. They are built to fit within a 33" width cabinet. Though both are similar in size, they have a few unique features.
Short on time? Get our free Counter Depth Refrigerator Buying Guide with features and comparisons of all the top brands »
Fisher Paykel
Fisher Paykel is a conglomerate out of New Zealand. Their claim to fame was the double drawer dishwasher. Their line is limited, but they have a number of smaller counter depth refrigerators.
E522BRX - $1,569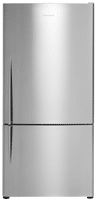 Fisher & Paykel E522BRX is availabile with one door swing as a bottom mount freezer. The height is only 67" tall. Even though physically the unit is only 31" width, but a 33" width open is require because of the hinge swing.
ActiveSmart is a key feature to the Fisher & Paykel refrigerator. ActiveSmart adjusts the cold air between the refrigerator and freezer based on your daily use. It also keeps the temperature to the exact degree, ensuring persistent quality and keeping food fresh.
The E522BRX does not have an ice maker. Just plain ice trays included. It must be ordered correctly with specific hinges (not reversible).
Their stainless steel is their EzKleen fingerprint proof which will also protect and keep the refrigerator looking new at all times.
The Fisher Paykel E522BRX is not EnergyStar rated.
Samsung
Samsung is a huge Korean conglomerate manufacturing just about everything. Their smallest division is appliances, and they are most known for refrigerators and laundry.
RF197ACRS - $1,449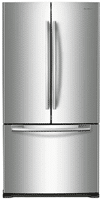 Samsung RF197ACRS is 33" wide and 69" ¾ height. The French doors will allow for lighter and easier opening. Each of the French door can hold gallon bins.
Twin cooling is the best feature of this refrigerator. A twin cooling system has two separate evaporators, which means the refrigerator will be stored at the right cooling temperature, while the freezer lock up cold air.
The Samsung RF187ACRS comes standard with an ice marker.
It is an EnergyStar compliant unit with LED lighting.
Samsung vs. Fisher Paykel Counter Depth Refrigerators
Although I like the cleanability and temperature control of the Fisher Paykel, This comparison seems one sided. Samsung is cheaper to buy and less expensive to operate. The french door design is also more desirable. The downside to Korean manufacturers is the service aspect, but Fisher Paykel is not much better.
Additional Resources
Our Counter Depth Refrigerator Buying Guide has sizes, terms and features invaluable in the buying process. Over 100,000 people have found answers in a Yale guide.
Related Articles