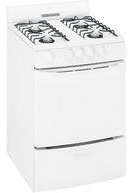 As I have written before, appliances follow cabinet sizes. In refrigerators, it is 30", 33" and 36" widths. For stoves, it is 20", 24", 36" and 48" with 30 inch width being the the most popular size by far. The 36" and 48" ranges are mostly the glamour pro ranges like Wolf, Thermador and SMEG.
What about the 24 inch size? A 24 inch range is a common occurrance in Boston and other cities with smaller kitchen spaces. Yet despite the demand for a decent range, you probabaly were stuck with this type of product (right).
Nice, isnt it? Most companies 10 years ago did not see the volume in this piece and did not invest in factories or tooling to produce a better product. Thus, this white range was manufactured by 2 or 3 companies.
However, this product already existed...in Europe. Add Viking who was smart to see the potential and look again.
It's a multi-national segment: AGA is British, Fisher & Paykel is from New Zealand, Bertazzoni and Smeg are from Italy and only Premier and Viking are from the US.
How to Buy:
It really depends. The AGA is a beautiful cast iron range with natural convection. Viking has the 15,000 BTU pro burners. Smeg is the best of the stylish Italians, but is dual fuel (gas top/electric bottom), so Bertazzoni is a good consideration. I also like the Summit and Avanti, but the service aspect scares me quite frankly.
Read a Yale Buyers Guide; concise, unbiased information about home improvement. Almost 10,000 people have read a Yale Guide. Try one: