How to Buy a Kitchen Sink
The kitchen sink is the focal point in today's kitchen. It is used for all food preparation and cleaning, so you want to choose yours wisely.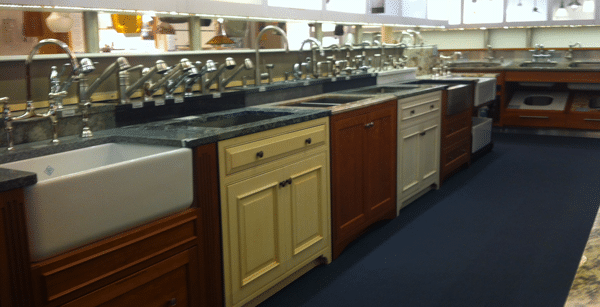 Before you go out and pick up a new sink, you need to know the size of your base cabinet. This is important because it will determine what size sink you end up with. Base cabinets are typically 24", 27", 30", 33", 36" or 42". The bigger the base cabinet, the bigger sink you can buy. This will also determine the type of sink you can fit, whether it's a single bowl, or a double bowl. For most double bowl sinks, you will need a minimum of 33" base cabinet.
There are 3 different types of sinks
| | | |
| --- | --- | --- |
| | | |
| Undermount Sink | Top Mount Sink | Farm House Sink |
Undermount Sink - Mounted from underneath a solid countertop (granite, marble, or corian). This type of sink allows for easier cleaning because it doesn't overlap your countertop. You can wipe everything off the counter right into the sink. It also accentuates the surface itself by being hidden.

Top Mount Sink - Drops in from above and have a rim edge that overlaps the countertop. This type of sink is to be used with Formica or any other countertop material. It does not allow easier countertop cleaning because of the rim that sits on the countertop.

Farm House Sink - Sits on a cabinet base and does not require support from your countertop. They do require custom cabinets and countertops as they can be pretty heavy.
Material of the sink
Once you've picked out your sink style and size, you must then pick out the material of the sink. It can be Stainless steel, Fireclay, or Porcelain-Enamel.
Stainless Steel – When considering stainless steel sinks there is something to think about. The gauge (thickness) of the stainless determines the quality of the sink. The lower the gauge # the better quality stainless you will have. A good quality sink is between 16-18 gauge. 16 gauge sinks are used in many restaurants because they are easier to clean and more scratch resistant.

Fireclay – Fireclay sinks are made from clay that is heated up to a very high temperature of 2,200 degrees. This will give the sink a nice shine and also make it very durable. It's resistant to most scratches and chips and is also very easy to clean.

Porcelain Enamel Sinks – Usually less expensive than fireclay sinks. They are made by heating the material at a lower temperature compared to fireclay at a higher temp. This makes it more prone to scratches and chipping. Once the coating is chipped, the sinks black undercoat will be exposed. Also, this type of sink will require more maintenance.
Other things to consider when buying a sink
The deeper the sink, the bigger pots and pans you can fit. An average depth is 7-8 inches. Deeper sinks can be 9-12 inches.
Make sure the shape of the sink allows you to fit the pots, pans, and dishes that you use regularly.
Drain grids, garbage disposals, strainer baskets, cutting boards, colanders, and metal polish are great accessories to consider when buying a sink.
| | |
| --- | --- |
| | Neil Katz has been in appliance sales at Yale for over 25 years. Neil spends time following the Sox and Patriots and watching the stock market. |