This Years Best Induction Cooktops
Induction is one of my favorite products to explain to my customers. Induction is the greatest cooking technology on the market. I love when a customer tells me with their shoulders slumped and in a sad voice, "I have electric". Their assumption is gas is far better than any electric product and are surprised to see the performance of induction (we have several live at Yale).
Updated April 2013
A regular electric cooktop fluctuates in temperature so it is hard to achieve even cooking. Induction stays a constant smooth and even temperature. There is also very little loss of heat, unlike gas or regular electric. Induction uses magnets to excite the molecules in the pan so just the pan becomes hot and not the cooktop. Induction is faster to boil and provides an instant simmer. Yes, even faster than the fastest gas pro.
The following cooktops will be 36 inch. Go here for the best 30 inch induction cooktops.
Best Induction Cooktops
| | |
| --- | --- |
| Jenn-Air Induction Cooktop | Frigidaire Induction Cooktop |
| Thermador Induction Cooktop | Electrolux Induction Cooktop |
Jenn-Air JIC4536XS - $2099 - The Jenn-Air is the only induction with bridge elements connecting the front and back burners. Bridges are good for oblong or griddle sized dishes. The combined power is 5000 watts, which will heat very fast. Jenn-Air also has the best rebate program with free dishwashers, hoods and rebates with qualifying stoves and refrigerators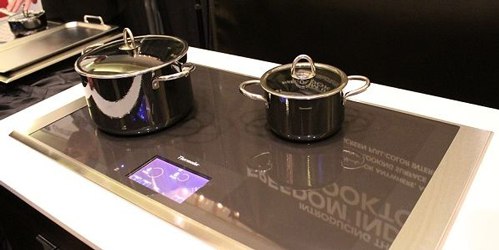 Cliff notes benefits of induction vs other heat sources:
Fastest to boil
Instant simmer
No heat emission (less venting required)
90% efficiency vs 60% gas and 55% electric
Can be downdrafted (unlike professional gas)
Related Articles
Additional Resources
Read our Induction Cooking Buying guide for features, buying tips and ratings of every available induction cooking product in the market. Well over 30,000 people have read a Yale Guide. Induction is our most popular.