Like any new technology, there are issues with LED lights in general. Let's look again at the new LED undercabinet lighting display at Yale.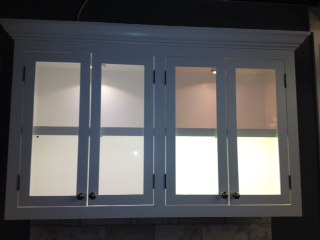 First, let's talk about the incredible potential of LED lighting:
Lamp Life: A LED light will last on average 40,000 hours compared to 750 hours of a comparable incandescent lightbulb.
Efficiency: A LED bulb is 5 to 6 times more efficient than incandescent (at least), so a 10 watt LED should be equivalent to at least a 60W light bulb.
Heat: An incandescent bulb with heat to 300°, whereas LED does not emit heat. Rows of bulbs, especially in commercial applications, will add tremendous amounts of heat into the room.
Now the issues with LED lighting:
Dimming: LED does not work with standard dimmers. Dimmers are normally rated at 50 or greater watts and require at least half the stated load (say 25 watts in this case) to "read" or dim the actual lightbulb. Often times, LED will be far less than the required wattage. In order to solve this problem the bulb must have a dimmable LED "driver" or chip. You must also use electronic and not magnetic dimmers.
Color, Kelvin or quality of Light: Quality of light is determined by the Kelvin scale. 2500° is incandescent and yellowish in color. 5000° is actually the color of the sun, it is very hot white light, similar to early fluorescent lighting. Typically, people want between 2700° and 3200° Kelvin, which is whiter than incandescent yet far yellower than a fluorescent light bulb. A low-voltage bulb has been the designer bulb of choice for that reason. It accentuates colors and textures. For example, before we converted to LED lighting, our showroom was virtually all low-voltage.
Color quality is the main issue of LED in general. If we scroll up to the picture, three of those light sources are LED with published Kelvin ratings of 2700° and three different color renderings. It's like the mattress police. There are standards and labels with no agency overseeing the standards themselves.
How to Buy The Right LED:
CREE Chip: LED actually renders a bluish light and requires a semiconductor or chip to filter the blue light into more natural white lighting. The only semiconductor manufacturer producing white LEDs is CREE. Every other company seems to be inconsistent.
Look at the actual light: As you can tell from the picture above, it is very difficult to buy based on Kelvin rating. Some desirable and more consistent manufacturers are FutureLight and CSL Lighting.
Additional Resources: