We have been blogging about front load washers since 2007. Front load washers are much larger than a conventional top load, yet use much less electricity, water and detergent. Front load washers also spin 2-3 times faster, so there is less actual drying time.
Special note: We sell all brands, but we also service all brands. We calculate price, reliability and manufacturer support before labeling any product the best value.
The Best Front Load Washers:
Frigidaire FAFW3801LW $449 after $50 rebate: Frigidaire is a good basic, 5 cycle machine. For about the same price as a decent top load washer, the Frigidaire front load washer will use far less energy with greater capacity.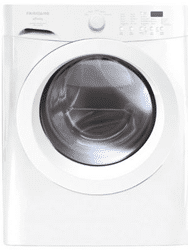 Whirlpool WFW9151YW $599 after $125 in rebates: The Duet has been a mainstay for Whirlpool. It is slightly larger than the Frigidaire at 3.5 cubic foot (I am using DOE standards) and has 12 cycles.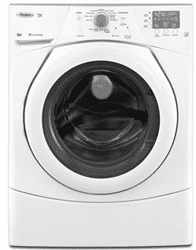 Frigidaire FAFS4474LW $599 after $240 in rebates: The 4474 is Frigidaire's largest at 3.81 cubic feet and adds steam for powering out tough stains, a sanitize cycle as well as 15 other cycles. Ever changing rebates are high at 35%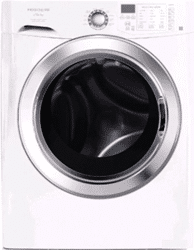 Electrolux EIFLW55HIW $749: Electrolux is the biggest front load washer on the market and adds a second floor noiseless and vibration guarantee.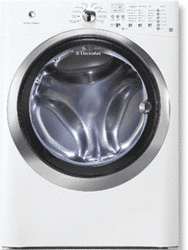 Whirlpool WFW94HEXW $999 after $90 in rebates: The WFW94HEXW is Whirlpool's largest at 4.3 cubic feet and has an unbelievable spin at 1400 RPM along with steam and allergen cycles.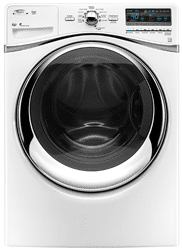 We don't blog much about dryers. However, the new dryers have moisture sensors. When a certain moisture level is reached in clothes, the dryer will either turn off the heat or shut down. Also, there are rebate opportunities when you buy laundry in pairs.
Same washer with matching dryer:
If you need more information on laundry such as front load versus top load washers, moisture sensing dryers or even compact laundry, download a Yale Laundry Buyers Guide. We have three: