Induction is 90% efficient versus 60% for gas, so it is faster to boil(even more than professional gas) and can maintain an even lower simmer. Another benefit is less heat emission, so you do not need an expensive professional hood. Induction is also the most child-safe, because the burners need to sense metal to activate....
Updated March 2013
Below are the five best induction brands (slide-ins, regular ranges):
KitchenAid KIRS608BSS: Whirlpool(the parent company) was not even mentioned as one of the top brands and now it is number 1? This company is not cutting edge and is always the last company to identify a trend. However, they are very efficient manufacturers and can produce a great product very cheaply. This KitchenAid (Whirlpool's premium line) range just dominates with convection, full induction and a warming drawer for $1499 to $1699 (depending on the rebates).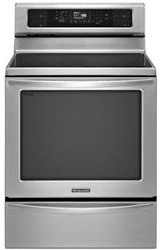 Electrolux EW30IS65JS: Electrolux has really intuitive controls with settings such as perfect turkey and just about every cooking mode available. They also feature convection and a lower second oven.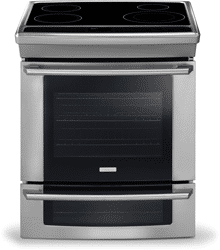 Frigidaire FPES3085KF/FPCF3091LF: Frigidaire manufactures the most affordable induction products. The Frigidaire is actually a hybrid, which is 2 induction burners and 3 regular electric burners (one is a warming zone). Convection and warming drawers are still features as well as some nifty automatic controls for way less money.
GE PHS925STSS/PHB925SPSS: GE is a great unit with a high powered induction burner, convection oven, warming zone and warming drawer. We no longer sell GE Products, but they still manufacture a decent induction stove.
Samsung FTQ307NWGX: Samsung is interesting with a 3 fan convection system and steam self-cleaning. Unfortunately, the controls are on the top so there is less cooking space, but overall Samsung manufactures a very competitive induction product.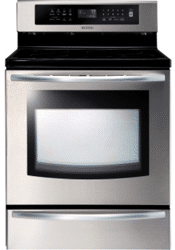 Additional Resources
Electrolux VS Maytag Induction Ranges
Download our Induction Buyers Guide with answers on brands, features and outputs of all the induction ranges on the market. Well over 25,000 people have read a Yale Guide.
We do actually use induction ranges at Yale. We have professional chefs demonstrating in-store every weekend throughout the fall. For a schedule subscribe to our Cooking Products Newsletter.