Undercounter refrigerators are a different product.
You can buy a dorm refrigerator for $100, but unfortunately a dormer cannot be placed under a counter and between cabinets or the compressor will malfunction.
That is the main difference between an undercounter and free standing refrigerator.
Short on time? Get our free Undercounter Refrigerator Buying Guide with reviews and recommendations for all types of undercounter products »
I like certain brands, but there isn't one dominant undercounter refrigerator. There are several very good products: Perlick, U-Line, Sub-Zero, Jenn-Air and Danby among others.
Some are better in certain categories as you can choose between wine, beverage centers, all refrigerators, freezers or combinations.
The 4 Best Undercounter Refrigerators
Perlick HC24RB3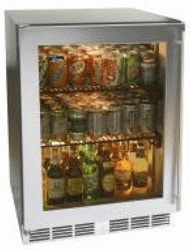 Two reasons to like the Perlick: It has the most powerful compressor so it maintains a colder temperature and the Perlick has interesting accessories like martini glass holders.
Sub-Zero 424
When America discovered wine, most undercounter manufacturers used their refrigerator chassis and stuffed wired racks therein. Bad idea. Wine can be altered by vibration, light, humidity and temperature.
Sub-Zero built their unit around these issues. The Sub-Zero 424 has hidden lighting, two compressors for better temperature control, a low-E door to prevent UV ray exposure and a vibration free compressor. If you store decent wine, Sub-Zero is the best choice.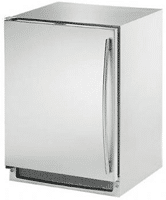 I like the U-Line combo units. The CO2175 is refrigerator and icemaker, which is perfect for a space constrained bar.
French door refrigerators sell everywhere else, why not undercounter. The Danby is a very likeable product with LED lighting and 60 beverage can capacity.
Additional Resources
Read the Yale Undercounter Refrigerator Buyers Guide with specs, features and updates to all the major refrigerators. Over 100,000 people have read a Yale Guide.
Related Articles