Gas ranges have really upgraded over the years. You do not need to buy a true professional gas appliance for high output or decent simmer anymore. Most gas ranges now have power and simmer burners, with griddle burners, convection and second ovens as options.

We wrote a Gas Range Buyers Guide, which discusses each feature in greater detail.

Let's look at two of the best gas ranges in the appliance business; GE Profile and Frigidaire Professional.

GE Profile Gas Range PGB975SEMSS $1875 after rebate: GE's strength has always been cooking. The PGB975SEMSS is their best with a whopping 18,000 BTU burner (hotter than most pros) as well as a 11K, 9K, 6K and 5K BTU burner. The oven is convection, and there is a second oven for baking as well.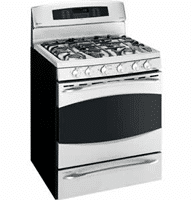 Frigidaire Professional Gas Range FPGF3081KF $1139 after rebate: Frigidaire has always surprised me. They seem to deliver value. The Frigidaire Professional has a 17,000 BTU burner as well as a second pro-type burner at 15,000 BTUs. The other burners are 10K, 9.5K and a simmer burner at 5K BTU. The oven is convection as well, but the second oven is for warming not baking. The temperature does not reach 450 as GE.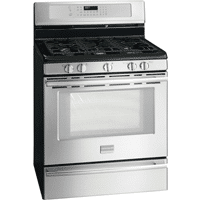 The GE Profile gas range has a better and more versatile second oven, but the Frigidaire has a more powerful top and is over $700 less.

Resources:

Subscribe to the Yale blog for posts 4-5 days a week direct to your mailbox