You may wonder how a dishwasher brand can have starting prices at $899 or $400 more expensive than the average dishwasher sold in the US.
The main benefit to a Miele dishwasher is its quality of components and longer life. In an era of outsourcing, Miele distinguishes itself by manufacturing 96.8% of all its components in Germany. Consequently, Miele is the least repaired brand at Yale.
Miele is also the only dishwasher with a real dry cycle. It allows the colder outside air into the outside of the dishwasher. Steam is attracted to the "colder" side and is fully dissipated. Their best dishwasher, the Diamond, has two fans, but the better models differentiate by racks, features, and cycles.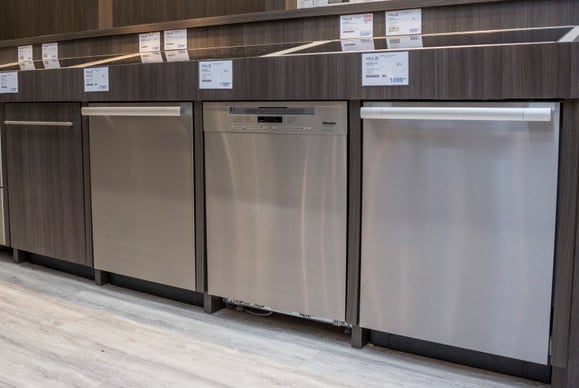 Miele dishwashers tend to all look the same, so why the huge price swing from one model to another?
The difference between the dishwashers in the same series is essentially regular front versus integrated controls. Have a look:
| | |
| --- | --- |
| Front style controls | Integrated style controls |
The Differences Between Miele Dishwashers
Thanks for reporting a problem. We'll attach technical data about this session to help us figure out the issue. Which of these best describes the problem?
Any other details or context?
message
How to Buy a Miele Dishwasher
First, all Miele dishwashers will have these basic cycles: Normal Wash, Rinse & Hold, Sani-Wash, and Pots & Pans. It really differs in quietness, racks, cycles, and drying systems.
The Best Miele Dishwashers For 2017
Pricing updated for February 11-20, 2017
Features:
Cutlery Tray

Autosensor

Technology

46

dBA

Noise level

Delay Start

Adjustable upper rack
Great limited time dishwasher with adjustable racks and 3rd cutlery rack. It also features their exclusive drying system.

Features:
Available with cutlery basket or cutlery tray
Flexicare racks
Delay Start
46 dBA rating
Economy mode (uses less water),Turbo mode (30% time reduction)
Available without cutlery basket and front controls for $999
Differences between the Classic models is cutlery tray and integrated versus regular fronts. I would consider the previous model at $899 unless you want the integrated styling.

Features:
Flexicare Plus Racks
Cutlery Basket or Cutlery Tray
Perfect glass care and water softener feature
44 dBA rating
Express cycle, China Crystal cycle
No Economy cycle
The difference between the Crystal and Classic Series is baskets, China setting and quietness.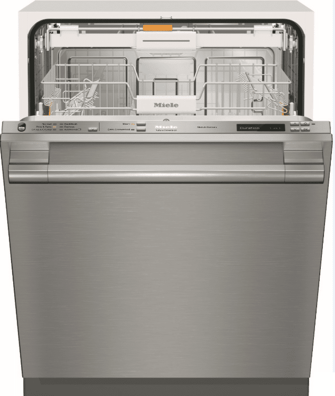 Features:
(Crystal features plus the following)
Flexicare Premium racks
3D cutlery tray
44 dBA rating
Sensor Dry (adjusts drying conditions to air being pulled in from the kitchen)
Intensive Mode - heavy wash in bottom basket/gentle wash in top basket at the same time
No Express cycle
AutoOpen Drying - door pops open when dry cycle is complete
ExtraQuiet-optional feature reduces noise by 20%
Slimline 18 inch model $1,499
The differences between Dimension and Crystal Series is that the 3D top rack is adjustable with better two port drying and is quieter.
Have questions? Call us at 617-825-9253.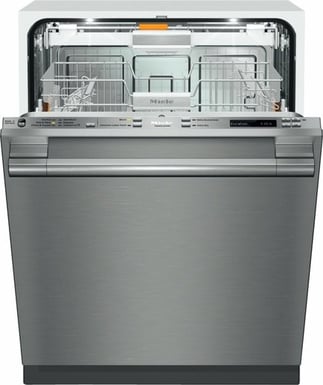 Features:
(Dimension Features plus the following)
Brilliant light-LED illuminated tub
Economy and Energy Saver cycles
Extra Dry option
44 dBA rating
This unit is also introduces their "Knock-to-Open" feature. You knock twice and the dishwasher automatically opens. Handles are no longer needed to open the dishwasher. Also, 40 dBA is incredibly quiet.
The difference between Lumen and Dimension series is an upgraded lighting system, an Energy Saver program, Extra Dry option and a better drying system.
Features:
(Lumen features plus the following)
Auto close door
Remote Vision - performance can be monitored by Miele via Wi-Fi
42 dBA (A quiet dishwasher will be 45DBAs)
Auto Load-Size Sensor - senses the flow of water to establish what the load size is
Diamond Specific programs - heavy soil, sensor wash, light, energy saver, plastics, starch/cheese, tall items, glass-no rinse aid (warm), glass-no rinse aid (cold)
Advanced CleanAir - additional fan to help circulate air
5 year warranty
Difference between Lumen and Diamond: Best drying cycle with two fans as well as the door automatically opening to allow cooler air in, specific cycles for what you are washing. The 5 year warranty is complimentary on this model.
Conclusion
Miele is a dishwasher company with cycles and options for the premium dishwasher buyer. The difference between the Miele is quietness from 37-45 DBA's. The top cutlery tray changes from none to a basic one to an adjustable, multi functional 3-D tray.
After that, racks, cycles and warranties as well as the drying system with different fans and sensors. The product is truly built to a higher standard which translate to better reliability.
Related Articles:
Additional Resources
Want to learn about the different dishwashers and brands? Download the Yale Dishwasher Buying Guide packed with tips, features and brands of every major dishwasher. Over 200,000 people have read a Yale Guide.