Planning a renovation? Undercabinet lighting should be considered as a necessary, because of its versatility. It is task lighting for general lighting on the counters. You can also leave just under cabinet lighting on for safety at night or to illuminate your backsplashes.
Or simply, because it looks so good by itself...
I love that pic. Anyway we will look at LED and the three most popular products offered today.
LED Lighting
It's safe to say you should be using LED today.
LED is more efficient, uses less electricity and emits far less heat. So it will not melt the peanut butter in your cabinets like an incandescent bulb (heats to 300 degrees, which is the reason you cannot touch it). You also will not be replacing expensive Xenon or specialty halogen bulbs every 7-12 months. LED will also last roughly 20 years under normal use without replacement.
The knock against LED was quality of light. Because LED naturally renders bluish, the output of early LED was similar to fluorescent. However, there are currently products offering similar color rendering (a lighting term for quality) to Xenon or halogen bulbs.
So look for a bulb 2,700-3,200 degrees Kelvin. The chart below shows different bulbs and their effects.
Kelvin Scale
Let's look at the three best LED under cabinet systems to consider.
Best Under Cabinet LED Products for 2015
LED Tape
What could be easier than LED tape? You measure it. Cut it. Then attach it to the LED driver (also known as transformer). Tape is thin and unobtrusive for any type of cabinet, so all you see is light. Buy it with the appropriate Kelvin rating (many will still render blue) and with high output for proper illumination.
There is one minor downside. Tape is basically LED diodes ganged together. You can see those diodes on granite and marble surfaces at certain angles. They look like dots.
LARC6 Light Bars
The LARC6 light bar is brand new and is available in 8, 16, 24 and 24 inches width. It is rated at 3,000 degrees Kelvin, adjustable and only 3/8 of an inch. It's 24V power emits 5 watts per foot. The strips can be joined together simply as well.
Tape may be easier to install, but these shielded bars illuminate evenly. They do not show dots like tape.
(We sell and ship LARC6 light bars - Contact us here)
Legrand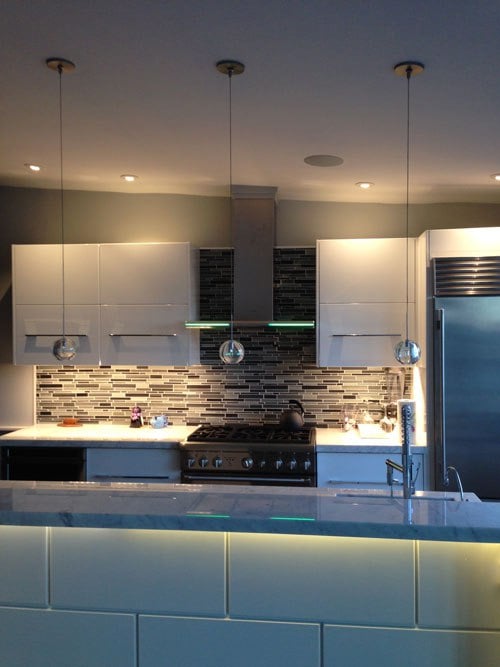 This is my favorite. The bottom pic is my kitchen, which looks exactly like the first picture except for one not so minor detail.
Legrand is a modular track under cabinet track system. You can power your phone or iPod with their charger and/or read recipes at the same time. The lights are "puck" style. I normally do not like the scalloping or dark spots between lights, but this can be eliminated by adjusting on the track itself.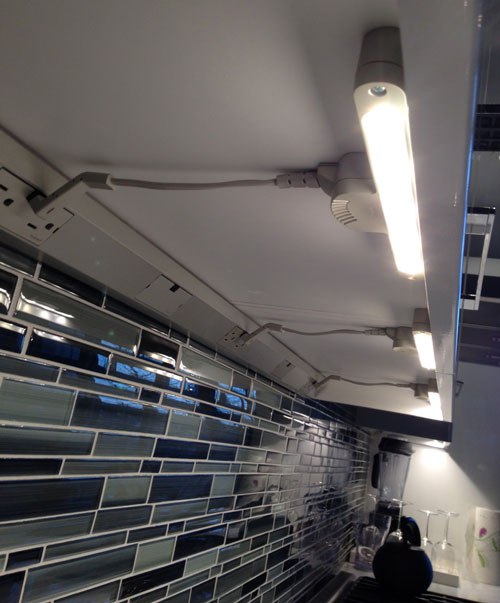 The best part of the system is not actually lighting. In every other application, you have to cut electrical outlets in the backsplash. Nice backsplash with outlets? Look at the two pics again. Mine looks better (although I am bummed that my backsplash is exactly the same).
However, the electrical outlets with Legrand are all on the track and can be adjusted. It looks so much better (and you do not have to pay your electrician for additional hours).
Additional Resources
Get our free Under Cabinet Lighting Buying Guide with tips, trends and reviews on all the best brands. Over 100,000 people have already found answers in a Yale guide.