You are probably wondering what you should consider for your kitchen appliances.
According to our Google Analytics, 5 million people read our blog this year looking for answers on quiet dishwashers, counter depth refrigerators, laundry, induction cooktops and professional ranges among many other appliance and lighting topics.
Most of the time, I am deliberately evasive. The best appliances are not necessarily the best products for you.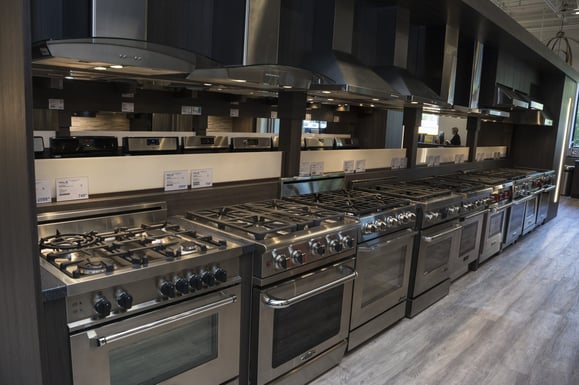 Cooking, for example, is the hardest to choose. I would ask you how you would use your range. Do you like to use the cooktop or oven the most? If so how? Do you like power burners, simmer or a griddle?
That part of the industry has not changed in terms of features and choice. Something else has changed considerably.
How to Buy
After 8 years of blogging, I have some very pointed advice for you. It has nothing to do with what to buy but when to buy. When is almost as important as the what. Let me show you this refrigerator.
This is a Samsung 26 cubic foot French door refrigerator. Retail price is $1,599. It is a competitive price and a decent refrigerator, which was $999 on Black Friday. In one day, this refrigerator dropped $600.
The next week, it was $1,599 again. This was far from being an isolated item with ranges, dishwashers and laundry being part of a huge five day promotion.
Appliances are now like electronics. Buy them if you can on President's Day, Memorial Day, July 4th, Labor Day and Black Friday. The savings are considerable.
Let's look at a few brands to consider for 2016.
Appliance Brands
Samsung
I do not know whether to like or dislike this brand, but you cannot ignore them. They manufacture beautiful appliances affordably and are very aggressive on price. Whirlpool is suing Samsung for dumping products illegally, so it could be ending. In the meantime, consider Samsung.
Bosch
Bosch should be your favorite brand because they are so consumer friendly. However, they will not have a freestanding refrigerator to sell in 2016. All were produced by Whirlpool who terminated the contract.
Miele
2015 was their year. Their pro ranges and wall ovens are inspired with steam and better technology. 2016 is the year we see if the new products work. I think they will.
Sub-Zero / Wolf
Their new refrigerators and wall ovens are great. They are the name in super premium for good reason. It will be interesting to see how they will compete with Miele who is a much larger version of themselves.
Whirlpool
This company is suddenly besieged on all fronts. How the heck do you compete with Samsung, LG, GE, Electrolux, Thermador, Miele and Wolf at the same time? The new KitchenAid is nice looking. The new Jenn-Air Wi-Fi oven may be great.
You didn't see them, because of shipping issues. Too bad. They are American made and generally a well meaning company. They have great products for you to consider. They just need to produce them.
Lighting
Five years ago, a manufacturer once told me a 1 watt LED would have the similar output of a 100 watt light bulb. We are almost there. LED will dominate if it has not already. Our Framingham showroom is now 100% LED.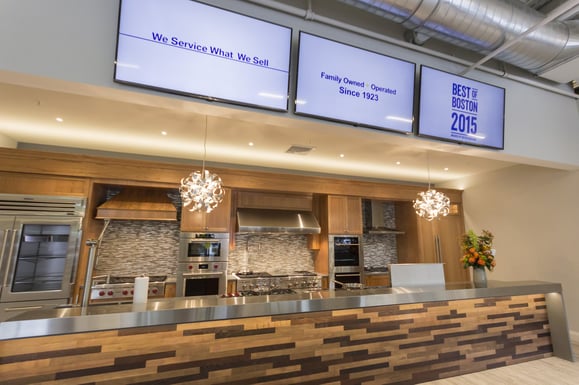 Lighting will also be much smaller. As I have written previously, good lighting does not call attention to the source.
Decorative Lighting
It is a sad state of affairs as most manufacturers ship from the same factories in China. Maybe the box is different. Still, there are a few good lighting producers with great designed lighting. Visual Comfort and Hubbardton Forge seem to be the best lighting brands for New England.
Where Do You Buy?
That is simple. Look at reviews and decide for yourself. You want to see quality as well as quantity. They may be the bane of every businesses existence, but they are an indicator.
Everyone can sell an appliance, be mindful of what happens next. Delivery, installation and service are the hard parts. Selling is simple. Spend some time understanding every stores capability before you buy
Yale Blog
The goal of the blog is to provide accurate information without the glossy marketing speak. When we say a product is reliable it is based on statistics, not faith. We will continue to focus on being an honest resource for you…all 5 million of you.
We never talk about ourselves (seriously, look it up). However, it is the last post of the year, so we should be a bit introspective. We had a very good year with a new store in Framingham, MA along with being named Best of Boston 2015, Best of Boston Home 2016, Best Showroom in America by Residential Lighting and the ARTS Award for Best Lighting Store.
I am proud to be part of that. Yale was also awarded the Best Places to Work by The Boston Globe and The Boston Business Journal. I work with some committed, hard working people and for that I am most proud.
I will always tell you or any customer to read reviews on Yelp or Google because it is a barometer of whether people care about their jobs. If they care, it will show in the service. These people care.
So thank you for reading. Happy and Healthy New Year. We will be back at it next year.
Sincerely,
Steve Sheinkopf
CEO
Yale Appliance and Lighting